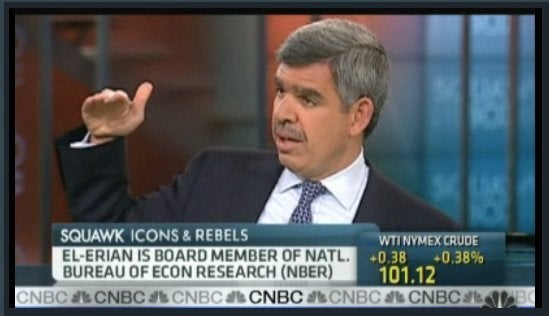 Forget the United States, maybe it should be called the Federal Reserve of the world economy.
El-Erian, CEO and co-CIO of PIMCO, the largest bond fund in the world, gave some insight into the effect of the Federal Reserve's bond-buying program known as quantitative easing, or QE2, on emerging nations, during an appearance yesterday on CNBC's Squawk Box. In El-Erian's opinion, the program may have affected emerging economies more than the U.S. itself.
The original purpose of the stimulus program, put into effect last November, was to combat deflation by pumping newly-printed money into the economy through the purchase of $900 billion worth of government bonds. With the program ending this month without confirmation of an extension, economists like El-Erian are now looking back and questioning the degree of its success.
And while its domestic effect remain debatable, how it affected emerging economies is already more clear, he says.
"The QE2 splashed everywhere. It splashed into the commodities market, it splashed into other countries and some of it splashed here and we got a bit of a cyclical recovery. But we're finding out we're not getting enough of a cyclical recovery," El-Erian said.
El-Erian might be unsure that quantitative easing succeeded in the United States, but he's more certain of its effect elsewhere. Asked why economies such as Brazil and China have slowed, El-Erian responded: "Because we've so overinflated them, all this liquidity injection, they're having to tap the brakes and slow down."
As for another round of quantitative easing, El-Erian called the idea "unlikely" since he doesn't foresee the economy double-dipping into a recession. "There's simply too much liquidity in the system," he said.
Watch El-Erian's segment on CNBC here:
Popular in the Community