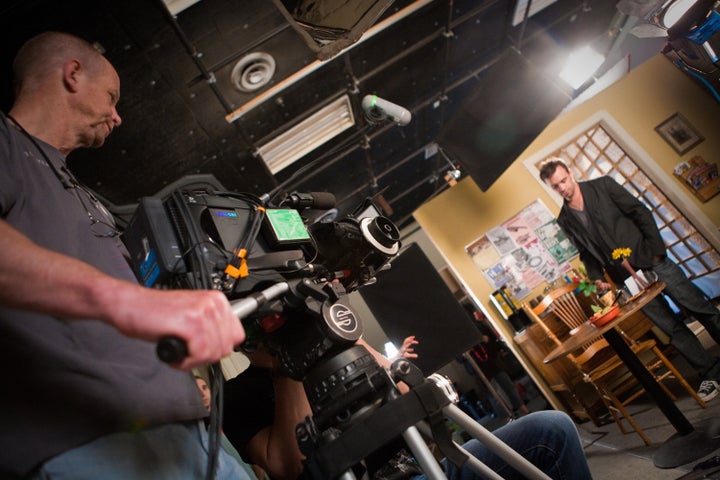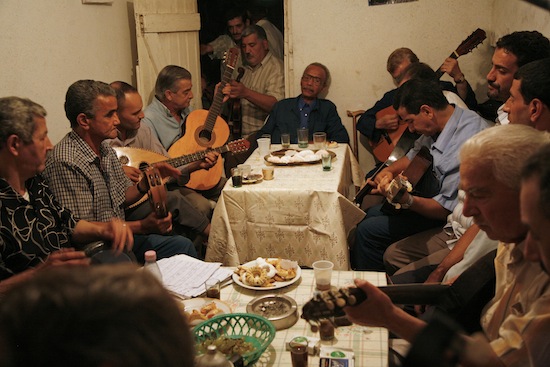 A great film should change lives. While typically cinematic masterpieces are able to change the outlook of their audiences, in the case of Safinez Bousbia's documentary El Gusto, the film managed to dramatically change the existence of its subjects and its filmmaker. After Bousbia's visit to a mirror shop turned into a voyage into an Algeria now forgotten -- through the faded photographs of a group of musicians playing Chaabi music in a 1940s class at the Conservatory of Algiers -- the filmmaker embarked on her own journey to reunite these lost friends. Now between the ages of 70 and 100, living in Algeria and abroad, Jewish and Muslim, well off and poor, thanks to Bousbia's passion and unrelenting work, the members of "El Gusto" found each other again and rediscovered through their infectious music their own joie de vivre.
Chaabi music is as complex as the history of Algeria itself. A rhythmic cocktail of Andalusian, Berber and religious music, Chaabi grew out of the Algerian Casbah, literally the music "of the people," which defied class, religion and ethnicity. But as the Algerian Revolution began to divide the country by loyalties and the Islamic movement became synonymous with Algerian nationalism, the men of "El Gusto" started to scatter, the Jewish musicians fleeing Algeria altogether. Later on, the Muslim musicians who remained in Algiers were forced out of the Casbah by the crumbling buildings and were eventually relocated to several housing developments on the outskirts of the city. Everything seemed to have conspired to put an end to this beautiful music.
El Gusto, both the movement and the film, are the result of Safinez Bousbia's vision. It took the filmmaker years of research and footwork to reunite the men, and she even paid the ultimate price with her health. But she never lost sight of her mission, to bring music -- and therefore life -- back to a group of men who paid her back with their own contagious gift of enthusiasm and passion. As one of them says in the film: "An artist never dies, never grows old; he always stays young."
I caught up with Bousbia at this year's Tribeca Film Festival, where she talked about her unrelenting search, the resulting sold out concerts in France, England and Algeria, her efforts to get funding for the film and why she considers herself a woman without country but also without borders.
Did you plan to make a film when you first walked into that mirror shop?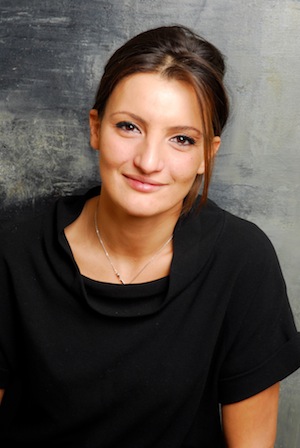 I didn't think of making a film at that moment, it was just to help this man find his friends and put them back in touch. And then looking for them I realized how complicated it was, because they were just all over the place and unfortunately they lived in absolute poverty, so they didn't have the means to travel to each other. Then I realized as well that each one of them had this enormous desire to see his friends and it just became evident that they needed to be reunited.
It must have been a logistical nightmare to find them? How did you do it?
What happened is that Mr. Ferkioui, the mirror maker, didn't know all of their full names as well. So I had to find the registration records of the Conservatoire, which were nearly unfindable. I found them actually at a man's house, who had worked there and kept them. They had their old addresses which were in the Casbah. I went to the Casbah and they were all moved but what happened is each quarter was moved to a certain area. So if you went to neighborhood A, lets say, it was moved to C and neighborhood B was moved to D. Once I would find out where they were moved to, I'd go to the new neighborhood and literally knock door to door. A lot of the businesses helped. It took two to three years, that's what made it very complicated.
When did you know you had a film?
One of the musicians I went to see lived in a really rough area in Algeria, and he literally kicked me out of the house. He said "I don't want to know anything, leave me alone." Later I understood why: He had one of his sons slaughtered in his own house, the other one was taken away and still today, he doesn't know where he is... And it was very, very rough for him, he had become a bit bitter and didn't want to play music anymore. After trying to talk to him, I came back to my car and the wheels were gone! I went back and said "I just need my wheels to go back" and while his son went to look for who took them, I had a chance to chat with him a little bit. When I mentioned one of the musician, Bernaoui, the guy just ate me alive. He said "You are absolutely awful, this guy is dead for many years, leave him alone, may he stay in peace," and I said "No, he's not dead. I was with him yesterday," and he wouldn't believe me. So I had the idea of bringing Bernaoui to him. When the door opened, there was a moment of silence and he was just touching him, he couldn't believe he was there. They started to cry and I wished I'd had a camera and that's when I thought "This is a real story and these are real friendships."
I met the mirror guy in autumn 2003, I started pre-shooting in 2005, because it took me two years to find them, and then in 2006 I found the budget to begin. The concerts were in 2006, that's when I started shooting. But there was a bombing in Algiers, we would not have been able to bring the Jewish musicians back so after spending all our money, I mean I was literally ruined by then, it was either we finish the film saying that only the Muslim musicians reunite or what do we do? That's when I decided to go for a new film and find funding again, a year later and that's when the concerts started in 2007, the ones you see in the film in Marseille and Bercy. In 2008, as I was editing, I got cancer, so I had to stop. I stopped for two years, and when I got back I didn't have any money, so I applied for the Abu Dhabi Film Festival and that's how I got the funding for post-production. They helped in a major way to finish the film.
I'm fine, it was diagnosed very very early and I had to stop. But when I stopped the whole machine stopped. It was complicated. The thing is, when I got cancer a lot of people said "Look Saf, six years and you're ruined," which was true. I had no house, my stuff was all over the place in storage, I had literally not a dime in my bank account. I had debts. And I had this really severe sickness. So everyone was like "Seriously, it's great that you've tried to do it, but at one point in life you have to accept failure. It happens." I understood their concern for me, but it was frustrating. For me I didn't do all that just to leave it in the tapes. But then when I wanted to go back no one wanted to support me because everyone was against the idea, everybody thought it was just pure self-destruction.
Are you having the last laugh now?
I'm just happy. Otherwise it would have felt like eight years were just chucked in the bin.
How would you describe yourself in three words?
Unexpected -- because I never plan anything, I fall in love with something, I leave, I move -- free and "Earthian" -- as in an inhabitant of the earth. I hate people always asking, the first question is usually "What's your name?" and the second is "Where are you from?" I actually don't know where I'm from, I'm an "Earthian"... I am from the city where I am at the moment.
Photos by © Jakie King and © Gabriel Soussan, courtesy of the Tribeca Film Festival and Image.net
Calling all HuffPost superfans!
Sign up for membership to become a founding member and help shape HuffPost's next chapter