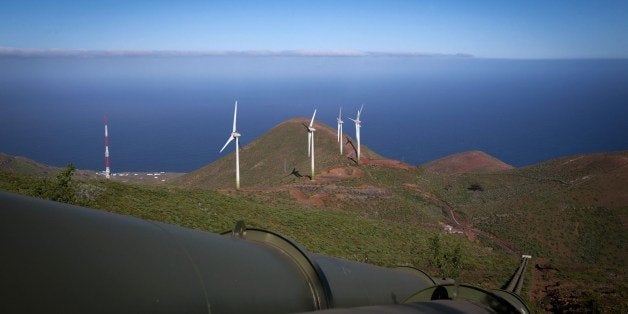 The most remote and westernmost of Spain's Canary Islands, El Hierro was considered to be the "edge of the world" by Europeans until Columbus made his famous 1492 voyage.

El Hierro's coastal cliffs and stark volcanic landscapes create a unique atmosphere. With a permanent population of about 11,000 and light tourist traffic, you will never come across Tenerife-like crowds here. Because of this, El Hierro is known as the perfect Canarian vacation destination for people seeking peace and quiet.

From now on, El Hierro will be known for something else as well. It is the first island on Earth to be fully powered by renewable energy. A combination of wind turbines and hydroelectric energy mean that the island can power itself without oil, coal or any other nonrenewable energy source. The system will be officially begin operation at the end of June.

There is some controversy about El Hierro being the "first" island to rely totally on renewable energy. However, most experts agree that it is the first to secure a consistent supply of electricity from wind and water only, without the need for supplementary fuel or connection to an electrical grid. In fact, El Hierro has never been connected to an outside electrical grid.

The inconsistencies associated with wind power can pose problems, even on the notoriously breezy Canaries. Power failures could be damaging for the island's tourism industry efforts, but El Hierro has tackled this issue with an ingenious closed-loop wind/hydroelectric system.

Excess power from the five wind turbines will be used to pump water to a reservoir in the crater of a nonactive volcano. When winds are calm, this water will be released, flowing downhill through hydroelectric turbines. This way, excess wind power can be saved without the need for batteries.

Though the systems have already been heavily tested, the island does have an emergency reserve of fuel to protect against unforeseen problems. Even so, Hierro continues to plan for more sustainable moves in the near future. The island's authorities have entered into an agreement with Nissan to replace all of El Hierro's vehicles with electric cars in the next six years.

Eco-friendliness is not a new idea on El Hierro. The island has been declared a UNESCO Biosphere Reserve because of its unique landscapes and wildlife and because only about 10 percent of the land has been converted to farmland. Nature dominates the rest of the island. Lower carbon emissions will certainly be a positive side effect of El Hierro's nonfuel power grid.
Calling all HuffPost superfans!
Sign up for membership to become a founding member and help shape HuffPost's next chapter
BEFORE YOU GO
PHOTO GALLERY
Top U.S. Renewable Energy Sources - 2011 (MOST RECENT DATA)