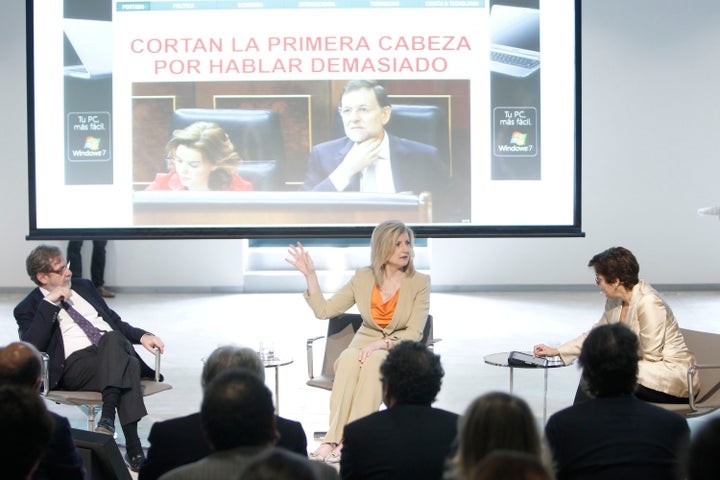 Arianna Huffington introduced the site at a press conference in Madrid with El Huffington Post editorial director Montserrat Domínguez, editor-in-chief Guillermo Rodríguez and PRISA CEO Juan Luis Cebrián. She explained that it would combine The Huffington Post's signature mix of news, blogs and social engagement with El Pais' journalistic traditions, while remaining firmly rooted in Spanish culture.
"We are a platform which provides distribution to those who want to utilize it as a loudspeaker," she told reporters. "It is an amplifier of their ideas. We offer a platform to listen and to talk." It is a new model which she said Spain — a country in the midst of a recession and a debt crisis — was poised for.
"El Huffington Post propels us Spaniards on a global conversation," Cebrián said. Domínguez echoed that sentiment, adding that it would have a unique ability to "reach the people."
Huffington introduced the two of them, along with some of the other key players in the launch, in an inaugural blog post on Thursday.
"I met Montserrat (or Montse, as everyone calls her) on a Sunday morning when she interviewed me for two hours on her radio show, A vivir que son dos días on Cadena SER, in Madrid," she wrote. "I loved her right away -- her passion for news and storytelling, her intelligence, her gift for intimacy."
Domínguez described their anticipation around the site, which launched with eight journalists and two interns, at the press conference. "The moment we hit enter was quite exciting," she said.
Before You Go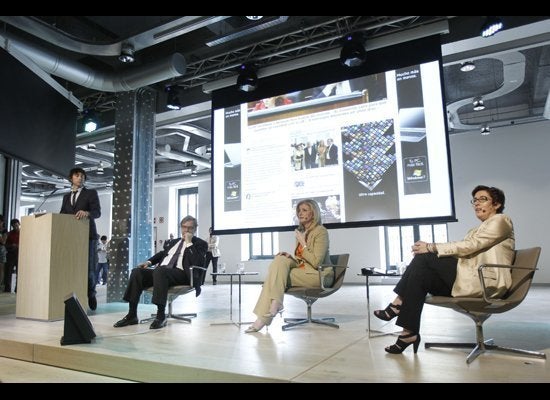 El HuffPost Launch
Popular in the Community