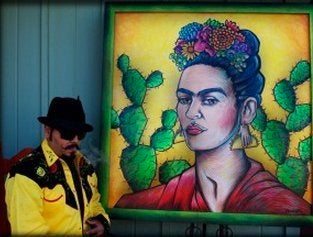 It is official -- El Moises is our Chicano Picasso of the 21st century, and he is also known as the voice of the contemporary Hispanic Art Movement.
I chose Pablo Picasso as the analogy due to the vibrant and rich colors he incorporated into his paintings in the early 20th century. While Picasso is known for his cubism, it wouldn't surprise me if Moises becomes known for his cross hatching technique.
Moises told me art saved him. I can verify this truth and see it in his deep, dark brown eyes -- which tell me he's an old soul.
Moises was the featured artist for the Renaissance Hotel in downtown Phoenix as they celebrated their first birthday bash recently. The timing could not have been more perfect in this regard, and the meaning of it all seems to be converging.
It was appropriate for the Renaissance Hotel to choose such an effervescent artist like Moises because Renaissance, by definition, is best remembered as the cultural movement which included the innovative flowering of Latin and vernacular literatures and painting. The French meaning of Renaissance is "re-birth," and it is told that many revolutions were sparked from the era.
Indeed 2012 marked a new era for many of us, and we welcome regenerating artists like El Moises to paint what many Mexican-Americans feel and bleed within our lives. We do want to remember history in the southwest -- particularly in an era where ethnic studies and history have been taken away from us. And while they try to take our books away, other forms of communication could manifest themselves through art. For instance, Moises' painting of Frida Kahlo de Rivera is exquisite, with the sun bursting into a yellow background, cactus-colored greens and colored flowers arranged like a halo in her hair, doing their best to detract from her unibrow trademark. Frida was a Mexican artist who is best remembered for her self-portraits and marrying another famous Mexican artist -- Diego Rivera. I am confident she was smiling from the Heavens when Moises painted her.
Moises is no stranger to portrait paintings, as he has painted many others not limited to Steve Jobs, Zapata, Cantinflas and Lynda Carter. You can see his painting techniques in his murals, too, placed in surrounding businesses bought by business owners who have an appreciation for culture and fine art.
With each passing day we are seeing Moises become more recognized for his hard work and the passionate precision he can invoke onto blank pieces of canvas. He is recognized by thousands upon thousands, and I watch his fan base increase with a deep appreciation for his art. We are already witnessing Moises' crossover regarding his paintings and murals in much the same way we witnessed Selena's music go from Spanish to English.
Popular in the Community