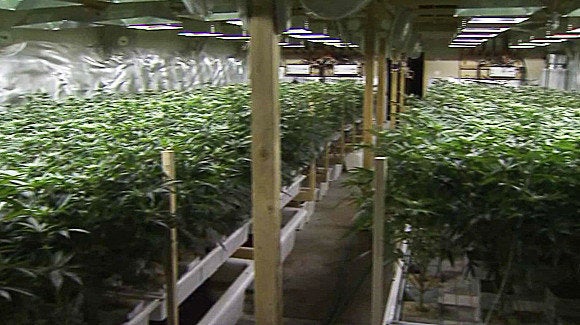 When Los Angeles deputies responded to a burglary-in-progress call in El Monte, they had no idea they'd be stumbling across one of the biggest marijuana grow houses in the city's history.
On Saturday morning, four men and a teen boy were caught trying to break in to what seemed to be an abandoned warehouse on Continental Avenue. Instead of guns or other weapons, the thieves were armed with gloves and clippers, reports NBC LA. Their getaway car? A U-Haul.
Eventually, one of the suspects tipped authorities off about their intended target: over 3,000 marijuana plants valued at around $1 million. After obtaining a search warrant, El Monte police entered the warehouse to carry out what is being touted as "the biggest drug bust in El Monte history."
KTLA's look inside the El Monte warehouse plantation reveals a secret 3-foot high crawl space where a guard was stationed to watch the door through an air-conditioning vent. Inside, a sophisticated system of lighting and irrigation nurtured thousands of marijuana plants that were just three weeks away from harvest. Finally, the growers evaded detection by sourcing their electricity directly from underground wires, which authorities believe enabled them to steal $10,000 of electricity per month.
One of the robbery suspects alleges that the grow house belongs to his family, who was cutting him out of the profits. He had wrangled four friends to help him claim his share. From the Daily News Wire Service:
Benjamin Kwok, 37, of San Gabriel, Xing Xi He, 24, of Baldwin Park, Louie Frank Fraijo, 28, also of Baldwin Park, Raymond Guan, 29, of Rosemead and a 17-year-old boy from San Gabriel were all arrested and booked for commercial burglary...
El Monte is no stranger to jackpot marijuana busts. In 2008, a home in a small gated community was busted for housing a $1 million marijuana plantation. In 2010, police busted two more home plantations with estimated values of $250,000 and $1 million.
Popular in the Community