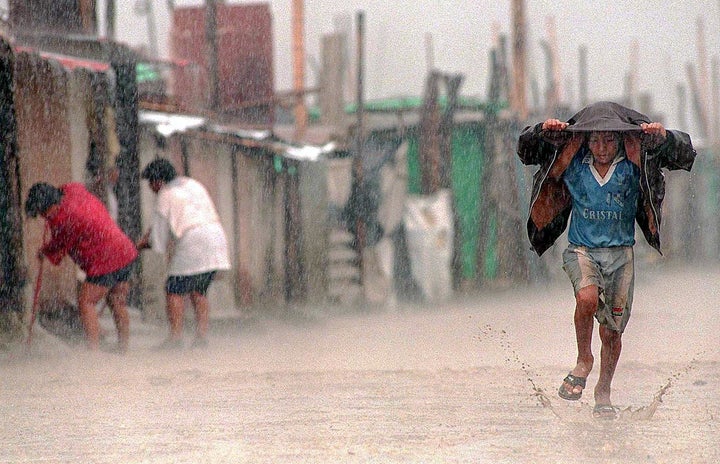 Dangerous diseases could possibly be riding the ocean currents from country to country thanks to El Niño, and some scientists think it may be happening more often because of climate change.
This group of bacteria can cause stomach illness if a person is exposed to a strain in seawater or by eating contaminated seafood. Asian strains of the bacteria emerged in Latin America around the same time as extreme El Niño events, according to the study.

El Niño is a natural weather phenomenon that occurs when there's unusually warm water at the surface of the tropical Pacific Ocean. Scientists have linked intensifying El Niño events to climate change, but are still studying the issue.
"There is some concern that in a warming environment, with more water vapor in the atmosphere, these conditions may intensify El Niño events -- however, this is an area of current research," Martinez-Urtaza said.
The researchers noticed that during the last three significant events -- in 1990, 1997, and 2010 -- Asian variants of disease-causing bacteria emerged in Latin America, where they're not normally seen. These outbreaks included cholera in Peru in 1990, which resulted in more than 13,000 deaths, and Vibrio parahaemolyticus in 1997 and 2010.
An El Niño event could represent an efficient long-distance 'biological corridor'...

Dr. Caig Baker-Austin, of U.K. Center for Environment, Fisheries and Aquaculture Science
Martinez-Urtaza said that the sudden emergence of Vibrio infections in Latin America was previously a recurrent unsolved mystery. The researchers concluded that climate-sensitive bacteria may attach to larger organisms, such as zooplankton, and "piggyback" along ocean currents to spread globally.
"Numerous previous studies have shown how such Vibrios bind to and use these larger organisms as a source of energy, and through this mechanism, we suggest, they are essentially able to piggyback," Martinez-Urtaza said in a statement.
As El Niño's warm waters produce strong currents, combined with a drop in salinity due to heavy rainfall, the coastal environment can become optimal for infectious bacteria to travel far and wide and possibly contaminate seafood, he said.
The researchers want their new study to help coastal countries better understand the role ocean currents could play in transporting diseases that pose a threat to public health.
"The effects of El Niño events and their impacts on local weather, fisheries and the risk of more extreme meteorological events are already well-documented," Martinez-Urtaza said in the statement. "Now understanding the role the ocean currents are also playing in transporting these disease has huge significance for public health campaigns in those countries."
Calling all HuffPost superfans!
Sign up for membership to become a founding member and help shape HuffPost's next chapter
BEFORE YOU GO
PHOTO GALLERY
El Nino Hits California