How are you weathering this weather? The Northeast just had the warmest December on record. It was short sleeves instead of Christmas sweaters. The West Coast had a cool holiday, so it was space heaters instead of bathing suits. And, the Northwest is finally seeing snow; while the Southwest is feeling relief from the drought. All of these changes are from El Nino. What other extremes will El Nino bring this year?
El Nino is well known for being highly unpredictable. The one thing we do know is that extreme weather is the new normal. Many still have repairs from the unprecedented winter of 2015 to tackle. Others are hoping to prepare for El Nino's wrath and other extreme weather. Where do you start? It's simple, the roof over your head and the yard around you.
With the recent uptick in severe weather, it is critical to have a roof that is constructed to withstand wind-driven rain, snow, and ice and a yard that properly drains water to prevent flooding and landslides. The good news is with the right professional and innovations your yard, home and roof will stand up against the next extreme weather.
First up, your surroundings. Does your yard properly drain water away from your home to prevent flooding and does your landscaping divert landslides? Here are three critical steps from the experts at FEMA to ensure your yard is prepped for titanic rain:
1. Scout it out: Become familiar with the land around you. Slopes where debris flows have occurred in the past are likely to experience them in the future. It is also advised to get a ground assessment of your property.
2. Ask the pros: Consult a professional for advice on appropriate preventative measures for your home such as flexible pipe fittings, which can better resist breakage.
3. Landscape: Protect your property by planting ground cover on slopes and building retaining walls. In mudflow areas, build channels or deflection walls to direct the flow around buildings. Be aware, however, if you build walls to divert debris flow and the flow lands on a neighbor's property, you may be liable for damages.
Next, how do you ensure that your roof is strong and waterproofed? I connected with a roof construction & residential waterproofing expert, David Baur at Grace Residential Building Materials, and gathered these four tips:
1. Inspect your roof: Look for potential problems on the roof. Loose or curled shingles, broken or missing tiles all need to be repaired. Inspect the flashing, drainage system, and accessories such as vents and skylights. If you see issues or if it has been awhile since you have had your roof looked at, it is best to bring in a trained roofing professional. Ask them if you need additional reinforcements to your roof's structure.
2. Help your roofer: You can help your roofer protect potential trouble spots by pointing out areas where leaks have occurred in the past and where snow and ice loads were especially high. Roof wall intersections, chimneys, and skylights are frequently problem spots.
3. Ask your roofer if your roof has underlayments: The complete roof system consists of multiple layers -- not just the shingles. Shingles are the exterior layer and they are not enough to keep the water out. What makes the difference and protects your roof from water damage is the roofing underlayment, which is installed underneath the shingles. Roofing underlayments perform many functions in a roofing assembly, but first and foremost, they serve as the last line of defense between homeowners and the damaging effects of water infiltration. Be sure your roofer uses quality waterproofing underlayments. While use of an underlayment is required by building code, there are multiple product types that can be used.
4. Need underlayments? Be sure to ask your roofer what type they will use: The answer you want to hear is that your contractor is using self-adhered underlayments, especially at the eaves and at all critical detail areas. Self-adhered membranes come in a roll form and consist of a layer of adhesive. Premium performance self-adhered underlayments seal around the fasteners used to attach the shingles, which helps prevent the water from leaking into your house. These high-quality self-adhered underlayments stick to the roof deck so that water may not travel under the underlayment and enter the house. Most of us re-roof one to two times in our lives, do it right the first time, you will have guaranteed protection.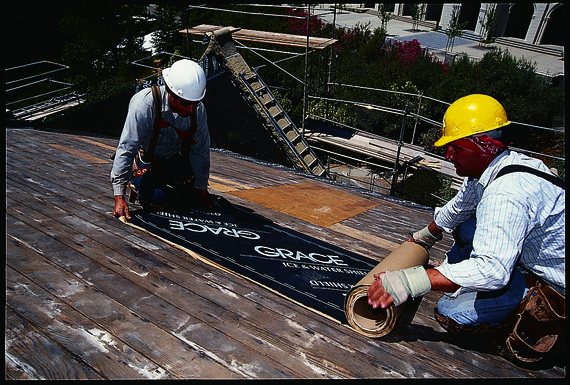 With these steps you can go to sleep at night knowing your roof and surrounding yard will fight against even an El Nino seduced Mother Nature. And if the authorities tell you it's time to evacuate, it is! Grab your kids, pets and important papers and get out. My final El Nino tip -- keep all seasonal clothes handy! Today may be a tank top and tomorrow may be a sweater!
For more El Nino information and tips, click here