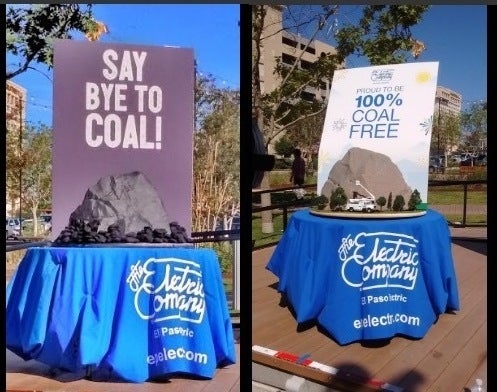 Many Sierra Club activists and staffers were on-hand for El Paso Electric's coal-free celebration held Wednesday in El Paso, Texas. Together with utility and community leaders, we celebrated the milestone of moving beyond a polluting source of energy and the leadership shown by the utility.
Among them was my Sierra Club friend and colleague Al Armendariz, and the occasion was especially meaningful to him, because he was born and raised in El Paso. "Over my lifetime I have seen the environment in El Paso change tremendously," said Al. "I remember the acidic air pollution that hung over the Westside in the 1970's from the old ASARCO lead and copper smelter where my grandfather worked. Today I celebrated with an electric utility that is proud of the investments it has made in utility-scale solar energy projects, with additional projects planned in coming years."
Al has also seen the utility's work up close over the past few years.
"I send my strong congratulations to El Paso Electric and their CEO Mary Kipp. Their celebration of going coal free should send an important signal to other Texas utilities that it's time to get in the clean energy game. While there's still more work to be done to fully realize Texas and New Mexico's renewable energy potential, we know that shifting away from carbon-polluting coal plants is one of the most important things we can do to avoid the worst impacts of climate change, which is already making droughts in our region more serious and drying up the Rio Grande," Al said.
As a native of El Paso, Al is especially proud that a local utility is providing his family with cleaner power like solar energy that won't pollute the air or worsen climate disruption. According to utility officials, the move is a win-win that will dramatically reduce the company's climate-polluting carbon emissions, without increasing electricity prices for consumers.
Over the last several years, El Paso Electric has been working on ways to provide power in its Texas and New Mexico territories without the coal-fired electricity it has obtained for decades from the Four Corners coal-fired power plant, located within the Navajo Nation. The Four Corners coal plant has been one of the largest sources of carbon pollution in the country for many years, as well as a large source of air pollution that harms the health of families, especially Native American families living on tribal lands nearby.
This announcement comes after years of advocacy by Sierra Club, the National Parks Conservation Association, Dine CARE, To' Nizhoni Ani, Wild Earth Guardians, and other  partners and allies to clean up emissions from the Four Corners coal plant and two other plants in the area. After years of delay and a lawsuit by Sierra Club and allies, the U.S. EPA finally published a rule in 2012 that required the Four Corners plant owners to either clean up their emissions or phase out burning of coal at the plant. U.S. EPA determined that the harmful air pollution from the plant was clouding the skies and creating haze at some of the country's most iconic places, including Mesa Verde National Park and Bandelier National Monument.
Furthermore, legal actions by the U.S. EPA and advocates over emissions that harm public health resulted in a 2015 settlement, which requires the plant owners to spend millions of dollars in pollution control equipment if they want to keep burning coal at the plant.
El Paso Electric owned a seven percent share of the plant as part of a 50 year operating agreement that ended in July 2016. Rather than continue its affiliation with the plant, a move that would have required millions of dollars of ratepayer money to reduce emissions and upgrade the old plant, El Paso Electric made the wise decision to get out of the coal business and instead focus its resources on cleaner energy like solar power.
El Paso Electric is making the right decision at the right time. Moving away from coal makes sense not only for the environment, but it also makes economic sense. The cost of producing solar power has never been more affordable, with prices falling 50 percent over just the last 5 years. El Paso Electric has been a leader in adopting solar, with its Macho Springs facility near Deming already operational and producing enough power for tens of thousands of residents. It's now up to other coal utilities across Texas and the rest of the U.S. Southwest to move away from coal, and ultimately all fossil fuels, as we make the shift to powering the nation with clean, renewable energy like solar and wind.
According to El Paso Electric, the utility will be eliminating one billion pounds of carbon dioxide from its annual emissions by no longer being dependent on the Four Corners plant, while also preventing another billion pounds of carbon dioxide via the operations of its large-scale solar facilities!
Meanwhile, other utilities are dragging their feet and wringing their hands, insisting that phasing out coal use is impossible. Enough with the excuses - it's time for leadership and action to safeguard our families, our communities, and our planet. Thank you El Paso Electric, for showing us all how it's done.
REAL LIFE. REAL NEWS. REAL VOICES.
Help us tell more of the stories that matter from voices that too often remain unheard.