AUSTIN, Texas ― Immigration and Customs Enforcement detained a domestic violence victim at an El Paso County Courthouse last week shortly after the undocumented immigrant obtained a protective order to shield her from the man accused of abusing her, according to a state news report.
The arrest, first reported by The El Paso Times on Wednesday, would mark a shift in ICE practice under President Donald Trump and has legal experts worried that it will dissuade women from seeking the protection of the courts when they face abuse.
Barbara Hines, who headed the immigration clinic at the University of Texas at Austin and still serves as a professor, said victims of domestic violence have options under the law to normalize their immigration status. The U Visa, for example, protects victims of violence from deportation if they agree to cooperate with law enforcement.
"That's outrageous. That's all I can say," Hines told The Huffington Post, referring to the arrest. "This is very unusual. I would say it's a terrible precedent and it will discourage survivors of abuse or people being abused from seeking the protection they're entitled to under our laws…. This is going to make immigrant women fearful of going to the authorities, and it will result in more domestic violence because women will be too afraid to seek protection."
ICE did not immediately respond to a request for comment.
The case is all the more disturbing to immigrant rights advocates because The El Paso Times reported that ICE went after the woman, described in the article only by her initials, IEG, on a tip from her alleged abuser after he was arrested by ICE.
If ICE did act on a tip from an accused abuser, it would likely violate immigration law, according to Hines. Officials and law enforcement are prohibited from making a determination to detain someone for deportation solely on information provided by an abusive partner.
The arrest was among a string of actions by ICE that have caused an uproar among immigrant rights advocates who say that the agency is taking enforcement to extremes it rarely did in the final years of Barack Obama's presidency.
"I've never heard of targeting a person in that way before," Stephen Legomsky, the former head of legal counsel for U.S. Citizenship and Immigration Services, told HuffPost. "It's possible there's facts we don't know, but if this is the whole story, it seems like this is a coldblooded way to go after somebody."
If the woman arrested turned out to have a serious criminal history, detaining her would be somewhat less of a break from practice under the Obama administration, Legomsky said. She has a prior deportation on her record, according to The El Paso Times, but that would have made her a lower priority for removal under the Obama administration.
But if she was seeking protection from a court and was arrested at the courthouse itself, that would make the case unusual, Legomsky said.
"This is going to make immigrant women fearful of going to the authorities, and it will result in more domestic violence because women will be too afraid to seek protection."
"They're effectively empowering a partner's control over a woman, which is very concerning," Legomsky said. "If it turns out that she has a serious criminal record of her own, perhaps it would be more typical. But in the absence of something like that, it would seem pretty coldblooded. It puts undocumented women who are being abused by their partners in an impossible situation."
Trump, who campaigned on a promise of mass deportation, signed an executive order in the first week of his presidency that defined nearly every undocumented immigrant as a priority for arrest and removal. In his final years, Obama instructed ICE to focus on serious criminals and recent border-crossers.
ICE officials said that of the more than 680 immigrants agents arrested last week, about 75 percent were convicted criminals. The agency did not provide more specific data on what crimes the individuals committed and how many were related solely to their immigration status. Officials said the arrests were part of a targeted action aimed at specific individuals, although they acknowledged that people not convicted of crimes and those who were not the targets were in some cases arrested as well.
That was the case for 23-year-old Daniel Ramirez Medina, a recipient of the Deferred Action for Childhood Arrivals program, or DACA, who was arrested in Washington state last week. He passed a background check to receive DACA, which allowed him to work legally and gave him temporary deportation reprieve. But while ICE agents were looking for someone else, they picked up him, and officials say he confessed to being a gang member ― something his lawyers say he is not. Ramirez Medina remains in detention.
In Phoenix, ICE agents apprehended and then quickly deported Guadalupe "Lupita" García de Rayos, a mother of two U.S. citizens, last week. She had for years been passed over for deportation in spite of a conviction for using a fake Social Security number to get a job. In the past, ICE often did not carry out removals of parents who had young children, had long roots in the community and no violent criminal record.
Other tactics by immigration enforcement agents have come under scrutiny as well. ICE agents arrested two men after leaving a hypothermia shelter at an Alexandria, Virginia, church last week, according to the local NBC affiliate. The station reported that an ICE spokeswoman said agents were in compliance with a policy against enforcement actions in "sensitive locations" because the arrest was not on church property.
Trump said Monday that he was following through on a campaign promise "to get the bad ones."
"We're getting them out, and that's what I said I would do," he said in a press conference. "I'm just doing what I said I would do when we won by a very, very large electoral college vote."
Support HuffPost
The Stakes Have Never Been Higher
Before You Go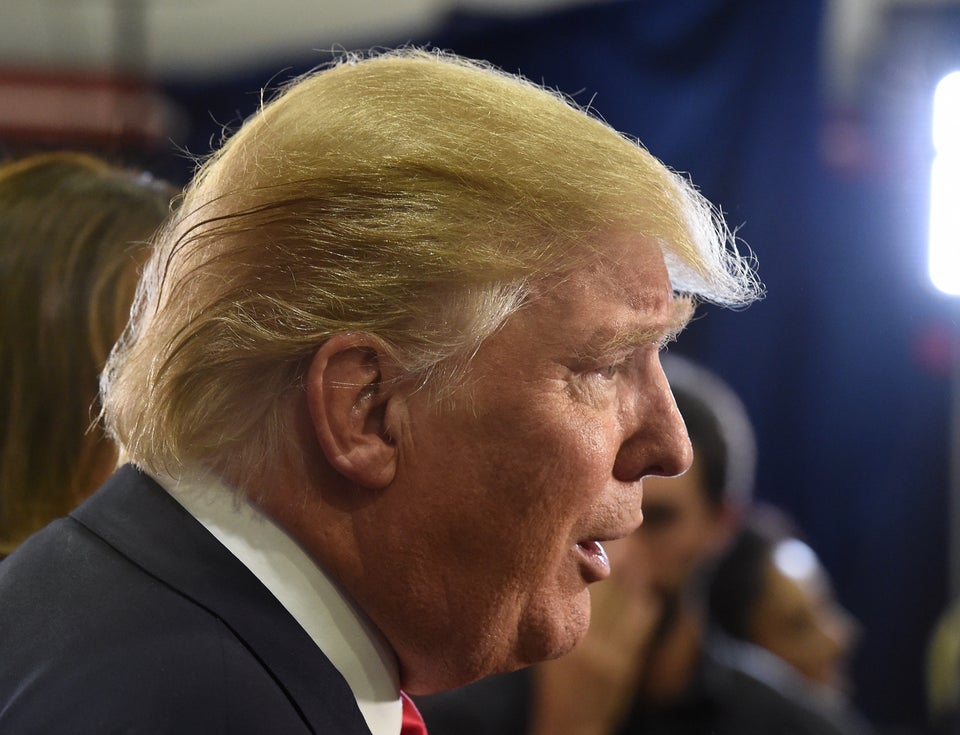 How Donald Trump Talks About Undocumented Immigrants
Popular in the Community