The 21-year-old man arrested for allegedly carrying out the attack is suspected of harboring racist and xenophobic beliefs. Authorities are investigating whether a four-page manifesto posted to the extremist online forum 8chan shortly before the shooting was written by the suspect, Patrick Crusius, a white man from a town near Dallas.
These are the names of the victims identified so far:
Jordan Anchondo
The 25-year-old mother of three was fatally shot while shielding her 2-month-old son in her arms, her sister told The Associated Press.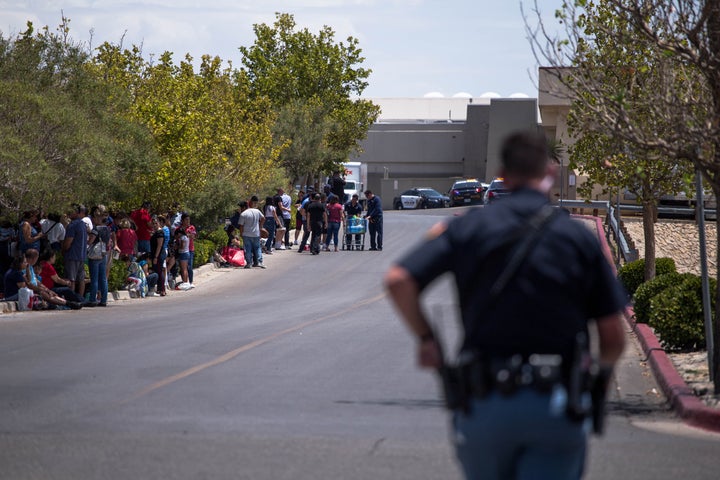 Anchondo was at the Walmart shopping for back-to-school supplies when she was shot. Her son was treated for broken bones, which her sister, Leta Jamrowski, said were the result of the mother's fall.
"From the baby's injuries, they said that more than likely my sister was trying to shield him," said Jamrowski, 19. "So when she got shot she was holding him and she fell on him, so that's why he broke some of his bones. So he pretty much lived because she gave her life."
Andre Anchondo
Andre Anchondo, Jordan's husband, was presumed missing after the shooting.
Terry said Andre owned a mechanic shop in El Paso.
Arturo Benavides
Benavides has been identified by family as one of the victims.
He was shopping with his wife when the gunman opened fire. His wife escaped, but he was unable to make it out of the store alive, family told El Paso TV station KTSM.
A U.S. Army veteran, Benavides had recently retired from working as a bus driver for Sun Metro, El Paso's public transit agency, according to his great-niece Jacklin Luna.
"He was starting to enjoy his time just at home, he would sit outside with his oldies music — he loved the '60s and the '70s — and his dog, who he just fell in love with," Luna told The Washington Post. "Something as simple as that would make him happy."
Javier Amir Rodriguez
Rodriquez, a 15-year-old high school student, was among the victims, his family members and school district confirmed.
"We are deeply saddened to learn of the loss of one of our students," the Clint Independent School District said on Facebook. "Our heartfelt condolences and prayers are with his parents and family."
Sara Esther Regalado
Foreign Minister Ebrard identified Regalado as one of the victims of Saturday's shooting. Regalado was from Ciudad Juárez, Mexico, and her husband was also killed in the attack.
Adolfo Cerros Hernández
Ebrard also identified Cerros, Regalado's husband, as among the victims.
"We are devastated," wrote the couple's daughter, Sandra Ivonne Cerros, in a Facebook post in Spanish. "These have been very difficult hours. Now we are united and grieving."
Jorge Calvillo García
Ebrard said Calvillo, from the city of Torreón, Mexico, was among the victims. Torreón Mayor Jorge Zermeño Infante wrote on Twitter: "May God grant solace to his family and friends, as well as to all those affected by this event."
Elsa Mendoza de la Mora
Mendoza, a 57-year-old elementary school teacher, was identified as one of the victims. Mendoza was reportedly shopping at Walmart while her family members waited for her outside the store.
"I bid farewell to my companion, the most marvelous of women, a person full of light who will continue illuminating our way for the rest of our lives," her husband said in a Facebook post, according to the Los Angeles Times. "We are going to miss you, love."
Gloria Irma Márquez
Ebrard identified Márquez, from Ciudad Juárez, as one of the victims of Saturday's shooting.
María Eugenia Legarreta Rothe
Ebrard confirmed Legarreta Rothe, from the city of Chihuahua, Mexico, as another victim of the shooting.
Ivan Filiberto Manzano
Ebrard confirmed Manzano as yet another victim from Cuidad Juárez.
Juan de Dios Velázquez Chairez
Ebrard identified Velázquez Chairez, from the Mexican state of Zacatecas, as among the dead.
Other Mass Shootings
Early Sunday morning, just hours after the El Paso slaughter, a mass shooting in Dayton, Ohio, left nine people dead and 27 injured, according to authorities. Police said they killed the suspected shooter. The suspected shooter's sister was one of the victims.
This story has been edited to reflect a higher death toll and will continue to be updated as more names become available.
Antonia Blumberg contributed reporting.
Popular in the Community