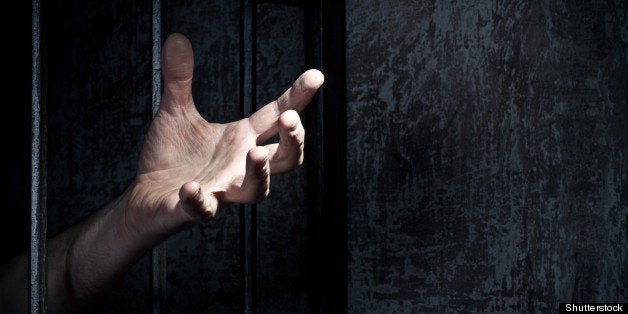 A residential teen treatment center in Pueblo, Colorado, is under fire for housing children in prolonged solitary confinement.
The El Pueblo facility treats at-risk adolescents, many with developmental disabilities and mental health conditions and many under the watch of Colorado's Department of Human Services. The facility has two so-called reflection cottages– eight-room units used to isolate teens for days, weeks and, by some accounts, even longer.
"People need to know what's going on in there. They need to know that they're torturing kids," said William Montez, whose 14-year-old daughter Jasmine spent what he believes was a month secluded in one of the cottages.
The American Civil Liberties Union of Colorado has been investigating El Pueblo's practice of isolating kids in what the group describes as "small concrete rooms with no other feature than a concrete slab for a bed."
"Children in solitary confinement at El Pueblo are denied the opportunity to go to school, to speak with other kids, and to spend time outdoors," according to the ACLU, "which is calling for the state to immediately end the center's isolation practices or pull its license."
"El Pueblo's routine seclusion of children not only violates regulations promulgated by [Department of Human Services ] Division of Child Care, but also likely violates the United States Constitution," ACLU lawyers Rebecca Wallace and Mark Silverstein wrote in a letter last week to state Human Services chief Reggie Bicha.
Department of Human Services Spokesperson Liz McDonough said the department sent a team of staffers to El Pueblo April 12 and that Bicha will write a response addressing the ACLU demands next week.
State policy prohibits seclusion of children, except in emergency situations and only after all less restrictive alternatives have been exhausted.
Under Human Services rules, seclusion should not last more than two hours, except in the most extreme cases. It should end, the policy says, when the crisis passes.
El Pueblo President and CEO Sherri Baca criticized the ACLU for complaining to regulators before expressing concerns to her and for depicting her facility in ways that she said are incorrect. She said all children treated in the cottages are allowed schooling, outdoor recreation and interaction with other kids. She said the center's "reflection spaces" are "crisis intervention cottages" that are "very clinical in nature" and effective for treating unruly teens.
"There are safety issues to keep them from harming themselves or others," she said.
Baca objected to words like "seclusion" and "isolation" to describe conditions in the cottages.
"Honestly, those are not things that we're allowed to do under our license," she said. "Our children are never alone. It's a facility in which staff are in direct line of sight with kids."
Baca agreed to let The Independent tour El Pueblo but not the cottages. She would not say how long kids spend in what she referred to as "reflection," nor whether El Pueblo has policies limiting lengths of confinement.
"It's all based on clinical needs that change day to day," she said.
Founded in 1960, El Pueblo is a private nonprofit sited on a 57-acre ranch. It is licensed to treat 160 kids but, Baca said, the facility is currently treating about 75. El Pueblo offers residential treatment programs that average from four to six months, as well as day programs for boys and girls who have been kicked out of traditional schools.
Jasmine Montez was running away from home and skipping school when she stole a ChapStick from a Safeway. Authorities stepped in to say she needed institutional help.
"We did it to teach her a lesson, so she doesn't mess up," said her dad, William Montez.
A court motion filed in Jasmine's case on March 29 suggests that seclusion is being used broadly as a form of induction for new clients, not just to manage crises.
The motion states that a Pueblo Department of Social Services worker acknowledged that juveniles transitioning to El Pueblo are placed for a mandatory minimum of two days in the reflection cottages before transitioning to non-isolation housing units.
The motion describes the cottage rooms in terms that evoke prison conditions.
"The children/detainees are not allowed to leave the locked unit to participate in [educational programming or recreational programming]," it says, and "Children/detainees are not provided access to a day room with chairs or any type of seating or cushioned seating" ; and "Children/detainees have to ask permission to leave the concrete cell to use the bathroom…"
William Montez and Jasmine's mother, Katherine Valdez, said their daughter spent two weeks locked down 23 hours a day in "reflection." They said she spent another two weeks allowed to attend classes and socialize, while still having to return to the isolation room between activities. As they tell it, Jasmine broke her finger and El Pueblo failed to provide for treatment. They said the finger ultimately required surgery and that their daughter was isolated a second time for contracting a scabies infection that had spread through the facility.
"The state is saying we should trust these people to take care of our children. But they would put us, the parents, in jail for treating kids the way this institution does," Valdez said.
Joshua Riddock shoplifted an ashtray, stole his grandfather's car, was taking drugs and acting out at school when his family sent the 15-year-old to day school at El Pueblo last fall. A status report from his case manager reads that Riddock was "referred to the Reflection cottage on two occasions for 23-hour overnight stays. These referrals were made because of disrespect to a teacher and using profanity and [a] positive [test for marijuana]."
None of those transgressions justified solitary confinement, his advocates said.
"It's hard to see how that amounted to an emergency situation," said Ken Riddock, who has raised his grandson since Joshua was born with a meth addiction.
"They never gave him a mattress, a pillow, a blanket, pajamas. He was in the same clothes he was in the day before, fed a microwaved meal that was frozen on the inside," added Mary Jane Riddock, Joshua's grandmother and guardian. "He kept saying 'Please Mom get me out of here, get me out of here, it's a nightmare.'"
Months after his release, Riddock's family said the now-16 year old with separation anxiety has nightmares in which he yells for his grandmother.
"I say 'Yes, I m here, Josh. Go to sleep.' He has been a mess ever since he came home," Mary Jane Riddock said.
Since the ACLU demanded the state end seclusion at El Pueblo, the group said several children have come forward about their experiences in "reflection."
"I now have interviewed eight kids. Their stories are consistent," ACLU staff attorney Rebecca Wallace told The Independent.
According to its website, El Pueblo opened satellite offices at the Children's Hospital Colorado and in Colorado Springs in 2012. The site, featuring photos of handsome smiling teens, touts "a positive, cognitive behavioral model of treatment" that includes therapeutic interventions, anger management and daily living skills.
"There really isn t a way to smear 53 years of good intervention for kids," said Baca, the CEO. "But when people from the outside choose to make allegations that are inaccurate, it could weaken things. It really could."
Kim Dvorchak, executive director of the Colorado Juvenile Defender Coalition, has fought to keep kids out of isolation in jails and prisons. Treatment settings, she says, should be no exception.
"Solitary confinement of children is harmful, inhumane, and not be tolerated," she said. "These allegations are horrific, and the [Department of Human Services] needs to conduct a statewide review of all treatment centers."
Related
Popular in the Community