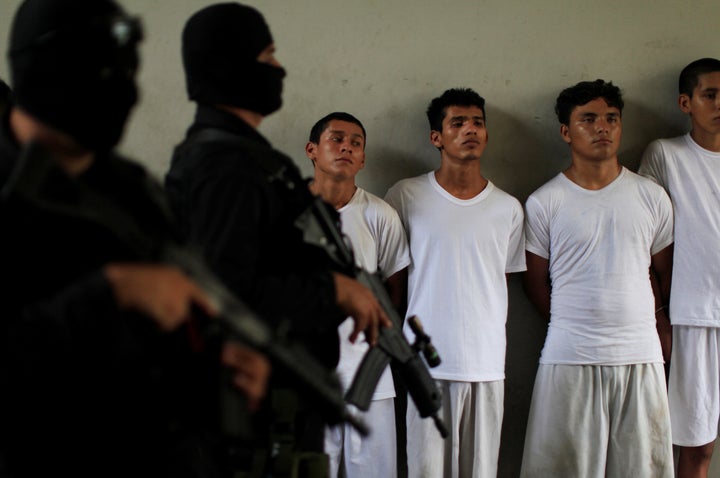 El Salvador's homicide rate jumped 70 percent this year, putting the country on track to become the most dangerous in the world.
The homicide rate had dropped in recent years after the country's gangs reached a truce that limited the violence there. But the pact collapsed last year, sending the murder rate soaring to levels that rival those of Honduras, which for years has registered the highest homicide rate in the world.
Some 6,500 Salvadorans died violently this year, compared to 3,912 the year before, according to police statistics cited by Reuters. That works out to a homicide rate of 104 per 100,000 people, or about 18 homicides a day, according to the Spanish newswire EFE -- a figure that exceeds even the average daily number of violent deaths during El Salvador's brutal civil war, which lasted from 1980 through 1992.
There are some signs that the Salvadoran government has taken steps to curb the violence. Killings dropped sharply last month amid rumors that officials had re-entered into talks to foster a gang truce. During the first three weeks of November, homicides plunged 50 percent, according to the Salvadoran digital news site El Faro. A presidential spokesman denied that the government had negotiated with the country's gangs, instead attributing the drop to police successfully cracking down on organized crime.
Violence in Honduras, by contrast, has plummeted over the last three years, though it still remains among the worst in the world. Preliminary figures reported by the Honduran daily La Tribuna on Tuesday placed the country's homicide rate at 61 per 100,000 people, marking a 7-point drop.
U.S. officials are watching developments in both countries closely. More than 200,000 Central American children and mothers have crossed illegally into the United States in recent years, in many cases fleeing violence and seeking asylum or some other form of humanitarian relief in the U.S. The budget passed for 2016 includes some $750 million in security aid and economic support for Central America in the hope that it will reduce the flood of people fleeing the region.