The stillness of the dead, however, is a more powerful expression of the war for award-winning director Natalia Almada ("El Otro Lado," "El General"). In her newest documentary, "El Velador (The Night Watchman)," the Mexican filmmaker shadowed Martín, a cemetery guard, in his day-to-day life watching over the luxurious tombs of individuals whose short life and lavish resting place point to a life linked to the drug cartels.
"When I first got there the skyline of the cemetery had three or four mausoleums that were in construction, they were huge like 3 stories high, and they really looked like houses," Almada told The Huffington Post. "They were much more extravagant than what was being built before. And they were [also] excavating a new hole right in front for more bodies because they had already run out of space. So immediately it was this very visual mirror of the violence in Mexico. The more people that were dying, the more violence that we were seeing, the more extravagant and the bigger that the cemetery was becoming."
(Watch the film's trailer above)
Shot mostly from the far back corner of the cemetery, by Martín's modest home, the film has almost no dialogue and attempts to tacitly portray a reality.
"When I would interview people at the cemetery I would get these packaged answers that didn't feel very sincere, or people couldn't really speak freely," said Almada. "And I actually think that's one of the big damages of violence, it creates a society in which people are afraid to speak. And so given that context, I realized in order to make a portrait of the violence that was happening in Mexico it was necessary to look at gestures [and] action as a way to tell the story."
"I think it's an interesting film for American audiences, because hopefully it's a different way of looking at the Drug War and the violence," Almada adds. "I really wanted it to humanize the situation a little bit. [For people] to remember that when we talk about the 60,000 people who've been killed in Mexico in the last few years in relation to the drug war, that those are actually people with families, children, widows, and mothers that they left behind."
Check out these stills from the movie: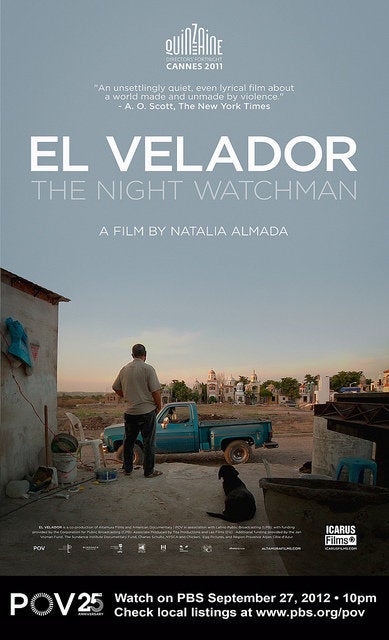 Scenes From "El Velador (The Night Watchman)"
Popular in the Community