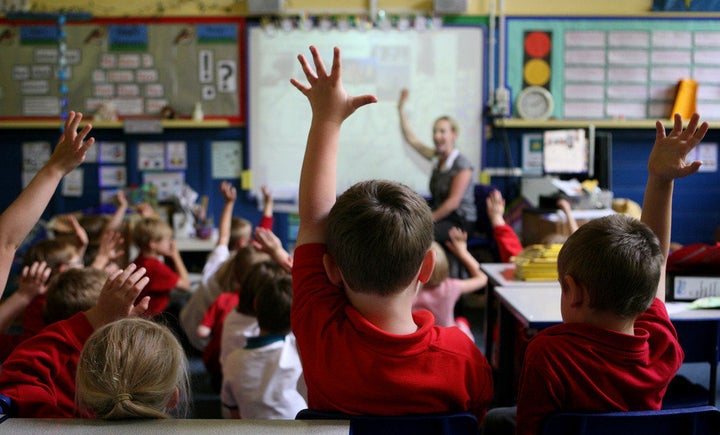 Some of the biggest and best news in Colorado this year is that education funding isn't being cut in the state's budget for the first time in years.

Colorado has held onto its average per pupil funding at $6,474 with the lowest per pupil funding at $6,058.86. To help put this good news in perspective however, the most recent U.S. Census Bureau data shows that Utah spent the least on per pupil funding, out of all 50 states and D.C., at $6,064.

With the number of students attending Colorado schools slated to surpass 817,000 this year, educators in the state continue to face challenges that are often summed up as "doing more with less." Last year the state made education news as a judge ruled during the Lobato v. State of Colorado case that Colorado is not upholding it's own constitutional education standards of providing a "thorough and uniform system of free public schools throughout the state." That decision will likely continue to forge Colorado history as lawmakers and state board of education members seek an appeal and those in agreement with the ruling have to stay on legislators because there was little to no guidance in the ruling as to how to achieve a more thorough and uniform education system throughout the state.
Just last week Berman delivered a powerful speech on education progress in Colorado and what it will take to move the needled on student achievement for all students in the state, expanding on the many ideas she shared with The Huffington Post.
Berman gave permission to republish her speech in its entirety, read her speech below:
I have been involved in education policy for over 2 decades now, working at the Piton Foundation, serving on the Denver Public Schools board and more recently on the State Board of Education. Much has changed with our public schools since 1990.

In 1990, our 178 school districts operated pretty independently. Now we have state academic standards. And we are on our way to national standards.

In 1990, we used the Iowa Test of Basic Skills to evaluate our students. Now we have progressed from the Iowa test to the CSAP to the TCAP to test our students.

In 1990, we measured student achievement at a single point in time. Now we analyze individual student growth over time, using a sophisticated model that is being widely adopted throughout the country.

In 1990, there was a wall between the K-12 system and higher education. Now, there are many programs in place that allow for early exposure to college coursework.

In 1990, our accreditation system held no real consequences. Now we have one that is closely tied to outcomes and includes such high-stakes sanctions as closing failing schools.

In 1990, students were limited to attending their neighborhood schools. Now our system offers charters, choices and other options.

In 1990, there were few options to traditional classroom learning. Now there is a whole menu of online schools and courses, adding scheduling flexibility and more academic richness to the coursework available.

In 1990, teacher evaluation was routine and formulaic. Today, we are in the process of developing a more structured way to evaluate teacher's which is partially tied to student performance.

Colorado education reforms now include new accountability measures, new approaches to teacher evaluation, new academic standards, and new tests. We are recognized as being innovative and progressive. Colorado has reshaped the education landscape in so many ways. But have we done enough?

The data shows we are doing a good job for some—but not for all.

The National Assessment of Education Progress—the so-called "Nation's Report Card," suggests good news. On some tests, Colorado is near the top among the 50 states. But, on the other hand, we know the system is not working for all students. Poverty continues to be the most influential predictor of academic success. Education reform must swim upstream against the powerful current of increasing levels of childhood poverty. Here in Denver almost one in three children live in poverty. Many of our low-income children come from homes that do not provide the stimulation to optimize early language development, who are not ready to learn when they enter kindergarten, who remain behind grade level, and who are less likely to graduate.

The Achievement gaps based on income and by extension race remain wide. In some subjects, those same NAEP results show African-American and Hispanic students are fully two grades behind white students. Our own state tests reveal the same seemingly intractable problem.

Second, overall student achievement is relatively flat. In 2006, 70 out of 100 third-graders were reading proficiently and, now five years later, it's 73 out of 100.

Third, the graduation rate hasn't changed very much. And again -- gaps based on race and poverty are glaring. Eight of ten white students graduate within four years, but for Hispanic and black students it's about six of every ten students.

Fourth, too many high school graduates aren't prepared for college work. Statewide, nearly a third of all Colorado high school graduates attending a state college or university must enroll in a remedial math, writing or reading class.
Despite our considerable progress in educational reform our improvements have not moved the needle enough. We need more transformative solutions and we need a sense of urgency.

We have solid evidence that can give us a clear roadmap about where to invest our resources. Research demonstrates that early childhood education and the development of early literacy skills are critical to student success; our school calendar is out dated and students need more time in school -- no more three month summer vacations; art, music, sports, debate, dance, drama make important contributions to student engagement. Technology used creatively in the classroom with teacher support can individualize learning.

We know these strategies work, so why is our education system not able to move more rapidly in this direction?

I believe it is a question of resources carefully targeted at the struggling students and invested wisely in the proven strategies such as those just mentioned. We have come to a point where we need to acknowledge that without additional resources we will not be able to accelerate our progress. We have two choices -- we either repurpose the resources currently available to Colorado schools, or seek additional funding. Just in the past 4 years alone $1 billion have been cut from our schools.

It is not popular today to talk about more money or higher taxes. We accept the fact that education has its share of bureaucracy, rules and paperwork -- and yet we continue to generate new laws that require more rules and data collection. With all that said, as someone who has been in this fight for more than 20 years, the time has come for each of us to step up, be courageous and make the case that our students deserve a first-class education from early childhood through college.

A first class education in 2012 and beyond will require more resources. If Colorado can be a pace setter in so many areas of reform, we can also be a pace setter in coupling those reforms and other proven strategies with the necessary resources.

Colorado has made bold educational reforms. We need another bold step, a transformative step, a commitment to the future, a commitment to provide the resources our public schools need to educate well every single student.
REAL LIFE. REAL NEWS. REAL VOICES.
Help us tell more of the stories that matter from voices that too often remain unheard.
BEFORE YOU GO