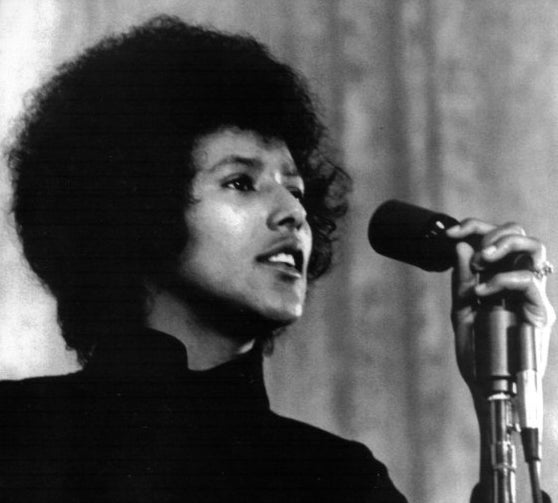 It's been about three decades since Elaine Brown led the Black Panther Party.
Today, at 73-years-old, Brown is CEO of Oakland And The World Enterprises, a non-profit aimed to help formerly incarcerated people and others facing socioeconomic barriers launch their own for-profit businesses. She has spent nearly two decades supporting the legal appeal of Michael "Little B" Lewis, who was arrested at the age of 13 and tried as an adult for a murder many believe he was wrongly accused of.
The Black Panther Party may now be defunct but, Brown has never abandoned the beliefs that led her there.
"My whole life is based around the principles that I've committed myself to in the Black Panther Party so the work that I'm doing now is in a different set of circumstances," she told HuffPost. "I'm an individual but this is the same, I have the same belief system... I'm just working in different environments because there is no Black Panther Party."
Fifty years after Huey P. Newton and Bobby Seale founded the party, Brown is working to keep the its revolutionary spirit alive.
The former party chair (1974 to 1977), who now serves on the committee board for the conference commemorating the 50th anniversary form October 20-23, joined the party at age 25 after meeting a founder of the first chapter in Southern California, Alprentice "Bunchy" Carter. Brown told HuffPost that initially she was hesitant to join, "but at one moment, you make that crossover, the way Christians become Christians and people find enlightenment. Then I knew I had to surrender to what was bigger than me and the Black Panther Party was a tool for liberation of black people as I saw it."
During her tenure as a member, she helped with some of the more than 30 "Survival Programs" the party organize to contribute to black communities, including the Free Breakfast for Children program and the Free Health Clinic program.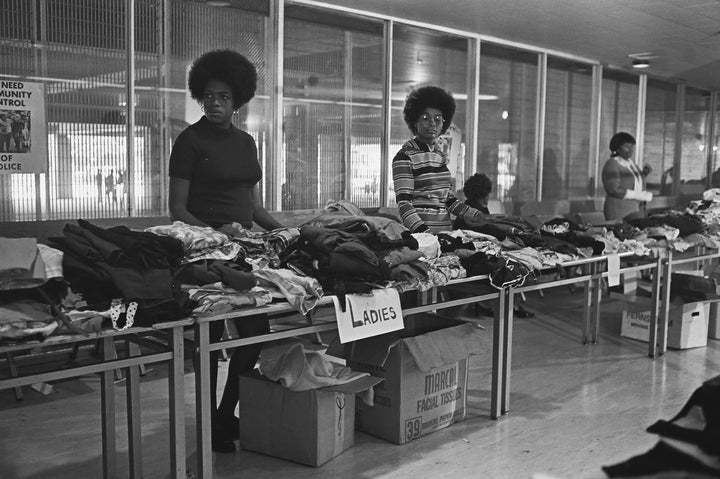 The Panthers made something out of nothing for the sake of their communities. Brown told HuffPost that members were given directives to make these programs work with no money for resources. She said they often using abandoned storefronts and getting help from local medical students.
"The way we were able to do this is because it was a 24-hour job. You didn't have a life outside the Black Panther Party. We said no part-time revolutionaries," she said. "So we knew collectively everything we've ever earned, we pulled together and things that we had, we pulled together so we can cut back on personal expenses to serve the larger good."
That included their weekly newspaper, of which Brown served as editor for two years. When a black person was gunned down by a cop or a racist in the '60s and '70s, people could look at the party's paper to tell their stories including those of Denzil Dowell, Sam Napier, and the first Panther who was murdered at age 17, Bobby Hutton.
The publication disseminated urgent news and exposed injustices to black people in America, and Brown said working on it was the most rewarding part of her life. They policed the police, Brown said. Communities had a relationship with the party in which they could call them for help and men and women of the party would patrol the streets with guns.
Though militant, the members weren't without fear.
"None of us felt we'd ever live past 30 years old. Some people didn't think they'd live past 25," Brown told HuffPost.
Just as they would watch the police, the police were watching them. Brown recalls getting stopped on a weekly basis for petty offenses ― like "broken" taillights that worked just fine. According to Brown, cops visited her aunt, who lived in Philadelphia at the time, to tell her that Brown was in a "rogue" group and get her to turn against her niece. Brown said authorities even used the media to try to get members to turn against Newton when he was released from jail.
The FBI's Counterintellegience Program (COINTELPRO) used tactics (often illegally) to spy on, infiltrate, discredit and disrupt the party. Many believe this program led to the murder of many party members, including party leader Fred Hampton, and the ultimate dismantling of the party in 1982.
Brown said when black people outside of the party took notice of the police's efforts to stop the Panters, they began to organize as well.
"The people were becoming aware this is what they do when we fight for our freedom," she said. "This is what they do when we make certain minimal demands like for food or health care or anything like that? This is what they wanna do?"
Today, more than 30 years after the party's dismantling, Brown said there are still many misconceptions about what the party stood for. She told HuffPost that the mislabeling of the party and it's leaders as "thugs" or "terrorists," as well as the lack of the party's true mission in textbooks, are the residuals of COINTELPRO. Brown, who was the only woman to lead the party as chair, also said labeling the party as any more chauvinistic than society itself is inaccurate.
""We were the women in the Black Panther Party, and we were sisters and we were strapped and we fought back just like any man… I'd say we were more progressive than [other black organizations].""
"There was no other organization out there that had a woman as a leader. None," she said. "Wasn't no [man] gonna come up to me and tell me what they wasn't gonna do. Not in the Black Panther Party. Now if you want to, you can leave but you know, how Martin is always putting people out of his house in the old 'Martin' series, he's always saying 'you don't have to go home but you have to get the heck out of here.'"
By the 1970s, a majority of the party was composed of women. Brown said their tasks weren't menial. They took on the same roles as the men.
"We were the women in the Black Panther Party, and we were sisters and we were strapped and we fought back just like any man… I'd say we were more progressive than [other black organizations]."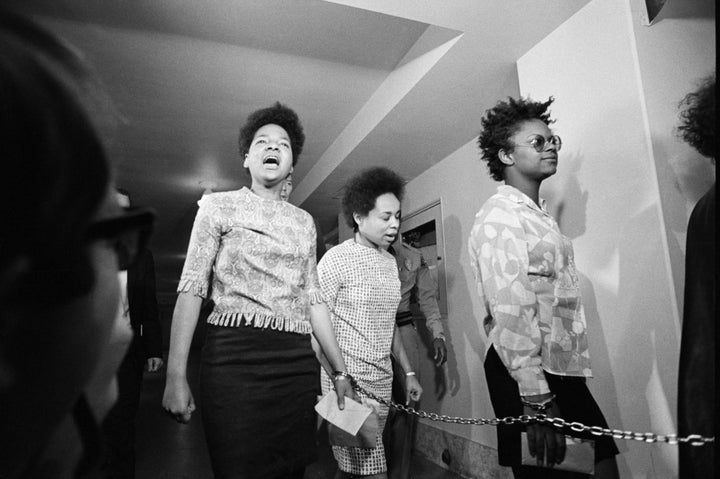 Brown acknowledges the party's flaws, however, admitting that they were too strict on their members at times. But she says they were "absolutely perfect" in their agenda, which adapted as the party matured (i.e. de-emphasizing guns and a greater focus on the "Survival Programs.")
Though there's no longer a Black Panther Party, Brown said she "wish[es] there were." She said for the former members who were committed, their time as a Panther was "the most glorious and powerful and wonderful moment in our lives."
Through the upcoming 50th anniversary celebration and her forthcoming workshop on the life and legacy of Newton, Brown intends on ensuring the story of the party lives on. With so many videos surfacing in recent years of black people being killed, Brown wants nothing more than to see the spirit of the Panthers resurrected.
"I believe that history will fan this out that we, up until this moment, were the greatest effort that black people made for freedom in America," she said. "We did something and that something was to create the conditions for the liberation of black people and all oppressed people, not only in the United States but throughout the world. We have got to make change inside this place and I think the Black Panther Party set a standard that has to be studied."
Before You Go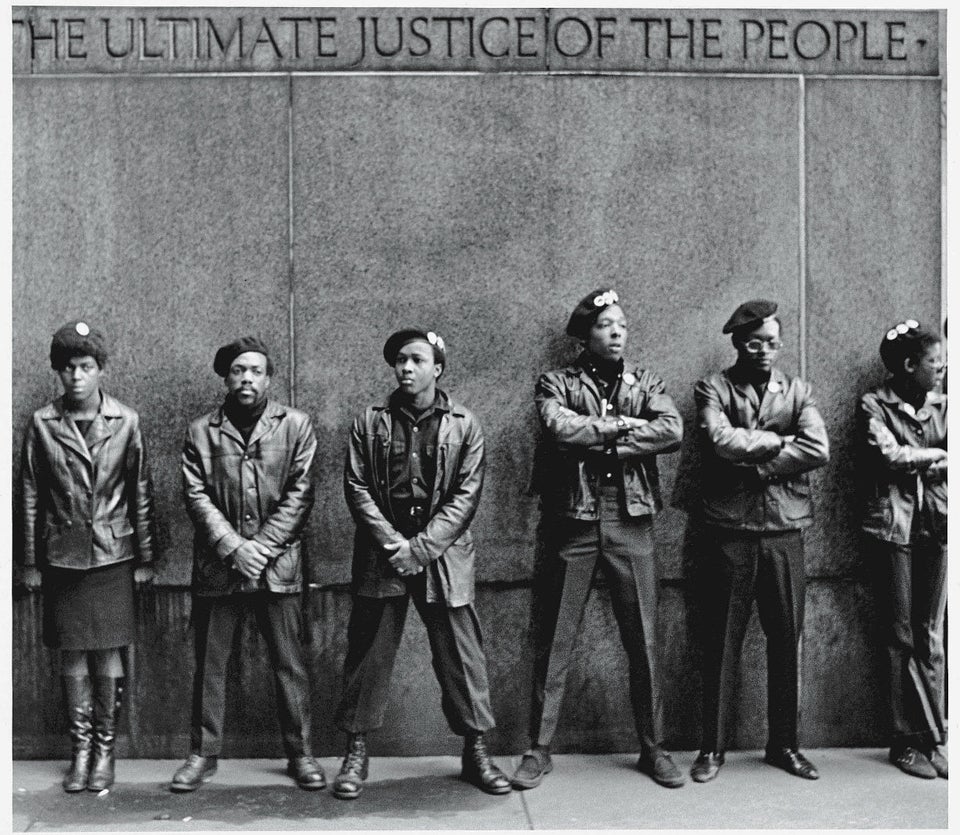 Dope Photos Of The Black Panther Party
Popular in the Community