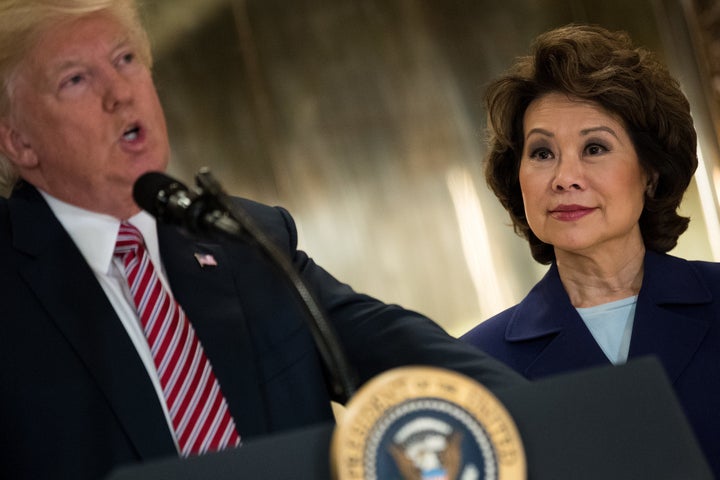 Asian-American groups aren't letting Elaine Chao slide when it comes to her failure to condemn the white supremacists who descended on Charlottesville, Virginia earlier this month.
A coalition of Asian-American organizations issued a statement, speaking out against the transportation secretary's support of President Donald Trump after he blasted people "on both sides" of the riots at a press conference in Trump Tower. He added that there were "very fine people on both sides" and neglected to call out hate groups.
While Chao, who's an immigrant from Taiwan, said that the Charlottesville riots showed "hateful behavior and it is not who we are as Americans," she didn't distance herself from Trump's remarks last Tuesday, nor did she call out the white supremacist groups responsible for the violence.
So the National Korean American Service and Education Consortium (NAKASEC), Asian Pacific American Labor Alliance (APALA) AFL-CIO, the Korean Resource Center, and the National Asian Pacific American Women's Forum (NAPAWF) among several other groups signed a statement calling on the transportation secretary to condemn the acts of white supremacists and stand with people of color and immigrants ― or resign.
"Secretary Elaine Chao stood by President Trump as he blamed both sides for the racist acts that took place in Charlottesville, essentially equating white nationalist hate groups with anti-racist protestors," the letter read. "As Asian Americans, we call on Secretary Elaine Chao, an immigrant from Taiwan and woman of color, to be silent no more and stand by us as we fight to protect the DACA and Temporary Protected Status (TPS) programs."
NAPAWF's executive director, Sung Yeon Choimorrow, explained to HuffPost that Chao, who's currently one of the highest ranking immigrant officials in the U.S., has a duty to reflect the values and realities of the Asian-American community. And while realistically, Choimorrow doesn't feel it's likely that Chao will become an outspoken champion for immigration reform in the Trump administration, the executive director felt it was alarming that Chao couldn't even condemn white supremacists.
"To me, it felt like crossing a line when she couldn't even stand up and speak out about what was going on in Charlottesville," Choimorrow told HuffPost. "To basically endorse whatever Trump was saying ... that's really crossing the line as a person of color. I don't understand how she doesn't see that she's one of the people the [white supremacists] would target."
Not everyone feels this way, however. Several groups, including the International Leadership Foundation and Asian Pacific Islander American Public Affairs, have come to Chao's defense, calling her an "inspiration to Asian-Americans throughout our country" and a "role model to all communities of color both here and throughout the world," according to a statement obtained by The Hill.
But these groups' quick support for Chao, Choimorrow says, is just another example of the perpetuation of the model minority myth. By failing to recognize the effect hate violence could have on communities of color, Choimorrow believes Chao is perpetuating the harmful stereotype that Asians are immune to such hateful attacks. What's more, when people prop up Chao ― someone who hasn't represented or spoken out for underserved Asian-American communities ― as a role model, they're ignoring the challenges that so many in the immigrant community face, Choimorrow said.
The realities of the Asian-American community run counter to these stereotypes. In fact, Los Angeles County experienced an uptick in anti-Asian hate crimes after Trump deemed China the foreign enemy. And in February, two Indian engineers were attacked in Olathe, Kansas for their ethnicity. Srinivas Kuchibhotla died as a result of the shooting.
When it comes to economic success, there's a whole chunk of Asian-Americans who aren't represented by the upwardly mobile Chao. Between 2009 and 2014, the AAPI population living in poverty increased by 35 percent. And in New York City alone, Asian-Americans actually have the highest poverty rate compared to any other race. But when a controversial Pew report, "The Rise Of Asian-Americans," drew ire for failing to explore the diverse subgroups within the minority's experience, Chao appeared to defend it at the time, telling NPR that activists just feared "federal funding will be reduced."
Though Chao may not reflect all Asian-Americans, her prominent position in the Trump cabinet and support of the President could be dangerous, Choimorrow fears. Others in the Asian-American community could look to Chao and think that she's an example of how "successful immigrants" should act. Moreover, Choimorrow told HuffPost she feels that Trump's statements have made white supremacists feel legitimized and Chao is only fueling this as a person of color.
APALA's National President, Monica Thammarath, echoed similar sentiments.
"Chao's unwillingness to stand up for what's right portrays Asian Americans as a wedge group, and we refuse to stand idly by when white supremacists have become increasingly emboldened to act with hate violence and acts of terror," she said in a statement to HuffPost.
Going forward the groups hope that Chao will support legislation that helps immigrants in need including the Deferred Action for Childhood Arrivals. The country just marked the program's fifth anniversary.
"Immigrants in 2017 should receive the same opportunities and racial justice as Asian American immigrant Elaine Chao was afforded when she came to America."
Popular in the Community