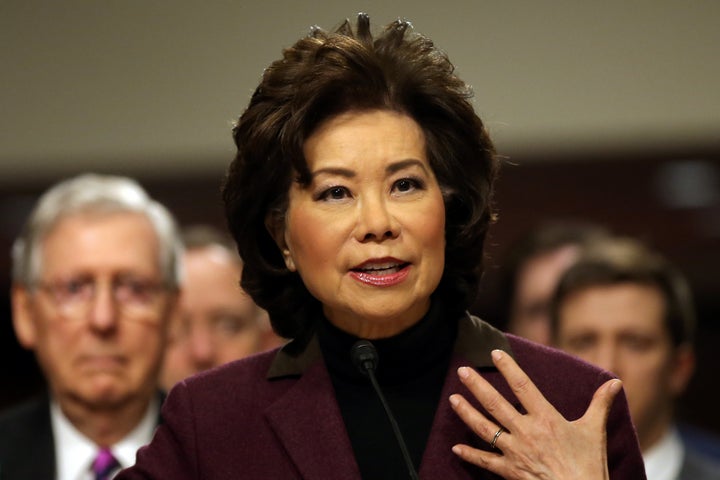 WASHINGTON ― President-elect Donald Trump supports using direct federal spending to fix the nation's crumbling infrastructure system, according to his pick for transportation secretary.
Sen. Cory Booker (D-N.J.) asked Elaine Chao during her confirmation hearing on Wednesday whether she and Trump supported a plan to fix America's roads and bridges that included "direct federal spending."
"I believe the answer is yes," Chao said.
Trump has said he intends to invest $1 trillion to fix the nation's infrastructure ― a tall order considering the deficit-averse conservatives in Congress. Senate Majority Leader Mitch McConnell (R-Ky.), Chao's husband, has continually blocked additional infrastructure funding proposed by the Obama administration.
Democrats are concerned that Trump's plan would mostly consist of tax breaks to private-sector investors who invest in infrastructure projects. Critics say such deals often leave state and local governments to foot the bill.
"It's a trap," former Obama official Ron Klain warned last year.
During her testimony, Chao indicated her support for such public-private sector partnerships.
"It is important to note the significant difference between traditional program funding and other innovative financing tools, such as public-private partnerships. . . . It's also important to recognize that the way we build and deliver projects is as important as how much we invest," Chao said.
But she was noncommittal about the issue during questioning, telling the committee that public-private partnerships were "embraced by some."
"These revenue streams are something we need to talk about," she added.
Chao also didn't commit to give the members of the committee timely information about the details of Trump's infrastructure plan ― assuring them the public would receive no information about how it would be funded before her likely confirmation.
"I can assure this committee there will be continual and constant dialogue to what the proposal would be," Chao said.
Calling all HuffPost superfans!
Sign up for membership to become a founding member and help shape HuffPost's next chapter