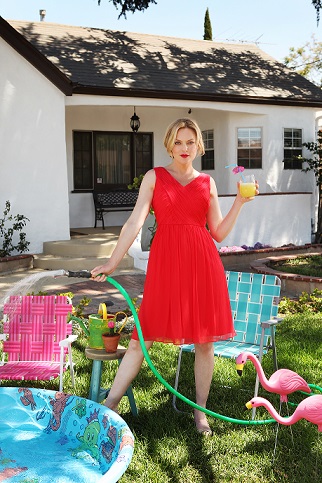 Elaine Hendrix stars in the Off-Broadway NYC stage production of It's Just Sex through August 28th. Catch the play at The Actors Temple Theatre at 339 W. 47th Street, NYC. 212-947-3499.
While Elaine is used to playing different characters, she herself is a character! Remember her in Disney's The Parent Trap and the cult classic Romy and Michelle's High School Reunion? Yes, that Elaine Hendrix.
Elaine is a huge advocate for pets and started her own project called The Pet Matchmaker. She can also currently be seen on HGTV's "A List Pets" and last summer, she was featured on the AOL and Vuguru (Michael Eisner's independent studio) web series "Fetching." The 15 episode series, which premiered on AOL On Relationships, is about a woman who restarts her life and follows her true dream of opening her own business, a doggy daycare store called Fetching.
Do you have a significant other?
My life is unique, gypsy-like, so to have someone who not only understands that, but accepts, supports and rolls with it is imperative. I'm starting to become a bit more of a "nester", but I love adventures and being out the in the world creating art and advocating for animals. I probably always will, so someone who is outgoing and confident in themselves is a must. Honesty, kindness and trustworthiness are non-negotiables. Having fun and a positive outlook on life are also non-negotiables. Beyond that, it gets down to individual characteristics like sexiness, chemistry, interests, etc. Of course, they have to be an animal lover, but with me that goes without saying.
I don't have any kids (yet) and I think my ideal is to perhaps be a step-mother. I love kids. I've just not (yet) had a deep pull to have my own. My animals are certainly my kids. I could have hundreds of those and be perfectly happy. I'd probably be open to adopting human kids, just like I do animals. There are so many already here who need a home.
What's it like being on the NY Stage for the first time?
I love doing theatre. I originally came from theatre having grown up doing stage work and then starting my career as a professional dancer. It's not often I have the time to do a full run of a show, but I'm starting to make more time for it now. Last summer I played 'Blanche DuBois' in Streetcar Named Desire with the Tony Award nominated director Randal Myler. It was a phenomenal experience. Now doing It's Just Sex on Off-Broadway is a whole new experience, but thrilling in a different way.
Theatre is different than film or TV in that you get immediate feedback. There's nothing like performing in front of a live audience with other actors that you like and trust. If we mess up, we cover for each other and keep moving forward. You mess up in film/TV you often hear, "CUT!" and you have to start again.
I didn't audition for It's Just Sex. It came to me an as an offer. About half the jobs I do these days are straight offers. That's the nice part of having worked my butt off all these years to build a career. I get opportunities all the time to audition for all kinds of genres. For me it's about the individual project. Do I like the piece, the character and with whom I'm going to work? If I can say 'yes' to all three of those questions, then it's likely going to be a go on my end.
Tell us about the rehearsals and publicity for It's Just Sex.
Rehearsals for It's Just Sex were primarily during the day and they were in different studio locations in the city (NYC), which was pretty fun because it kept the process extra interesting. We had about just about a month's worth of rehearsals before we started previews, which lasted two and a half weeks, and then we opened. Now that the show is up and running we don't rehearse anymore, except when an understudy needs to go on for a role. Just so happens I had to leave for a few shows to help take my senior pup through her life's transition, so the the cast had to do a rehearsal and run-thru with the understudy, who then went on the same night. I don't envy her, but I understand she did great.
Contractually we aren't required to do publicity, but of course it helps promote the play. Audiences love this show. They think they're coming to see a silly comedy and they're pleasantly surprised they get more than they bargained for. That's the consistent feedback we get. That and how quick and funny it is. It has an open-run, so it could be running for a while. None of the original NY cast has left yet, but a few of us will at the end of summer. It's nice to think a job will last forever, but it will be time to move on and get back onto the silver screen.
How did you become so involved in the humane treatment of animals?
Getting involved with the humane treatment of animals seems like it should have been a no-brainer, but it was actually a process for me. I've loved animals (and all nature) my entire life. I grew up at the foothills of the Smoky Mountains in East Tennessee and had a forest for a backyard. My parents raised me to be very active in my community (both have high integrity and strong ideals about helping/giving and passed that along to me.) When I started getting some notoriety for my acting work, I started getting invited to all these different charity events. I attended everything I could for a while, but began to feel like I wasn't really making an impact anywhere. So, I sat down at my computer to research a "platform" I could develop for myself.
I had adopted my first dog as an adult a few years earlier and naturally found myself interested in animal activities. I had also been donating money to a few animal organizations for several years, so it seemed to make sense that I start my search there, especially since I'd been an animal-lover my entire life. However, I wasn't prepared for what I found. It was an undercover fur video and I was watching an animal being SKINNED ALIVE. My reaction was so visceral. It was as if someone had kicked me in the stomach -- I doubled over sobbing uncontrollably saying "I'm so sorry...I'm so sorry...I'm so sorry..." From that moment forward I completely changed my life and began my path as an ardent animal advocate.
I already didn't wear fur, but I gave up my leather too. I went through my home and threw out all beauty and household products that tested on animals. And I got a new car that didn't have leather interior. I had primarily been a vegetarian for many years before that, but I re-upped on my commitment and started incorporating a vegan diet as well. Now I also rescue, protest, demonstrate, build habitats, lobby, speak, lecture, host events, raise money, sit on boards, and more all for the benefit of animals.
My animal work is my greatest passion. I will go anywhere and do anything I possible can for them. I work with large organizations and smaller groups all over the country- the world sometimes. My two favorite groups are the Stray Rescue of St. Louis for which I am a board member, and then my own project I launched this year called The Pet Matchmaker. It's a second full-time job, but I wouldn't have it any other way. Helping animals is SO EASY. People just need to know what to do, and it's my goal to get as much information out into the world as possible.
Please come back for Part II with ELAINE HENDRIX and read about her moods and find out if she's tired of being known for the film "The Parent Trap."
Calling all HuffPost superfans!
Sign up for membership to become a founding member and help shape HuffPost's next chapter