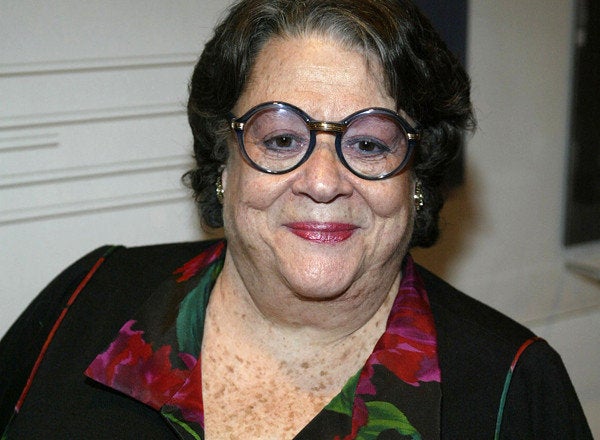 In the early 1970s, Elaine Kaufman threw my checkbook in my face. She thought I was crashing a private party in the back of her restaurant at 88th Street and 2nd Avenue in Manhattan. But when a celebrity assured her that I was his guest, she backed down and merely groused. In my days as an actress, she was not always kind to me. We had a mutual friend, Jean- Pierre Rassam, the Lebanese movie producer of La Grande Bouffe, who had invited me to dinner at the Carlyle with them, but still she remained cool with me. Eventually I realized that though I hid my insecurities in my cleavage, the revealing way I dressed which I had learned while modeling for the purpose of getting attention of the client could have provoked her. Then there was also my burning desire to attract stars. If she had not wanted me in her restaurant, she could not have kept me out as somehow I would have managed to have been invited.
Elaine's Restaurant was a hub for loneliness and networking through these feelings.
Here I met Norman Mailer. Here Warren Beatty invited me to dine. Here I invited Claude Picasso, my former fiance, for his first time in 1971. Here sculptor Ronald Mallory, my ex-husband, took me for my first time in 1968. Here in 1987 my book party for my novel, Flash, was given by my publisher S&S with guests such as Jay Mc Inerney, Marisa Berenson, Gordon Parks, Heather Mac Rae. Here Ahmet Ertegun, CEO of Atantic Records, met me.
Here I dined as a guest of publicist Bobby Zarem in the company of Arnold Schwarzenegger, who just had arrived in America.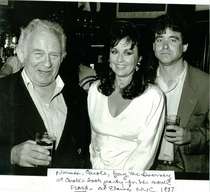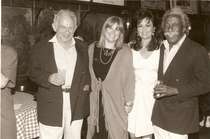 My husband, Ron, had financial problems, as he was an artist. Elaine frequently would allow him to charge his dinners. She never asked to be paid back.
When we divorced, I became a part of the writers table usually made up of men. Elaine would allow me to sit at this table without a date and to listen to the fascinating conversations of Bruce Jay Friedman, Gay Talese, A.E. Hotchner, David Newman, who wrote the Superman movies, Robert Brown, who was an editor of Esquire. I would drink along with them -- my alcoholism was in full throttle. One night at 4 AM after too much wine I ended up on the hood of a car in front of the restaurant with my skirt over my head while a writer tried to assert his masculinity. Also intoxicated, he fled after my vigorous pounding.
Sitting at this front table was a catalyst for my wanting to be a writer. I longed to be one of these "guys."
I suspect Elaine realized this when my first novel, Flash,, was published. She gradually warmed to me.
But a desire to harbor my resentment toward her festered. In 2008, when the Daily Mail interviewed me for my memoir, Loving Mailer, which begins at Elaine's, I said I would rather go to Mc Donald's than Elaine's. Self-righteous indignation ruled my memories of Elaine Kaufman.
In 2010 during a visit to New York my writer and producer friend, Paul Alexander said, "Let's go to Elaine's tonight."
I thought "Aw God!" I had hoped living in the suburbs had cured me of that place and its celebrity worship and mine.
Alas Paul and I went to Elaine's. He sat in a back table, which I enjoyed rather than trying to sit up front and to see and to be seen. We went at 8 PM. Elaine had not yet arrived. When we left about 10 PM, I said fond 'hello's to Harvey Keitel and James Toback who were seated towards the front of the restaurant, then proceeded to her table at the entrance. Twenty years had passed since we had seen each other. Now I was no longer brunette, but blonde. Elaine did not recognize me as she fawned over Paul whom she adored. I put my face within inches of hers, stared back and said, "Hello".
"Who is it?" she asked wide-eyed without an ounce of recognition.
"It's Carole Mallory," I said.
"Well, where have you been?" she said, beaming with happiness. Suddenly my repressed anger vanished. She looked good. Healthy. I was happy to see her in such fine spirits.
"I've moved to Valley Forge. The 'burbs'," I said with pride.
When I read this Saturday morning that she had died at age 81, I was shocked, not only by her passing, but by her age. When I last saw her, she appeared to be in her sixties and in excellent health. Then suddenly I also was saddened because I realized her passing signified the end of an era. Forty years of fond memories had been fueled by this feisty woman who was not afraid to be Elaine and who gave us much joy despite her need to control -- a problem I, too, battle. But she turned her need to control into being the proprietor of a restaurant--and it was her restaurant. Elaine Kaufman will go down in history for nurturing and believing in the arts. I will miss her.
Popular in the Community