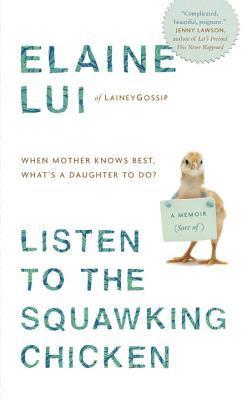 Elaine Lui is the genius behind the ridiculously successful celebrity gossip blog Lainey Gossip, a correspondent on ETalk and most recently one of the hosts of the very successful CTV daytime talk show The Social. Lui now gets to add "author" to that list of accomplishments with the release of her first book titled Listen To The Squawking Chicken: When Mother Knows Best, What's A Daughter To Do? A Memoir (Sort Of). Random House sent me an advance copy of the book for review and I'm happy to say that I whipped through it pretty quickly even though it has nothing to do with celebrity gossip.
When I heard that Lainey was writing a book, I was thrilled, envisioning some kind of Gossip Bible that I would read over and over again until all the pages were dogeared and the cover was destroyed from being carried around with me relentlessly. Imagine my surprise when I heard that the book wouldn't be about gossip, but instead about her mother, affectionately referred to on her site as the Chinese Squawking Chicken.
Readers of Lainey's site are all too familiar with The Chinese Squawking Chicken because Lainey would often infuse stories of her Ma's antics into her blog posts. Readers feel almost as much of a kinship to Lainey's mother as they do to Lainey herself, often waiting for her to post her Ma's advice on how to best prepare for Chinese New Year and other random musings. So even though she didn't write about her in-depth knowledge of the celebrity gossip world and about her mother, instead, I was excited to read.
I would best describe Lui's book as a love letter to her Ma, even though her Ma would probably dismiss that notion and tell you that she deserved to have this book written about her because she did give her daughter life, and the least she could do is to write about how amazing she is in return. In this book, Lui tells the story of what it was like to grow up with a mother who earned the nickname "Squawking Chicken" at a young age, while negotiating the Triads in Hong Kong and holding her own in the often male dominated Mah Jong dens that she frequented.
She details the tragedies and triumphs that her mother endured as a young woman growing up in Hong Kong, to how she met, married, divorced and re-married Lainey's father, and how her experiences helped shape the mother she became, which of course shaped the woman that Lainey is.
You might disagree with the Squawking Chicken's methods, but there can be no doubt that it works, because Lainey is one of the most successful Canadian media personalities today, and her star is just beginning to rise. I haven't figured out through reading this book if Lainey's relationship with her mother is one of the most beautiful and special mother/daughter relationships I've ever had the pleasure of reading about, or whether it's the most co-dependant and dysfunctional ones? What I do know is that it works for them, and even though you might not agree with how her mother likes to publicly shame Lainey in order to teach her important life lessons, or how she insists on inserting herself, even now, in every facet of Lainey's life, there is not doubt Lainey needs her mother to be meddling and shameful as much as her mother needs to be meddling and shaming.
If you're a reader of Lainey Gossip, this book will fill in many blanks about Lainey's ma, including details about her tragic youth and how she came to marry, divorce and then remarry her father. Lainey details her ma's health issues but also gives some pretty hilarious insights into how, even at the age of 40, her mother can still pull out some good old Feng Shui blackmail on Lainey. Fans of Lainey will love this book for the more intimate details of her life that they can glean from the pages, while those not as familiar with her blog will simply enjoy a book tells the story of a mother/daughter bond like no other.
Listen To The Squawking Chicken; When Mother Knows Best What's A Daughter To Do? A Memoir (Sort Of) is a brilliantly written ode to the amazingly complex mother/daughter relationship that any mother or daughter can relate to, even if they don't have a Squawking Chicken in their life.
Related
Popular in the Community