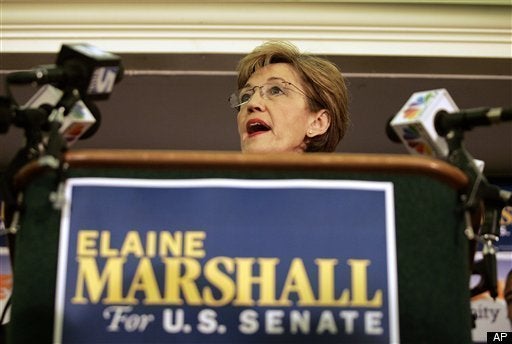 For the second time in as many weeks, a Democratic Senate candidate in a tough election race has expressed skittishness about campaigning with President Obama, asking instead for his wife Michelle to take his place.
In an appearance on the Bill Press Show this Friday, North Carolina Democrat Elaine Marshall declined to answer repeated questions as to whether she wants Obama to travel to her state between now and November.
"We want Robert Gibbs to come to North Carolina. He is a North Carolina boy," she said at one point, playfully talking up the president's press secretary as a presidential substitute. Told she wouldn't be let off the hook until she answered whether she wanted a North Carolina visit from Obama himself, Marshall finally replied: "Haven't made that decision. Haven't made that decision."
In declining to take Obama's campaign help, Marshall -- a darling of the progressive movement with a real shot at knocking of Sen. Richard Burr (R-N.C.) -- joined another upstart Democratic Senate candidate, Rep. Joe Sestak (D-Penn), who wavered as well when asked if they want presidential support.
Like Sestak, Marshall's hesitance seems drawn from overwhelming polling data, showing Obama's popularity slipping dramatically in her state since the spring of 2009.
Also like Sestak, Marshall was discriminatory when it comes to Obama family members campaigning on her behalf.
"A lot of folks have asked about him coming and it is real interesting, they hasten to add but we like Michelle too... we like Michele, we are happy with her. She would be a great person to have here. But we are in discussions with the administration about some possibilities of folks to come."
UPDATE: A spokesperson for the Marshall campaign called the Huffington Post to stress that the campaign would gladly welcome the president's presence on the campaign trail.
"No decision has been made by the administration regarding who is available to come. We don't know what their travel schedule is or what is available down the line. But or course we welcome the president," said Sam Swartz, Marshall's spokesman. "She would love to see President Obama come to North Carolina and talk about jobs and the economy and working together."
Popular in the Community