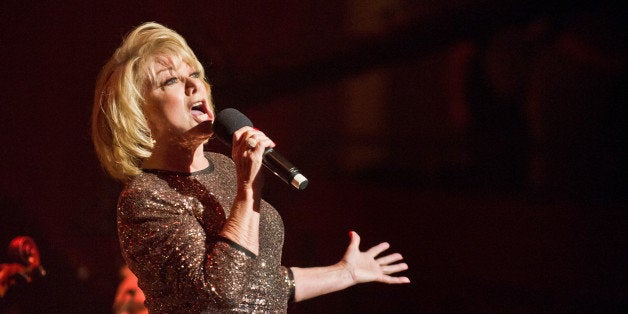 On December 19, 1915, a baby was born in Belleville, France, and spent her early childhood blind as a result of keratitis. She lacked sight, but possessed a unique perspective: she was raised in her grandmother's brothel. According to legend, she regained her vision after a pilgrimage to honor Saint Thérèse of Lisieux, accompanied by the prostitutes who had come to care for her. Throughout her life, she experienced the world in her own fascinating, colorful and often tragic way, and infused her experiences into her craft -- becoming the icon known as the "the Little Sparrow," Edith Piaf.
For decades, Piaf has been a favorite among an incredible range of performers, from rock stars to jazz and classical musicians, and even street performers. She represents an immediately recognizable, stoic performance style, an intense sound that was entirely her own, and a contribution to the songs of France that became synonymous with the authentic locales of Paris. But, these songs also became part of the world's songbook, including "Non, Je Ne Regrette Rien," "Hymne À L'Amour" and "La Vie en Rose".
Now, on what would have been her 100th birthday (she died tragically at the age of 47), a group of stars, from cabaret legend Marilyn Maye to leading Piaf interpreter Gay Marshall, will honor her at New York's Town Hall. Joining them is an icon in her own right, the "First Lady of British Musical Theatre," Elaine Paige OBE.
Paige originated the roles of Eva Perón in "Evita" and Grizabella in "Cats," prior to these shows heading stateside, and Florence for the concept album of "Chess." She played Norma Desmond in "Sunset Boulevard" (West End and Broadway), Reno Sweeney in "Anything Goes," among many other leading roles, and recorded more than 20 solo albums, but it's her association with Piaf that earned Paige her fourth Olivier Award nomination.
"I always loved her music because it was so typically French in its telling of tragic stories," Paige said. "A playwright in this country named Pam Gems had written a play, about the life of Edith Piaf," Paige continued, explaining how that love was transformed into a notable chapter in her own celebrated career. Titled, "Piaf," "It was put on here at the Royal Shakespeare Company, the same year that I opened in the original 'Evita'. I just thought how strange it was that there were three of us. There was myself with the initials EP, there was Edith Piaf, EP, and Eva Perón, EP. Here we all were in the same year, 1978, with these two shows on. I was busy doing 'Evita' and so therefore I would rest during the day quite a lot to save my voice and so on, and [it was then] I read the play. I knew her music and loved her voice, and the stories that her music dealt with. I was being greedy... even though I was playing Evita, I wanted to play Edith Piaf, as well."
At that point, she was unable to create Piaf as a character, preoccupied in doing so with another historical figure - Eva Perón - but, Piaf didn't leave Paige's focus. "Many years later... I bought the rights to the play so that I knew I could play her and be able to sing her music," she remarked about the show, which was mounted in London's West End in 1993.
She immersed herself in Piaf's life, going to France to interview singer, songwriter and actor, Charles Aznavour, a friend of Piaf's who, as Paige learned, drove the singer from concert to concert. "He was able to really give me an insight into the true character and personality of the woman."
"I also interviewed Charles Dumont, who wrote '[Non], Je Ne Regrette Rien'. I went to his apartment in Paris and asked him all about her," she continued. "How he managed to get his song presented to her... Which of course was a song that turned her career around at the time."
Paige discovered that "her hands and mine are exactly the same size, as are our feet. She was also tiny, like me. She was 4'11", and I'm 4'11" and a half."
"I walked all the streets of Paris where she would have stood on street corners and sung in the street. I went to her home where she was born, apparently, in Belleville in Paris. I went to her graveyard..."
All of this work offers a peek into Paige's process, in which she uses her natural and trained talents as a singer and actress to sculpt a beautiful, realistic - and most importantly in mounting a biographical show - relatable character to whom an audience can connect with as a person, not just a performer.
The same need to connect applies to Paige who had to find these similarities in order to become an honest ambassador of this fine icon, one who can no longer speak for herself.
"She was very much a power minimalist interpreter. She relied almost entirely on the sound, and strength of her voice, and the lyrics of the songs that she chose," Paige observed. "She would possibly find, when she was working on a song, maybe one gesture that she thought would be worthwhile to convey something in the song... She was very simple in her portrayal of what she was trying to get across. Which were the lyrics. Like me, she very much wanted the lyric to speak for her, as I do."
"She always said that if anybody wanted to know who she was as a person, they only had to look at the songs that she sang. That would tell anybody who she really was," Paige added. Although that may have been Piaf's intention, her lifestyle also created a sense of mystery and reflected her artistry: "She was very much somebody who liked to hang out with all her friends, the artists and musicians in Montmartre and La Pigalle. She was never really very interested in hanging out with the glitterati of Paris once she had become famous. She wanted to remain with the people who she knew and understood."
Now, more than twenty years later, Paige will again treat audiences to her interpretations of Piaf in the centennial celebration at Town Hall on December 19. "The songs that I'm going to be singing in New York, and the songs I generally sing in my concerts are the tragic [ones]," she said. "The ones where you can invest your heart in... Hymne À L'Amour, which she wrote about the death of Marcel Cerdan, who was the great love of her life. The boxer who was coming to New York to see her perform, and his plane went down. She wrote that song for him," Paige continued, adding heartbreaking color to a song many may already feel they know intimately, with their own applied, personal contexts. "I love that song [Hymne À L'Amour], because it's about love and loss, I suppose. I love to sing that because I can emote in that song. It's got the most marvelous melody, and a wonderful lyric, combined."
"That's what I enjoy about singing her songs. Probably, like a lot of singers, I love singing ballads rather than up-tempo songs," Paige remarked. "I prefer the songs that echo the feelings and the language of ordinary people, describing the scenes of real life France... That's what she loved."
"Piaf: A Centennial Celebration" will take place at New York's Town Hall on Saturday, December 19.
Steve Schonberg is the editor-in-chief of www.centerontheaisle.com and is seen regularly on NBC "Weekend Today in New York."
Calling all HuffPost superfans!
Sign up for membership to become a founding member and help shape HuffPost's next chapter