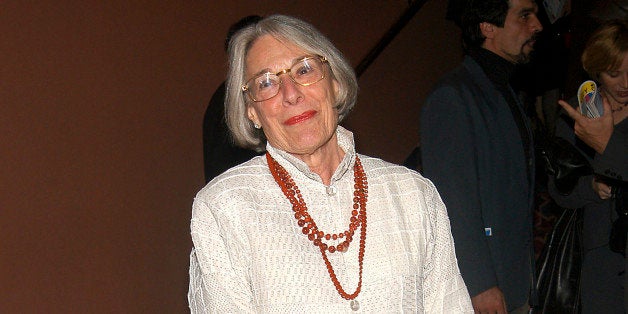 Within the past month we have read with sadness of the deaths of four important artists who seemingly have little in common: composer and author Mary Rodgers Guettel, internationally famous American conductor Lorin Maazel, Broadway and cabaret star Elaine Stritch, and the legendary operatic tenor Carlo Bergonzi.
They do actually have one thing in common: me.
I have come to the age (almost 69 Earth years) when back-thinking competes with forward-thinking while attempting to live in the moment. With each passing day reading about death has a more piquant flavor, and since my life has been a jumble of collaborations spanning almost 50 years, these four announcements made me think about influence and continuity.
It also made me think about how a passing moment can have lifelong importance. Should I ever write a real memoir, I would inevitably spend a lot of time with those who spent a lot of time with me, the first two letters of the word "memoir" being particularly apt. Leonard Bernstein immediately comes to mind: Those 18 years would require a lot of thought and writing. But then I think of those who brushed by me, delivering some gentle challenge or depositing a whiff of wisdom that curiously can be as powerful a force as the influence from those with whom I shared decades.
I call them inadvertent angels.
An angel, after all, is merely a messenger. Sometimes an offhand remark, a shared thought, a look, or an opinion can alter another's life. Each of us does this throughout our lives, usually without our knowledge. It may or may not be accidental, but it usually is inadvertent. All four of these recently deceased artists were inadvertent angels in my life.
I first met Mary Rodgers in 1982, when I was hoping to convince her -- and her mother Dorothy -- to grant the Kennedy Center the rights to bring our proposed production of Rodgers & Hart's 1936 musical, On Your Toes, to Broadway before it opened in Washington, D.C. -- something that broke all precedent with the Rodgers office. I had met Mary's son, Adam, six years previously at a snack machine in the formerly named New York State Theater. It was during the intermission after Act Two of a La Bohème that I was conducting. One of the members of the children's chorus, dressed as a street urchin, came up to me and asked about the baton I was using, wondering if he could look at it. I explained that the Metropolitan Opera's timpanist, Richard Horowitz, had made it for me, and that I could hold it in many different ways by manipulating the cork handle. After the kid ran off, someone said, "You know, he's Richard Rodgers' grandson."
Mary clearly knew who I was when she and her mother got into the elevator with me for our meeting that morning, six years later. "You know, Adam is 16 years old now and is a composer. He wants to go to Yale."
That's when I suggested that Adam come over to our home in Chelsea and play me his music -- which he did. "Mary," I said in a phone conversation, "I have just heard the new century."
And yes, Mary and Dorothy did grant us permission so that George Abbott (then 96 years old), Donald Saddler, George Balanchine (in his last months), legendary orchestrator Hans Spialek, and Natalia Makarova could all be on Broadway and show that there was indeed a lot of life in those old musicals when you do them the way they were written. Adam went to Yale and would frequently come down from New Haven and sit in the orchestra pit to hear his grandfather's music. He subsequently became my assistant for Rigoletto in Macerata, Italy, where some kernel of The Light in the Piazza was born.
What made Mary so important to me was the way she made things happen. She never put herself forward but saw the potential of various parties, and she made the thing succeed, whether that was her son's career or her father's 1936 show. She was so damned positive about the things she saw as good in the world that it just simply made things OK.
When I produced Oklahoma! in 2013 with an all-student cast at the University of North Carolina's School of the Arts, in which the original scenic and costume designs were recreated, and the almost-90-year-old Gemze de Lappe taught us Agnes de Mille's choreography and the proper tempos, and both Joan Roberts (the original Laurey) and Celeste Holm (the original Ado Annie) came to Winston-Salem for opening night, Mary (and husband, Hank) brought her grandchildren to see the show for the first time. After the performance, Mary -- proudly sitting with her family -- looked up at me and said in that smoky voice of hers that harkened back to another age, "Well, it was better than the original!"
I sincerely doubt that, but I also sincerely believe she meant it. And that was Mary.
Lorin Maazel was a surprise guest star in my life. He had slipped into the State Theater to see the dress rehearsal of Kurt Weill's Street Scene that I was conducting in 1979 and, as a result, invited me to conduct the Cleveland Orchestra. I had not met him until years later, when, in 1985, he asked me to assist him at La Scala for Turandot and then take over the production for four performances after his departure.
Maazel was surprisingly laid back and jovial. Our conversations felt like we were equals, which we definitely were not! But because of that, there was the implied trust that I would be all right when it came to conducting my first Turandot at the world's greatest opera house.
That calm suffused our few encounters, the last of which was in the conductor's dressing room at the Kennedy Center's concert hall. Maazel had just conducted Sibelius' Symphony No. 7. I asked him why he thought the composer stopped writing symphonies after No. 7, which was composed in 1926, even though he lived until 1957. "Maybe," the maestro said, "he had said all he wanted to say with the Seventh." A simple answer, and a profound one.
The other day I was waiting for my luggage at JFK. It took an hour from our landing to the arrival of my two bags. They were the very last two bags to come out, sporting their bright-yellow "Priority" sticker on them that seemed like the raising of a great middle finger to those of us who occasionally get special attention and need that common touch in our lives. Maazel, however, had prepared me for this eventuality. That same night in his dressing room at the Kennedy Center, he told me how he actually looked forward to waiting for his luggage at airports because he always brought a great book with him and it gave him an opportunity to read it.
As I stood there at Carousel 4, reading Margaret MacMillan's wonderful World War I book, The War That Ended Peace, I took a moment to thank Lorin Maazel, whose offhand remark put me in a state of grace while the others around me were in that unique distress we feel whenever we are at the mercy of the unseen baggage handlers deciding Who Shall Be Last.
Two more angels to go....
Popular in the Community