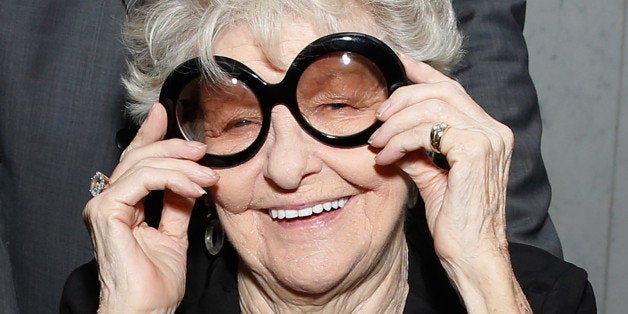 When I met Elaine Stritch, she was sober, and I was drunk. It was 1998 at a book party for Joan Collins at the bygone social X-ray hangout Mortimer's. The party is a blur of martinis mixed with the floating heads of other women of a certain age: Nan Kempner, Arlene Dahl, Blaine Trump. It was my idea of heaven. I'd moved to New York from a small town in the South to drink at parties like this. I was the publicist for Ms. Collins' book, which is how I got in the door. At 30, I thought I was jaded when it came to bending elbows with the rich and famous.
Across the room stood tall and boney, whiskey-voiced, seventy-something Ms. Stritch. She was chatting in a corner with a younger woman. This was before she had had the biggest hit of her life with her one-woman show At Liberty about her career and struggle with the bottle. But then she was most famous (and most beloved by me) for "The Ladies Who Lunch," her showstopper from Stephen Sondheim's Company, which was almost 30 years in the past. It was one of my favorite songs to drink to. In the alcoholic rant of a song she lobs acerbic barbs at the empty lives of rich society matrons who lunched -- at places just like Mortimer's, come to think of it -- and punctuates each zinger with an increasingly guttural "I'll drink to that!"
I thought she would be thrilled that someone the same age as her most famous performance not only recognized her but was also such a rabid fan. Clearly I didn't know as much about celebrities as I thought.
I pardoned my intrusion and introduced myself. "Hello, Miss Stritch. I'm Jamie Brickhouse, Joan's book publicist. It's such a thrill to meet you. I'm a huge fan of yours." Nothing. Just a cigar-store Indian stare. "I loved you in Edward Albee's A Delicate Balance." Still nothing. Not even a smile. Then, "Oh, Miss Stritch, I can't tell you how many drunken nights you've gotten me through with 'The Ladies Who Lunch.'"
No chuckle. No thank-you. She didn't even tell me to get lost. She broke her cigar-store Indian stare. In a crusty voice -- mouth moving like a ventriloquist's dummy -- she instantly deflated my fan balloon with, "You know, it's really rude to only introduce yourself to the famous person and not also to the person that the famous person is with."
I thought about saying, "Jesus, have a drink," not knowing she was sober. Instead I mumbled an apology and headed to the bar. I'll drink to that!
Despite that episode, or perhaps because of it, I remained a deeper fan. I continued to drink, and Ms. Stritch was one of my favorite drinking buddies -- via her recording of "The Ladies Who Lunch." She represented the kind of drinker I imagined myself to be: fun-loving, unapologetic, mordant and always armed with "another brilliant zinger."
I found out she had been sober for many years when I saw her in At Liberty, which meant she was probably sober when I met her. That made me sad, because I felt like my drinking icon had fallen.
Eight years after meeting her I had become a different kind of drinker: depressed, apologetic, morose, not mordant, and the brilliant zingers were about me, not by me. The party was over.
After I got sober, when I heard the defiant battle cry of "I'll drink to that!" in "The Ladies Who Lunch," I didn't hear unapologetic drinker. I heard an alcoholic's last gasp. And when I listened to the recording of At Liberty, I heard what I'd been too drunk to see when Ms. Stritch was performing it: a sober alcoholic's (very entertaining) qualification.
I dreamed of running into her at a sober meeting and saying, "I can't tell you how many sober nights, and days, At Liberty has gotten me through." That day never arrived, but it came close. Once I trailed Ms. Stritch down Park Avenue with a friend. I thought we were inconspicuous until she spun her head around and barked, "Stop following me!"
A few years after I'd been sober, I heard in the sober rooms that she was drinking again, that she'd said in a meeting that she drank while traveling by plane but still considered herself sober. After the story gained traction, if anyone casually mentioned her name, someone else would blurt, "Well, you know she's not sober!" She eventually came out as a born-again drinker in interviews in The New York Times and in the documentary about her, Elaine Stritch: Just Shoot Me. In each interview, the number of drinks she allowed herself seemed to fluctuate. Alcoholics never could count.
That, too, made me sad. Once my celebrity symbol of the lush life, she had become my sober symbol. Knowing her drinking story, I had thought, "If she can get sober, I can get sober." Was I now to think, "If she can drink, I can drink?"
For many of us, celebrities flicker on screens upon which we project our idealized selves. Like that anonymous woman who stood by Ms. Stritch's side when I met her, I imagined myself standing next to Ms. Stritch in alcoholic and then sober unison. I've removed myself from that screen and left her on it alone, where she belongs. Her relationship to the bottle is not mine, but my relationship to her as a fan whose journey at times was led by her star remains the same.
And by the way, Ms. Stritch was right. It is really rude to only introduce yourself to the famous person and not also to the person whom the famous person is with.
Popular in the Community