Two old dogs have homes for the first time in their lives after spending more than a decade in an animal shelter.
Jack, 14, and Chip, 15, had both lived at Save-a-Pet in the South African city of Port Elizabeth for nearly their entire lives, Gill Coetzee, vice chairlady of the nonprofit, told The Huffington Post in an email. Chip was dumped at the shelter as a 7-week-old puppy in 2001, while Jacko was rescued from a river at the age of 8 weeks in 2002. Coetzee said someone had tied wire and bricks around Jacko's neck and thrown him into the water, but a passerby saw what was happening and was able to rescue the dog and bring him to Save-a-Pet.
It wasn't until May of this year that Chip, a small white and gray dog with failing eyesight, was finally adopted, Save-a-Pet announced on Facebook:
The next day, the organization posted a plea for Jacko to be adopted as well.
"Like Chip, Jacko has NEVER had a home, NEVER had a family to love and cherish him, NEVER had a warm bed to sleep in or a human to cuddle up to. Just like Chip, Jacko's ENTIRE life has been spent in a kennel at Save a Pet," the post said, adding that Jacko's legs were covered with small, potentially cancerous growths.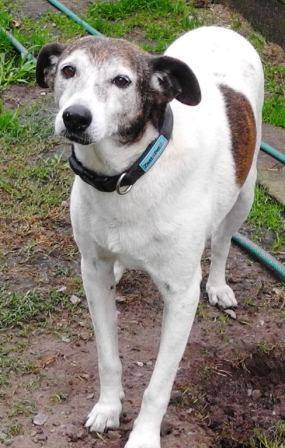 Just two days later, on June 1, a family came forward to take Jacko home.
"Both dogs are doing very well and are settling into their new homes," Coetzee said. "Jacko spent his first night cuddled on his new owner's bed -- what joy that message brought to all of us."
Coetzee couldn't pinpoint the exact reason why it took so long for these two canines to find homes, but noted that the shelter, which operates solely on private donations and cares for about 180 dogs, has limited resources to spend on promoting adoptable dogs. She added that the organization did not have access to a computer until 2011, but since then, social media has played a huge role in finding homes for the animals in need.
Coetzee added that many of the dogs at the no-kill shelter are older and have been abused or neglected, making it more difficult to find homes for them.
"Sometimes they are not the most attractive dogs, but have the most beautiful personalities," Coetzee said. "We truly don't believe it is our right to euthanize a dog just because of its looks."
Calling all HuffPost superfans!
Sign up for membership to become a founding member and help shape HuffPost's next chapter
BEFORE YOU GO