It was all smiles for an elderly Chinese gay couple -- who affectionately call each other "Big Treasure" and "Little Treasure" -- when they took a big step forward and held a wedding ceremony on Wednesday.
The two garnered about 12,000 fans on Weibo, China's version of Twitter, to witness the happy occasion with one of the men wearing a beautiful white wedding dress and both doing shots of Chinese baiju.
Except for one. One of the men's son was absent at the ceremony. He disapproves of the pair's union. Scroll down to the slideshow below for more pictures of the brave couple.
"It's disappointing that outsiders can bless us but not our own son," the couple posted on Weibo. "The heartless child is sabotaging our happiness."
When the two announced their love on Weibo over a week ago in response to a campaign by Big Love Alliance, a Hong Kong LGBT rights group, they said, "We won't part till we die."
One of the men is a retired history teacher and the other is a water delivery man. They met when the former teacher received his water delivery from his now partner.
China does not legally recognize same-sex marriage and despite their wedding ceremony, the teacher said that being together hasn't always been easy, saying they've lost friends but are in love and said on Weibo, "We will strive to be together no matter how hard and painful it is."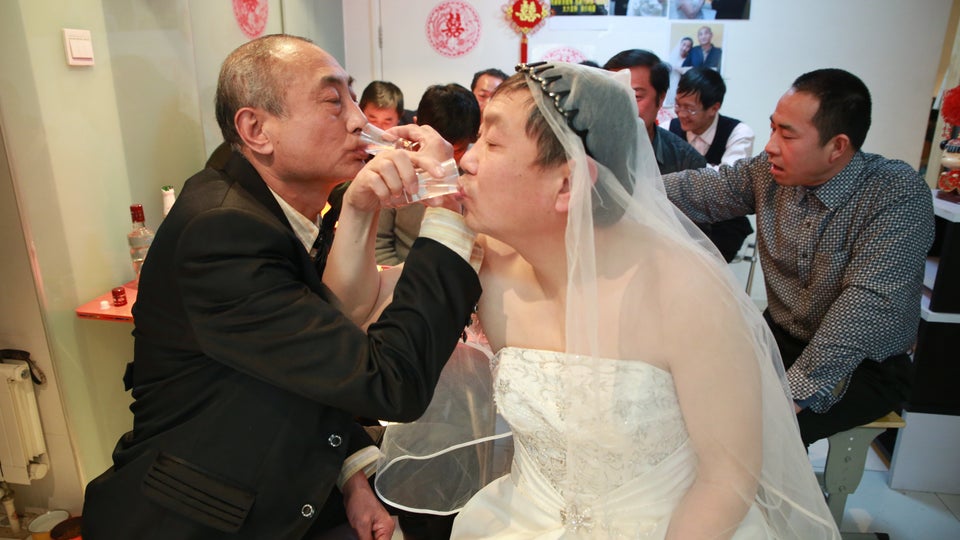 Elderly Chinese Gay Couple Marry In Beijing
Popular in the Community