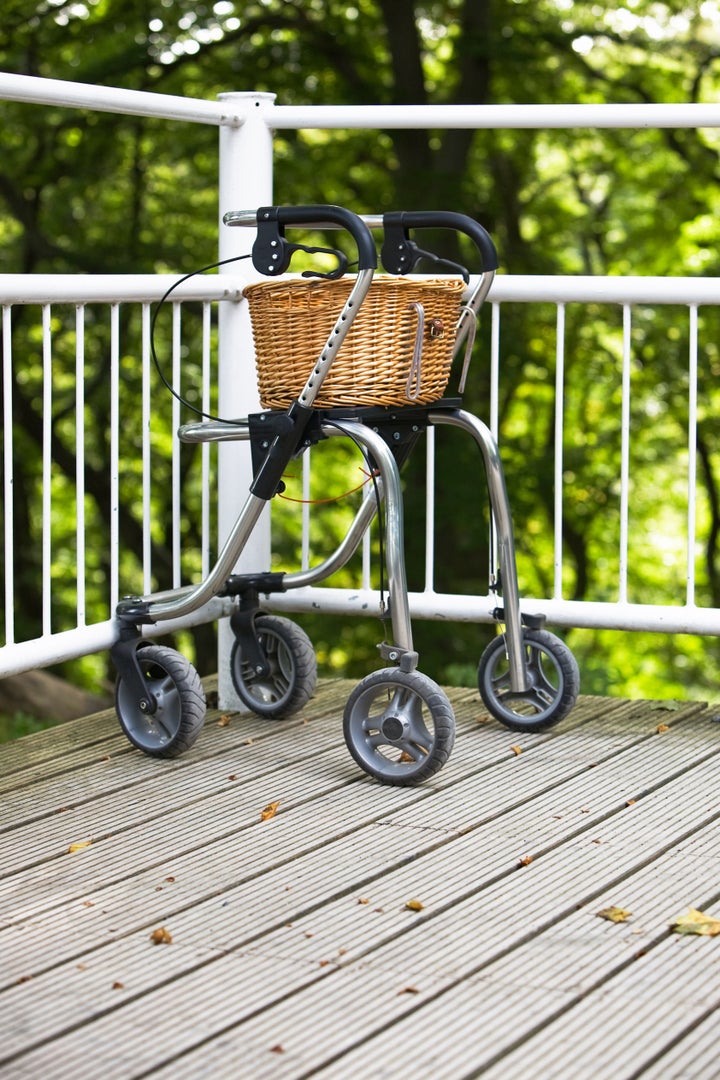 My mother has been touted for her amazing energy, eagerness to learn and positive thinking. Aka "Ever-Ready Betty," she inspires everyone who meets her with a sunny outlook ... and how about that style? She'll coordinate mink and neon plastic accessories and look fantastic. She can also pull off wearing heirloom baubles with blue jeans and snappy flats. Listen up, folks, this gal -- who was born 1/1/31 -- knows the ropes.
"You just have to look in your closet and mix it all around," she said.
After an overnighter in NYC, my mother mentioned that she had on "good walking shoes," but after walking from Lincoln Center to the Museum of Natural History "... (my) back hurt a little bit."
My sister, who lives in Princeton, said that she had recently seen a 94-year-old woman sitting on her walker in the midst of an open field on campus. Thinking she might need assistance, my sister went up to her and asked if she was okay, and whether she needed anything.
"Oh, no, I'm fine," the elder woman responded. "I'm just taking a break from walking and enjoying the day."
I mentioned this anecdote to my mother and said that maybe a walker would be helpful when she's in the city. Without skipping a beat, and showing no vanity, she replied, "That's a great idea. My friend has an extra one. I'll try it. Will make getting around easier. Plus, there's an upcoming senior trip to Central Park in the spring. They said the tour takes breaks. If I have the walker, I'll be fine."
Last January, my siblings and I hosted an 80th birthday tea party for Mom. Many of her friends range from lower-80s to mid-90s. They are gorgeous women, full of life, fashionable, connected and Fun (note the capital "F"). When I met one of them, she said, "Thank goodness December is over. So many parties!"
The remarkable thing is that my mother had a brain tumor 36 years ago. Along with deafness in one ear, she was left with partial paralysis in her right side that made it difficult for her to walk, blink and swallow. It took years to get back on the other side of life, but with determination and strong will, she regained her tenacity. Her only-child sassiness remained intact throughout.
Mom awakens every single day grateful to be alive. Every sunrise and every sunset is a blessing to her. She shares her optimistic glow with everyone she meets -- from the doorman to the Governor. With punch and panache, Mom inspires us all. She is a lesson on how to live your life to the max: at full-speed. Even if it's with a walker to get from West 65th Street to the museum on West 79th.
And knowing Mom, she'll even tie a ribbon on the handle of that new walker so that it coordinates with her outfit. In her ever-growing book of mantras, "Why take a cab when you can make tracks with a walker?"
Related
Popular in the Community