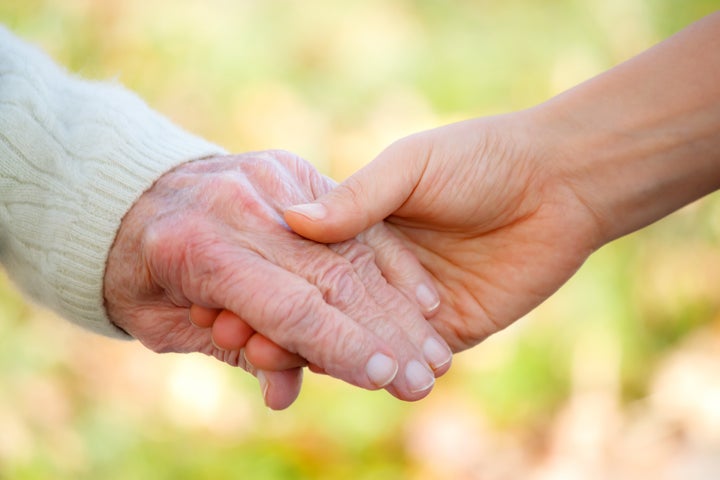 Everyone around Joe -- a 78-year-old former Mr. Fix It who has been confined to a wheelchair since his leg was amputated last year -- has been working hard to make his Breezy Point, Queens, home habitable for him and his wife since Hurricane Sandy crashed ashore in a whirl of flood and fire. His children have been gutting, stripping, pumping, hauling. His wife has been cleaning, organizing, preparing meals.
And Joe? He has been feeling useless, guilty, depressed and hopeless. "All he wants to do is go down to the basement to fix something," says Nancy Girlando, the home care nurse who has been working with him for five years and his neighbor. "His wife and his kids are doing everything for him with the best of intentions. Don't worry about anything. We've got it. But that's how a lot of seniors get depressed and feel useless. They have to think about how to incorporate Joe into the goings-on."
Nancy, an RN with the Visiting Nurse Service of New York, recommends including seniors, even (or especially) if they are displaced or distraught, in activities and decisions large and small, from what to have for dinner or what color to paint the new walls to where they are going to live in the future. When she came for her first clinical visit since Joe moved back to the storm-ravaged neighborhood, she noticed a stack of addressed Christmas cards on the kitchen table. "Have him put stamps on the Christmas cards," she suggests. "Have him go over the list and make sure everyone's on it. Or peel carrots for dinner. Something."
In New York, New Jersey and other areas devastated by Sandy, floodwaters have receded, power is back on, as is heat and running water. Many of those who were displaced have moved back home and begun rebuilding. But for a significant number, particularly those who are elderly, isolated and already dealing with loss, depression or anxiety, the storm and its aftermath exacerbate their vulnerability. "The depressed patients are a little more depressed because they're taking on so much more, including the burdens of the world," says Suzette Santos, a VNSNY behavioral health nurse. "The anxious are a little more anxious because every drop of rain could be a hurricane. And the mild Alzheimer's patients are more confused because they're displaced."
Home- and community-based health experts -- many of whom have been knocking on doors and seeing patients every day since the storm hit (and many of whom, as neighbors, have suffered enormous losses themselves) -- have a number of suggestions for keeping elders, derailed by the storm, moving forward in the short and long term. If you are living with, caring for, or just visiting older loved ones or neighbors weathering the complex after-effects of Sandy, encourage them to:
Open Up: Last week, Nancy visited a patient whose home -- and seemingly his life -- were not visibly affected by the storm. She asked him how he had fared. "He said, 'Nobody has asked me.' I said, 'I'm asking you.' He said, 'I sat in this chair and I watched the ocean come in. It was like the devil.'"
When someone suffers through trauma like Sandy, talking about it furthers the process of understanding and healing and creates the connections and support systems necessary to shoulder the burden. This is especially vital for the elderly and homebound, who may not have people to talk to on a regular basis. "We have to open up channels of communication for these older people to talk about this as long as they want," urges Nancy, whose own home was damaged to the foundation. "Give them some air time."
Social worker Scott Feldman, who volunteered at a shelter for fellow Staten Islanders immediately after the storm, says, "Mostly, I listened. Talking about it is always good. A Scott-ism of mine is: If you don't deal with it, it will deal with you." At the same time, he emphasizes that talking may not be right for everyone. "Be sensitive to individual personalities and cultural norms."
Reconnect: One of Nancy's patients, whose Breezy Point home was destroyed, is now living with her son's family in New Jersey. "He says she doesn't want to stop watching storm coverage on TV, and she keeps calling her friends in Breezy,'" Nancy says. "And I said, 'So what's wrong with that?' The son said, 'We're here. Shouldn't she leave that behind now?' I said, 'She's depressed and isolated and reaching out. It's healthy, it's helpful.'"
Allow, even encourage, your loved one to visit, watch the news, connect with friends and neighbors. Maybe the home is not yet (or no longer) habitable, or the decision has been made that the elderly loved one can no longer live alone. But still, says Nancy, "I've been encouraging families, 'You've got to let Mom come back, even just for a trip to say hello, to look around, to bump into a neighbor.' This helps with closure."
Reestablish Routines: This is especially important for those with cognitive impairment. Whether your loved one is back home or relocated (perhaps with you) try to maintain his or her schedule as best you can. If your mother typically has lunch at 11:30 while watching "her shows," try to arrange for access to a television and a prompt lunch. "Even someone with mild dementia can be very vulnerable after changes in routine," says Judy Santamaria, director of caregiver support for VNSNY. "Anything you can do to help them understand the changes or to reduce confusion will help them adjust."
Engage in Pleasurable Activities. Don't let the before get washed away with the storm. If your mother's knitting was destroyed in the flooded basement, buy new yarn and encourage her to get a scarf done for the holidays. If Uncle Jim's photography equipment was damaged, get a simple new camera and encourage him to take a few pictures of the neighborhood, document the rebuilding. Constantine Checa, a behavioral health nurse who uses cognitive behavioral therapy (CBT) to help depressed or anxious patients change their behavior one small step at a time, recently encouraged a patient to laugh more during the day. "He said, 'I'm not myself anymore. I used to laugh more,' so I said, 'Let's take steps to get back to that person.'"
Make Lists: There are, of course, many concrete steps storm victims can and should take, including contacting their insurance companies, FEMA, the Red Cross, and other emergency relief entities. Scott encourages those seeking help to make a list of all questions and concerns before contacting relief agencies. "Once you start telling your story, you may get emotional -- which is normal and human -- but you don't want to lose anything in the heat of the moment," he explains, adding that this is also a valuable undertaking, too, before visiting a doctor.
Take Stock: For many whose homes took a direct hit, the losses to property are staggering, homes damaged or destroyed, furniture, valuables and a lifetime of photographs carted away with the trash. "But in the end," reminds Scott, "you didn't lose everything if you didn't lose your life." In a Staten Island shelter shortly after the storm, he worked with a young mother who lost her home and was overwhelmed by feelings of guilt that she had put her small children at risk by not evacuating before the storm. As he listened to her story, a shelter volunteer came by with some special infant formula she had requested for her sensitive 7-month-old. "I reminded her that she was being a great mom because she was advocating for her kid," he recounts. "I saw a light go on over her head. At that moment, she moved from victimhood to empowerment."
Meanwhile in Manhattan, another mother was taking stock -- an older woman whose grown daughter and caretaker was out of the country during the storm and whose neighbors regularly checked up on her and brought her food when the power went out. "She was able to accept help from her neighbors, to rely on them, and to realize that as a positive," says Constantine Checa. "That's huge."
Grieve: Take stock, but also allow for mourning what has been lost, whether that includes one's home and all possessions, or more limited damage to property, security and a way of life. This is advice that Nancy not only dispenses -- she also takes it to heart. "In the beginning, I felt like I couldn't complain because there are people who can't go back to their home," says Nancy, whose house faces a long road back but will not be demolished. "But you have to say you have had a loss and take the time to grieve. It's more than just pumping the water out of your basement. It's physical. It's mental. It's emotional."
Share your tips on coping -- or supporting elderly relatives in coping -- with the destruction and rebuilding of Hurricane Sandy.