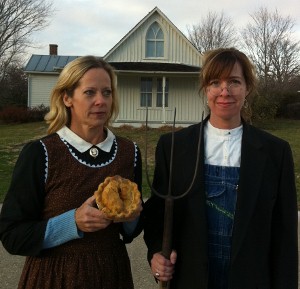 Over the past month my road trip has taken me across ten states and countless cities, yet I recently landed in one town for longer than any of the rest: Eldon, IA. At first glance Eldon is just a typical sleepy country town. Its population is a mere 967, it is only 1.1 square miles in size, the main street of the city is only a couple of blocks long, and Eldon nightlife consists of weekly bingo at the community center where many of the silver-haired players bring Ziploc bag snacks of Lucky Charms mixed with peanuts and M&M's. Realistically, you can see the highlights of this city in a couple short hours. So why did Eldon speak to me so much that I ended up staying a full week? In short: it's a small town with a big spirit.
Of course it didn't hurt that I was staying in one of the most celebrated residences in the country: the American Gothic House. This is the house that appears in the background of Grant Wood's iconic 1930 painting American Gothic. My friend Beth Howard is living in this house, which is on the National Register for Historic Places. Beth, aka "Pie Girl," has a popular blog called The World Needs More Pie. She runs her pie business, Pitchfork Pie Stand, out of the American Gothic House each Friday, Saturday and Sunday. I initially decided to stop in Eldon because I thought it would be fun to help bake pies and sell them to the many tourists who stop while passing through to have their pictures taken outside of the house. What I didn't expect was for this tiny town to steal such a big part of my heart.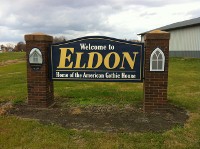 Eldon's big spirit is revealed through the rally cry of volunteerism to restore the town's history. In fact, the community impressively raised $63,000 through bake sales in order to build the American Gothic Center, a museum and gift shop that also provides costumes and a pitchfork for photos in front of the American Gothic House. While this is reason enough to visit Eldon, I found many more gems in this city. Shirley Stacey, the lively and welcoming mayor of Eldon, gave me a driving tour of the area. Part of the charm of the tour of this small town was that it primarily consisted of Shirley telling me things like "Martha and Jim live here, and Don and Linda live there," however through Shirley I also discovered that Eldon actually has three other buildings on the National Register for Historic Places. First, the McHaffey Opera House, a stately building in the center of town, was established in 1891 and used to be on the New York performance circuit. It's currently closed for restoration (again, through the efforts of volunteers), but ask at the thrift store on the street level of the building and they'll probably happily give you a behind the scenes tour. Secondly, the Eldon Train Depot first began services in 1870 and was the crossroads for several train lines. When the railroad went out of business in 1980, commerce in the area took a huge hit. Now a restored caboose (thank you once again, Eldon volunteers!) sits in front of the Depot in a downtown park, and the Depot itself is a museum chock full of train memorabilia. Thirdly, Hollenbeck Hall (formerly a 4H building), which is located on the Wapello County Fair Grounds, is a unique building with four prominent entrances that each face a different county.
The evening I arrived I immediately went to the Eldon Library to hear R. Tripp Evans read from his new biography "Grant Wood: A Life." After the reading, Evans, a professor of art history at Wheaton College in Massachusetts, joined Beth and me at her famous residence to share stories, a bottle of wine, and of course, freshly baked apple pie. I have a personal fondness for Wood because I attended Grant Wood Elementary school in Bettendorf, Iowa until the 3rd grade when my family moved to Wisconsin. Although hardly a museum, my elementary school had prints of Wood's paintings hung in the halls, making his work my first real exposure to the world of art.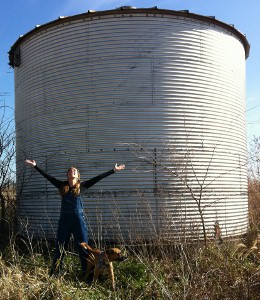 While most people treat Eldon as a quick detour off the highway for an American Gothic photo opportunity, a soft voice in my head kept telling me each day to stay just a bit longer. Why? Because my favorite part of Eldon was enjoying a taste of a quiet simple country life after years of living in the fast-paced, materialistic world of the film industry. For a time Eldon actually had its own Hollywood connection: from 1993 - 1995 Roseanne Barr and Tom Arnold ran Roseanne and Tom's Big Food Diner, which specialized in loose meat sandwiches. Long since leveled for termite damage, what used to be the diner is now Eldon Fire Department's parking lot. Embracing the slow-paced lifestyle of the region, I wore overalls every day and Yoda and I enjoyed daily walks along the beautiful Des Moines River and through the soybean fields surrounding the American Gothic House. If it hadn't been so cold, I would have sat for hours in the mornings with my latte staring at the beautiful frost crystals that formed a light sparkly layer over the fields of grass...honestly, this art in nature gives Grant Wood a serious run for his money. In a salute to the Midwest, our dinners often consisted of delicious crock pot meals that simmered over 8 hours while torturing us with mouth watering aromas as they cooked throughout the day. One of my favorite outings was to nearby Ottumwa, Iowa, where we sat at the counter at South Side Drug's Soda Fountain and enjoyed possibly the best old fashioned vanilla milkshake of my life. I found this simple life very healing for my Los Angeles battle-scarred spirit. I'm not at all ready to return "home" to the City of Angels, and found myself fantasizing that I could easily make a new home in Fairfield, Iowa, which is 30 minutes from Eldon and has a bustling town square, 20 art galleries, an Ayurvedic health spa, a large meditation community, and a community-wide commitment to sustainable living.
Although I found it difficult to leave Eldon after a week, I knew it was time to hit the road in search of my next adventure. I gave the mayor and the Pie Girl a big hug goodbye and promised them I'd try to come back next June for their annual Gothic Days, a 3-day long celebration filled with everything from a parade, mud run, wine tasting, 18 mile bike ride...and next year, straight from the American Gothic House, Beth's freshly baked Pitchfork Pies.

Related