With the official 2016 primary season edging closer, politicians on both sides of the aisle are starting to make the case that they would be the strongest nominee in the general election.
Three candidates have so far convinced Republican and Republican-leaning voters that they could be capable of pulling off a victory in November: Trump, Sen. Ted Cruz (R-Texas) and Sen. Marco Rubio (R-Fla.). After them, there's a dramatic drop in confidence, with one-quarter or fewer thinking that any other candidate could win.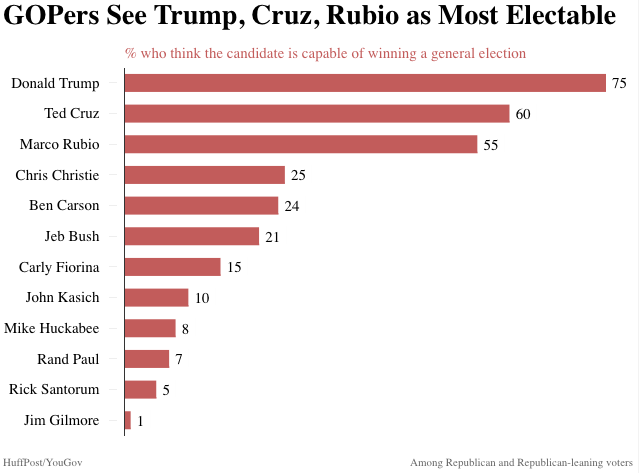 Democratic and Democratic-leaning voters consider former Secretary of State Hillary Clinton their most electable candidate, with 83 percent saying she's capable of winning the general election. Sanders, though, has also made his case: A 54 percent majority thinks he's capable of winning. Just 8 percent think former Maryland Gov. Martin O'Malley has a shot.

Very few in either party say they're making electability a primary consideration in their own voting plans. Just 8 percent of Democratic and Democratic-leaning voters, and 7 percent of Republican and Republican-leaning voters, say they intend to vote for a candidate who isn't their favorite, but who has a better chance of winning.
The two sides, though, have very different ideas about who is electable.
By a 3-to-1 margin, 61 percent to 20 percent, GOP and GOP-leaning voters think an outsider candidate has a better chance of winning the general election than an establishment figure. They think a candidate who is willing to compromise is more electable than one who sticks to his or her positions, but only by a slim, 10-point margin.
Unlike Republicans, Democratic and Democratic-leaning voters don't expect a political insurgency. Half of those voters think an establishment candidate has a better shot of winning the general election, while 21 percent think an outsider would stand a better chance. Two-thirds think a candidate willing to compromise in order to get things done is more electable than a candidate who sticks to his or her positions and accomplishes less.
The survey also answers the question of who potential voters consider the most formidable candidates of the opposing party. According to the HuffPost/YouGov poll, 26 percent of Democrats and Democratic-leaning voters think Trump could win the election, with 24 percent saying Bush could win. Between 15 and 18 percent give Ohio Gov. John Kasich, New Jersey Gov. Chris Christie, Rubio and Cruz each a chance, with less than 10 percent believing any of the other declared candidates could pull off a win.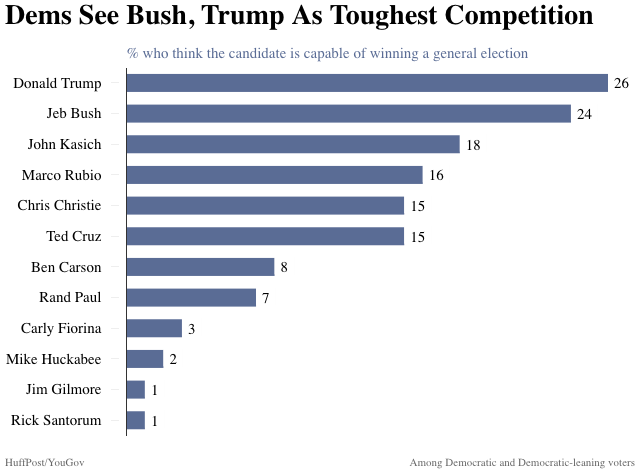 Republicans consider Clinton the strongest Democratic candidate -- 36 percent of Republicans and Republican-leaning voters think she's capable of winning, compared to 27 percent for Sanders, and 6 percent for O'Malley.
Overall, Clinton and Trump are perceived as electable by a majority of all voters, at 58 percent and 51 percent, respectively.

The HuffPost/YouGov poll consisted of 1,000 completed interviews conducted Jan. 16-19 among U.S. adults, using a sample selected from YouGov's opt-in online panel to match the demographics and other characteristics of the adult U.S. population.
The Huffington Post has teamed up with YouGov to conduct daily opinion polls.You can learn more about this project and take part in YouGov's nationally representative opinion polling. Data from all HuffPost/YouGov polls can be foundhere. More details on the polls' methodology are available here.
Most surveys report a margin of error that represents some, but not all, potential survey errors. YouGov's reports include a model-based margin of error, which rests on a specific set of statistical assumptions about the selected sample, rather than the standard methodology for random probability sampling. If these assumptions are wrong, the model-based margin of error may also be inaccurate. Click here for a more detailed explanation of the model-based margin of error.
PHOTO GALLERY
Declared 2016 Presidential Candidates
Calling all HuffPost superfans!
Sign up for membership to become a founding member and help shape HuffPost's next chapter