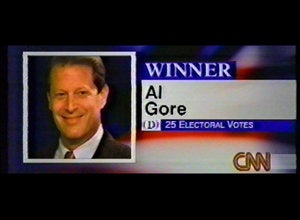 The Financial Times' Andrew Edgecliffe-Johnson reports about the networks' delicate balancing act of trying to call the election first but remaining accurate:
In 2000, networks rushed to predict that Al Gore would win Florida, only to change their minds and give the state to George W. Bush, only to have to report that a recount was required.

The fear of repeating the mistake has resulted in the creation of an intricate system in which news organisations rely on two independent bodies for raw data, then use their own analysts to turn this into predictions.

The task of compiling exit polls is pooled through Edison Media Research and Mitofsky International, polling specialists supported by the networks and the Associated Press.

News organisations' representatives are locked away to pore over the results of more than 100,000 interviews conducted at more than 1,000 polling stations, until being allowed to call their newsrooms at 5pm eastern time.
Related
Popular in the Community