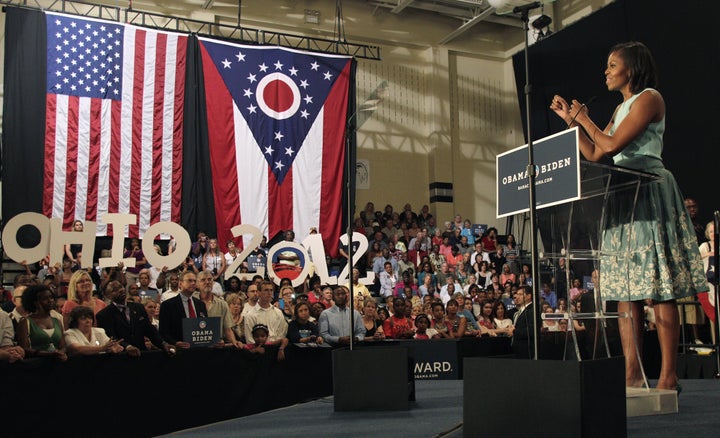 COLUMBUS, Ohio -– The war over women is on.
The Obama and Romney campaigns both reached out Tuesday to women voters, the key voter demographic that likely will decide this battleground state, and thus the outcome of the presidential election.
About 15 minutes before the first lady's first event of the day, Republican presidential candidate Mitt Romney's campaign in the afternoon launched a "Women for Mitt" effort with the state's lieutenant governor, Mary Taylor, in a local store that sells flags. About 30 people attended.
"Mitt Romney is not going to be able to be elected unless he carries Ohio," said former House Speaker Jo Ann Davidson. "What we've been doing is realizing how important the women's vote is in Ohio."
The Romney campaign is playing catch-up with women voters organizationally. A recent survey of women in the state showed Romney badly trailing Obama with women voters: 52 percent supported Obama's reelection campaign compared with only 40 percent of women who want Romney to unseat him.
When it comes to personal favorability, Romney was even worse off among Ohio women: 56 percent viewed him unfavorably in the Purple Strategies survey, while only 32 percent saw him favorably. Romney held a 51 to 43 percent advantage over Obama among men in the poll.
Democratic operatives believe that their attacks on Romney's career at Bain Capital have damaged the Republican's support, and that continued bombardment of the airwaves between now and Nov. 6 will make it impossible for Romney to win over the number of women voters, in particular, that he needs.
In fact, the Bain ads are largely aimed at the region and its voters.
Despite the stark polling numbers, Davidson, one of four women who spoke at the Romney event, said she was optimistic that the Republican's economy-centered message was going to win.
"I feel confident in [Romney's] chances. I understand that the women's vote is very important to us. I did the '04 election in Ohio. This feels like an '04 election," Davidson said. "It's going to be turnout, turnout, turnout, turnout."
"In the '04 election, the gap –- what they like to call the gender gap –- that gap in the '04 election almost disappeared. I think this is the kind of an election that could do that too."
That looks like a difficult task at the moment. The first lady rolled into Columbus to leverage her megawatt star power, drawing large crowds that are now standard for her. The audience inside the Westerville Central High gymnasium was largely female.
And the first lady delivered a stemwinder of a speech that sought to play up her husband's ability to relate to middle-class women and their families.
"Barack is the son of a single mother -- you know his story –- who struggled to put herself through school and pay the bills. He is the grandson of a woman who woke up before dawn every day to catch a bus for a job at a bank. And even though Barack's grandmother worked hard to support her family, and she was good at her job, like so many women she hit that glass ceiling, and men no more qualified than she was were promoted on up the ladder ahead of her," Michelle Obama said.
"So believe me, Barack Obama knows what it means when a family struggles. This is not a hypothetical for him," she said, drawing an implicit comparison with Romney, who was raised in a wealthy family and made a fortune himself in private equity.
Obama implied that Romney, by contrast, is not looking out for those who are not wealthy. She said the president "believes that when you've worked hard and do well and walk through that doorway of opportunity, do you not slam it shut behind you."
The crowd yelped in appreciation.
"You reach back and you give other people a chance to succeed as well. That's what the American dream is about. And more than anything else, that's what's at stake in this election," Obama said.
The contrast between the messaging at the Obama and Romney campaigns could not have been starker. The warm-up speakers at the Obama event emphasized a host of issues around health care and education. The president's health care overhaul got big cheers. So did his moves to help college students pay for school, and to make it easier for women to sue employers for workplace gender-based discrimination.
At the Romney event, only a few comments by Davidson, and a sign on the lectern reading "Women for Mitt" distinguished the event as being in any way gender-specific. The other speakers besides Davidson, including Taylor, focused their remarks almost exclusively on the economy and jobs.
"I know Mitt Romney knows what it takes in the private sector to create jobs. I know he knows what it takes to restore our fiscal sanity in this country," Taylor said.
But Taylor did add a humanizing twist to her remarks that many women with children could relate to.
"I am also a mom, and I'm a wife, two responsibilities that I take very seriously. And when I think about my two sons, who are 21 and 18, and them looking into their future and what their opportunities might hold for them, I remember what my grandmother said to me," Taylor said. "My grandmother used to say to me, 'Mary, you can achieve anything you want to achieve if you're willing to work hard in the United States of America.' That's the American dream."
Romney's Ohio spokesman Chris Maloney said that the campaign was conducting an intensive two hours of phone banking with women calling women on Tuesday evening. Maloney said that the economic message was effective for women.
"Our call lists tonight are reaching out to undecided women, unaffiliated women and talking to them not only about small business but also about what it takes to manage a home budget. The constraints that women are feeling are across the ideological spectrum, it's across the demographic trends today," Maloney said.
The economy trumps health care and education with most women, said Davidson. "When the economy's better then education pops up to the top," she said. "I'd order them right now probably the economy first, health care second, education third."
The Obama campaign, responding to the "Women for Mitt" event, hit Romney on a multitude of issues related to women.
"Ohio women can't trust Romney to stand up for them, he is too extreme and out of touch," said Obama spokeswoman Jessica Kershaw.
Calling all HuffPost superfans!
Sign up for membership to become a founding member and help shape HuffPost's next chapter
BEFORE YOU GO
PHOTO GALLERY
War On Women