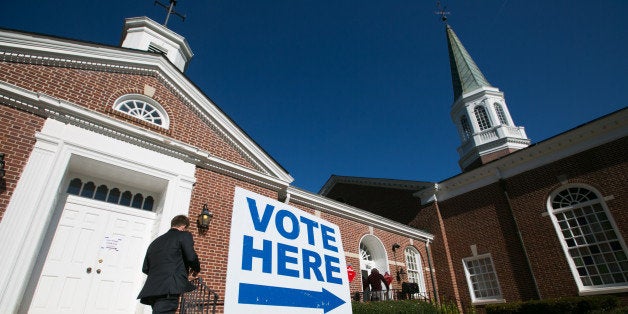 White Evangelicals turned up at the polls in large numbers on Tuesday, playing a key role placing Congress in the hands of the Republican Party.
Evangelicals tend to be more enthusiastic than other groups about the midterm elections, according to polling data from Reuters/Ipsos. Election Day 2014 was no different, with exit polls showing that Protestants and other non-Catholic Christians made up about half of the electorate and tended to cast their votes in favor of the GOP by about 60 percent.
More specifically, 26 percent of voters self-identified as white evangelical or born-again Christian. Of that group, 78 percent voted for Republican candidates.
In highly contested races in the Southern states of Arkansas, Georgia, Kentucky, and North Carolina, exit polling shows that white evangelicals showed up to vote in high percentages, according to Religion Dispatches.
In Arkansas, for example, 52 percent of the electorate was composed of self-identified white evangelicals or born-again Christians. About 73 percent voted for Republican Rep. Tom Cotton, which helped unseat two-term Democratic Sen. Mark Pryor.
"Conservative voters of faith were the largest constituency in the electorate in 2014," Ralph Reed, founder and chairman of the Faith & Freedom Coalition, said in a statement. "Their share of the electorate exceeded that of the African-American vote, Hispanic vote, and union vote combined. Religious conservative voters and the issues they care about are here to stay. They will be equally vital in 2016. Politicians of both parties ignore this constituency at their peril."
The religious landscape of Tuesday's elections was largely similar to the last midterm election in 2010 and to the 2012 presidential election, according to Religion News Service blogger Mark Silk.

About 71 percent of white Protestants and 59 percent of white Catholics voted Republican, according to exit polls. Individuals who attended religious services regularly were also more likely to vote Republican.
On the other hand, American Jews remained a solid Democratic voting bloc, according to a J Street Election Night Poll. About 69 percent voted for Democratic congressional candidates. President Obama's approval rating is 15 percentage points higher among American Jews than for the general population.
"The 2014 Jewish vote once again demonstrates that American Jews are a base Democratic constituency that supports the Obama Administration's efforts to reach an agreement with Iran and to help resolve the Israeli-Palestinian conflict," the pollster Jim Gerstein said in a statement. "While Prime Minister Netanyahu has recently raised questions about American values, the data clearly show that American Jewish values closely align with the actions of the Obama administration."
An exit poll by the Council of American-Islamic Relations of Muslim registered voters in California, New York, Illinois, Florida, Texas, and Virginia -- states with large Muslim populations -- suggested that more than 70 percent of Muslims favored Democratic candidates. The poll also showed a modest positive shift in support for the GOP, with close to 20 percent voting for Republican gubernatorial candidates. CAIR attributed the change to "winning over traditionally independent or undecided Muslim voters."
Despite a spirited campaign to get out the vote, the midterm elections provided mixed results for atheists. One atheist in Arizona was re-elected to a seat in his state legislature, while another atheist in Texas lost his race for the Texas House of Representatives.
James Woods, an Arizona atheist who was seeking a spot in the U.S. House of Representatives, was rejected by voters. He was the only openly atheist candidate trying to win a seat in Congress, according to The Religion News Service.
"We ran a campaign I think my atheist community can be proud of, and I hope we made it a little easier for other candidates to be open about their nontheism in the future as well," Woods said in his concession speech. "We're playing to win the long game. And we're winning it."
Congress's possibly only "none" -- a person who doesn't identify with any particular religious or nonreligious identity -- was re-elected in Arizona's 9th District. During her 2012 campaign, a spokesman said of Democratic Rep. Krysten Sinema that the "terms 'nontheist,' 'atheist' or 'nonbeliever' are not befitting of her life's work or personal character." Still, the congresswoman has been hailed by secular groups.
In other election news, Alabama voters showed overwhelming support (by about 72 percent) for an amendment to the state constitution that prevents foreign law from being applied in state courts, AL.com reported. The amendment follows previous election-year efforts in other states to ban Islamic sharia law.
The electorate was divided on abortion-related ballot initiatives, according to the Religion News Service. Voters in Colorado and North Dakota rejected proposals to grant rights of personhood to fetuses. Pro-choice advocates feared that such initiatives would have banned abortions. Tennessee voters decided to add an amendment to the state constitution that would give state lawmakers more power to regulate abortions.
Related
Popular in the Community