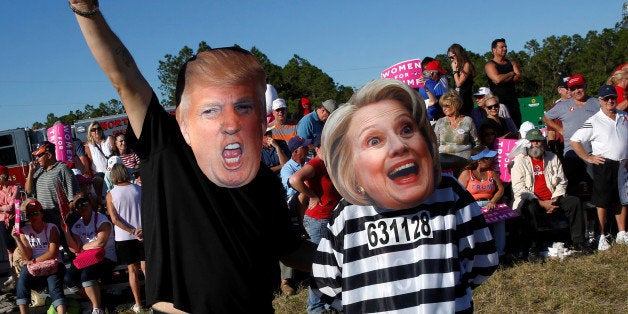 Election Day will be the culmination of a long painful presidential campaign that has pitted two unpopular candidates against each other in one the most offensive races in this nation's history. The beacon of democracy has been soiled by scurrilous rhetoric that has blemished the character and stature of the United States. No matter the outcome, the healing process is sure to be long and difficult.
Republican Donald Trump fought like a pit bull to win his party's nomination. He insulted all of his primary opponents, using demeaning language and derogatory terms to describe his foes. He succeeded to play on the anger of many citizens who feel left behind, who believe the government is not functioning properly, who are frustrated with illegal immigrants, who fear a terrorist attack, who are worried their guns will be taken away, and who are fed up with foreign wars.
Trump is a severely flawed candidate. He has been recorded on video making offensive remarks about women, even saying he would be sexually abusive to them. Now a dozen women have come forward to claim Trump made unwanted sexual advances to them, claims he has denied. This follows his long history of using degrading and slanderous insults against women.
Trump began his campaign insulting Mexicans immigrants as rapists and drug dealers, and promised to build a wall along the southern border that Mexico would pay for. He announced a ban on Muslims entering the U.S., and called for monitors to watch over mosques. He insulted Senator John McCain, saying the former POW was not a war hero. He insulted a disabled reporter, and has consistently attacked reporters covering his campaign as dishonest, which created an unsafe environment for journalists assigned to his events.
Recent news reports have revealed that Trump cut corners and used shady tax provisions for decades to keep his companies afloat. Trump used bankruptcy laws to leave several contractors and their employees high and dry, as well as investors and would-be homeowners. Trump brags that he gives money to charities, but recent news reports have revealed he often promises a lot, and then later reneges on his promises. The now defunct Trump University is currently facing three civil suits, and the biggest lesson its students learned is not to trust Trump. Trump claims he cannot release his tax returns because he says he is being audited. There is no proof he is being audited, but an audit is not a valid a reason for him to withhold his returns from the American public in an election year. It is likely he knows if he released them he would be exposed. Regretfully, he has gotten away with his lack of transparency.
Russian President Vladimir Putin has endorsed Trump, and Trump has said kind words about Putin. Since Trump has questioned the role of NATO, a vital national security organization for the U.S., of course Putin supports Trump because he wants a weakened NATO too. Russian hackers are doing their part to tip the election Trump's way, while Putin is supporting the rise of nationalist movements throughout Europe in an effort to undermine that region's stability. So it should be no surprise that those with nationalist sentiments in this country, and even the Ku Klux Klan, are supporting Trump.
Trump has no military or foreign policy experience, yet we are at a time when the world is in tremendous transition, and American forces are engaged in several conflicts. For decades efforts have been made to limit existing nuclear stockpiles and stop the spread of these massively destructive weapons to other countries, as well as to terrorists. But Trump has said he would not be opposed to using these weapons, and suggested that Japan and Saudi Arabia should be allowed to have them. His lack of understanding on this issue is scary -- and may have profound consequences should he be elected. The president doesn't need Congressional approval to launch a nuclear war.
On the campaign trail Trump has been the consummate showman and entertainer. He makes outrageous comments to fire up his supporters. He has dubbed his opponent "crooked" Hillary Clinton, yet he has lied hundreds of times according to every fact-checker. This man actually had the chutzpah to announce in a debate he would launch an investigation into Clinton if he were elected president, and even said she should be in jail.
Hillary Clinton, on the other hand, has a serious trust issue with the American electorate dating back to her time as Arkansas First Lady. There have been many investigations into both Hillary and her husband, former President Bill Clinton. She has never been charged on convicted with a crime. Yet her use of a private Email server while U.S. Secretary of State has been the scandal that simply won't go away. While she apologized, the fact that she had thousands of personal Emails destroyed that may have been relevant to an investigation into her handling of classified material has further undermined her credibility.
Clinton has enemies within the FBI. Last July, FBI chief James Comey cleared her of wrong doing but declared her handling of Emails as reckless. Republican members of Congress were sharply critical of Comey's decision. Ten days ago former New York Mayor Rudy Giuliani, who is also a former U.S. Attorney for the Southern District of New York, appeared on Fox News and predicted something big was about to come out that would hurt Clinton. Two days later Comey sent a letter to members of Congress informing them that the FBI would expand its investigation into Emails found on the laptop of former Congressman Anthony Weiner, the estranged husband of Clinton's right-hand aide, Huma Abedin. Did disgruntled FBI agents tip off Giuliani? He says no. Even worse, Fox News anchor Brett Baier, quoting FBI sources, reported that an indictment was likely against the Clinton Foundation. Later he had to retract his story and apologize, but the damage was done.
The Comey letter roiled the presidential race, and now Trump is within striking distance of being elected. The stock market suffered losses Friday, and many world leaders are on edge. Despite her problems, Clinton is considered one of the most experienced, knowledgeable, and hard working candidates to ever run for president. Her time as first lady of the United States, as a U.S. Senator from New York, and as U.S. Secretary of State, have given her a deep background and extensive connections to draw upon if she is elected president.
And on Sunday, James Comey sent a new letter to members of Congress regarding the Email's on Weiner's laptop. Comey wrote, "based on our review, we have not changed our conclusions that we expressed in July with respect to Secretary Clinton." This apparently ended any further investigation, according to The New York Times. Comey's latest letter comes at a time when Clinton appears to be holding on to a slim lead over Trump in the final hours before Election Day. Not surprisingly, Clinton has the support of most women, as well as most Latinos, African Americans, Asians and younger Americans. If they turnout in massive numbers Clinton will make history as the first woman to be elected U.S. president.
No matter the final outcome, most Americans will be relieved the presidential election is finally over. However, the country will remain deeply divided, and it will be difficult for the winner to govern the country. Meanwhile, books will be written about what went wrong with the 2016 presidential election. There will be plenty of blame to mete out, to Trump, to Clinton, to the political parties, to the presidential campaigns, to the FBI, to the media, and even to the Russians.
After all, America deserves far better.
Calling all HuffPost superfans!
Sign up for membership to become a founding member and help shape HuffPost's next chapter