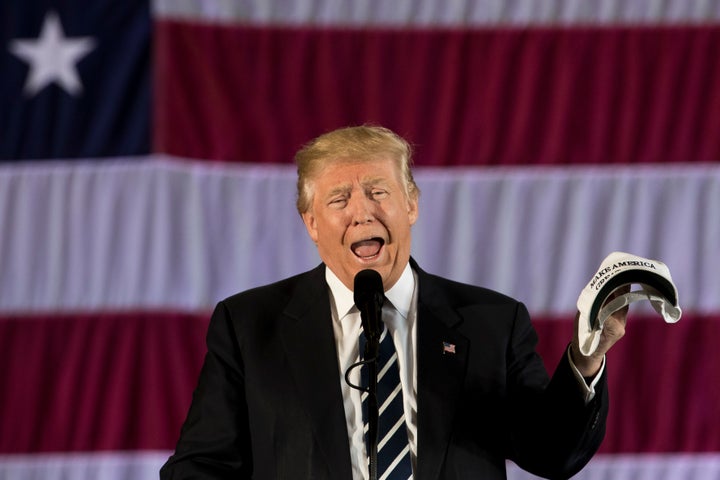 This year's political events aren't helping most Americans feel confident about the election or the parties. The Libertarian Party ticket has a lot of political experience, but it probably won't matter. And the best strategy for poll-watching over the summer and fall will be to look at the averages. This is HuffPollster for Tuesday, May 31, 2016.
THE ELECTION IS CAUSING AMERICANS TO FEEL HOPELESS - Steve Peoples and Emily Swanson: "The divisive primary season has fueled an overall sense of pessimism about the political process that underscores a widening chasm between political parties and the voters they claim to represent. Just 12 percent of Republicans think the GOP is very responsive to ordinary voters, while 25 percent of Democrats say the same of their party. Among all Americans, the AP-NORC poll found that just 8 percent consider the Republican Party to be very or extremely responsive to what ordinary voters think. An additional 29 percent consider the GOP moderately responsive and 62 percent say it's only slightly or not at all responsive. The Democratic Party fares only slightly better, with 14 percent saying the party is very or extremely responsive, 38 percent calling it moderately responsive, and 46 percent saying it's only slightly or not at all responsive...Worse, 55 percent of Americans, including 60 percent of Republicans and 53 percent of Democrats, say they feel helpless about the 2016 election. And two-thirds of Americans under 30 report feeling helpless." [AP]
Economic stress is adding to their pessimistic outlook- Kirby Goidel and Keith Gaddie: "[E]ven if Americans recognize that current economic conditions aren't so bad, their economic anxieties have continued to grow. We increasingly worry about being able to cover the costs of medical bills, enjoy their current standard of living, having enough money for retirement, being able to pay rent, mortgage, or housing costs, and being able to make minimum payments on credit cards. And, we are ill-prepared to handle an economic emergency. In a recent survey, two-thirds of Americans said they would struggle to come up with a $1,000 to cover an emergency. Broadly speaking, current economic conditions have not reduced our economic anxieties. This means that positive assessments of current economic conditions are not necessarily translating into a more optimistic economic outlook." [HuffPost]
Yet views of the parties are stable - Justin McCarthy: "Amid a contentious primary season, Americans' favorable ratings of both the Democratic (44%) and Republican (36%) parties haven't changed much from March of last year, before any of the presidential candidates announced their intentions to run….Republicans' ratings of their own party remain near the 75% level seen since late 2013, while 28% of independents view the party favorably. Very few Democrats (7%) have a favorable view of the GOP…. Democrats rate their own party more positively than Republicans do -- 89%... The Democratic Party also has higher favorability among independents (38%), whose ratings of the Republican Party are 10 percentage points lower. Only 9% of Republicans say they have a favorable view of the Democratic Party." [Gallup]
FOUR BATTLEGROUND REGIONS WILL DETERMINE NOVEMBER'S OUTCOME - Jonathan Martin, Alexander Burns, Trip Gabriel and Fernanda Santos: With Donald J. Trump pulling even or ahead of Hillary Clinton in a series of recent national polls, the once unthinkable has become at least plausible. But if he is to be elected the 45th president, he must compete on a political map that, for now, looks forbidding….At the outset of the general election, Mr. Trump has dominated the day-to-day political combat on national television and social media. In the general election, however, his fate will be determined not by his Twitter followers or a relatively homogeneous Republican electorate, but by a set of interlocking and increasingly diverse regions, home to some 90 million Americans, that hold many of the 270 electoral votes he needs to win.... And in the four regions likely to decide the presidency — Florida, the upper Southeast, the Rust Belt and the interior West — Mr. Trump faces daunting obstacles." [NYT]
LIBERTARIAN CANDIDATE GARY JOHNSON IS EXPERIENCED BUT FACES LONG ODDS - Kyle Kopko and Christopher Devine: "This past weekend, the Libertarian Party nominated the most politically experienced minor party presidential ticket in recent history. Its presidential nominee, Gary Johnson, served two terms as New Mexico's governor.... Its vice presidential nominee, Bill Weld, served two terms as governor of Massachusetts….So is this the year that a minor party could win the White House? Don't count on it….It's true that 60 percent of the public said last fall that a 'third party is needed' in U.S. politics – but a similar percentage of respondents said the same ahead of the 2008 and 2012 elections. And yet, in each of those years, minor party and independent candidates won less than 2 percent of the vote combined. Why? Political science research suggests that that gap between high theoretical support for a minor party and the relatively few votes actually cast for them can be attributed mainly to the U.S. presidential system's structure, which makes it all but impossible for a minor party to win office." [WashPost]
DISAGREEMENTS HIGHLIGHT NEED FOR POLLING AVERAGES -  Dan Balz: "In a political season marked by nonstop polling, a lively exchange took place recently about the state of public opinion research and what to believe about all of the numbers describing the state of the race. The context for the discussion was set by a series of national and state surveys showing Donald Trump gaining on or overtaking Hillary Clinton in the general-election campaign. It broadened into an examination how polls are produced and used in a competitive media environment.… Polls have played a significant role in this campaign. They've determined participation in the GOP debates and how the candidates were aligned on the stage, and they've driven a lot of coverage of the race…. So there is food for thought in this series of exchanges…. The methodology of all types of polls is under challenge. There is a serious and urgent debate underway among public opinion researchers about the way forward. For the rest of us... Don't put too much emphasis on any single poll. Look closely at averages of groups of polls to determine whether there are real shifts in the race. And don't expect polls to predict the future. Leave that question to the voters in November." [WashPost]
The current state of the race isn't confusing if you look at the averages - Paul Krugman: "What the polling experts keep telling us to do is rely on averages of polls rather than highlighting any one poll in particular. This does double duty: it prevents cherry-picking, and it also helps smooth out the random fluctuations that are an inherent part of polling, but can all too easily be mistaken for real movement….Polls can, of course, be wrong, and have been a number of times this cycle. But they've worked better than many people think. Most notably, Donald Trump's rise didn't defy the polls — on the contrary, he was solidly leading the polls by last September. Pundits who dismissed his chances were overruling what the surveys were trying to tell them….Here's what you should know, but may not be hearing clearly in the political reporting: Mrs. Clinton is clearly ahead, both in general election polls and in Electoral College projections based on state polls." [NYT]
HUFFPOLLSTER VIA EMAIL! - You can receive this daily update every weekday morning via email! Just click here, enter your email address, and click "sign up." That's all there is to it (and you can unsubscribe anytime).
TUESDAY'S 'OUTLIERS' - Links to the best of news at the intersection of polling, politics and political data:
-Christopher Hare and Robert Lupton look at the ideological divides between supporters of Hillary Clinton and Bernie Sanders. [WashPost]
-Rob Lever argues for the importance of big data in the 2016 election. [Times of Israel]
-Steven Shepard highlights the differences between two polls that show very different snapshots of the California Democratic primary. [Politico]
-Mike Dorning thinks President Obama's approval rating is a better measure of the 2016 race than general election polls. [Chicago Tribune]
-Tobias Konitzer and David Rothschild find that Americans' policy preferences align better with the Democratic Party. [WashPost]
-An experiment finds that progress bars are the most effective when placed at the bottom of a survey. [SurveyMonkey]  
Calling all HuffPost superfans!
Sign up for membership to become a founding member and help shape HuffPost's next chapter