Kevin moved to Los Angeles, CA in 2013 from his native Tennessee armed with over 30 tons of letterpress equipment. He immediately established a new epicenter for letterpress in his full-custom art and design studio called Church of Type, located on Santa Monica's Pico Boulevard.
All of Kevin's work is hand printed on Vandercook proof presses and a 4 ft. x 10 ft. Takach press. Although Kevin works in the tradition of authentic letterpress his aim as a designer and artist is and has been to create contemporary work using antiquated methods.
Kevin's passion for his medium is unmistakably evident both in the quality of the works themselves and in the way he speaks of his process. "There are no short-cuts as an artist and designer," he says. "Letterpress is the connection that links the past to the future in the present, one letter and one print at a time, since 1439."
Kevin exhibits his work all throughout Los Angeles, and had his first solo show titled "Robot World" with Saatchi Art at the Helms Bakery District in Culver City.
Currently, Kevin is working on a new election series called "The Clown Car Series." There will be over 20 prints comprising all the presidential candidates during this election cycle (Republican and Democrat). Kevin and his Church of Type is trying to find the humor in the outlandish things many candidates have said.
The current campaign is named "The Shit Show" since this cycle has been a low road carnival of bleakness. Each print is 13 x 29 inches, hand-printed letterpress, from carved woodblocks and moveable letterpress type. They are being sold by Saatchi Art for $75 each, and they are in an edition of 100.
Below is a slideshow featuring images of the first six pieces in the series, all used with permission from Kevin Bradley and Saatchi Art: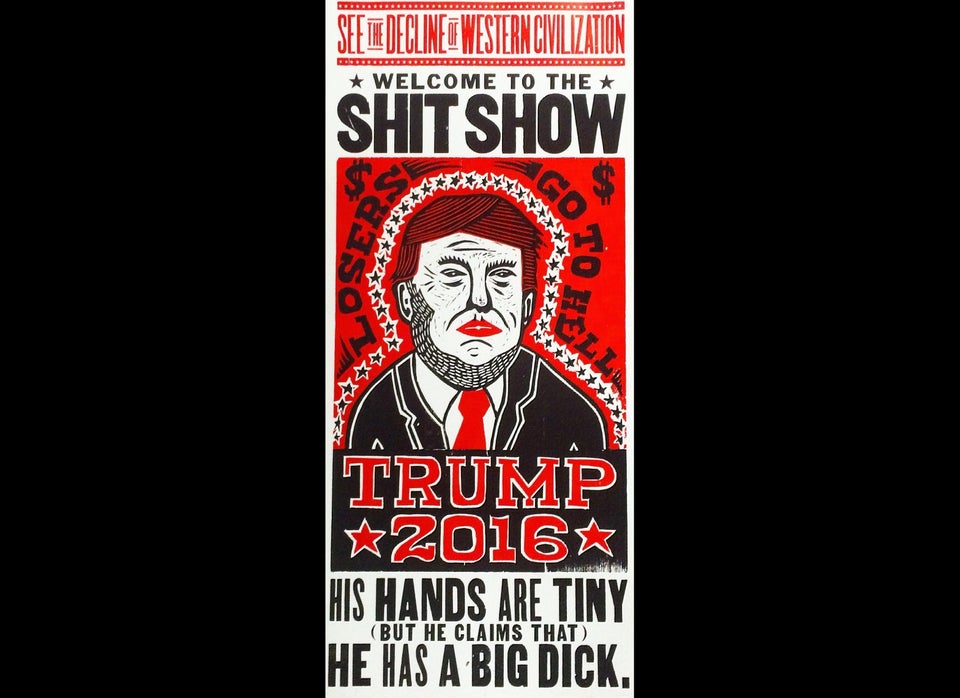 Election 2016: The Clown Car Series
Saatchi Art is an online gallery that offers more than 500,000 original paintings, drawings, sculptures and photographs by over 60,000 emerging artists from over 100 countries. Rebecca Wilson, who serves as Chief Curator and VP of Art Advisory for Saatchi Art, explains the appeal of Kevin's new art series:

With the current election campaign reaching new lows on a daily basis, Kevin Bradley has created a series of artworks documenting this particular moment in our history with levity and astonishment at the ridiculousness of it all. Humor is always a great way to get people to think seriously about something, and Kevin's sense of fun definitely stops people in their tracks and gets people talking.
I stumbled upon Kevin's artwork last week at the Affordable Art Fair in New York City and decided to call him to learn more. Here is what Kevin told me:
Ben Arnon (BA): What's the medium and material you've used for your election series?

Kevin Bradley (KB): This is hand-printed woodblock letterpress. These are all carved from wood blocks. I think it's a beautiful medium for this year's election. Letterpress is the original form of printing. No computer is involved.

BA: What inspired you to do an election-themed series of prints?

KB: First, I believe that all posters are political. I felt it was so important to comment on this particular election, particularly as I was watching the series of Republican debates. It was 'must-see' TV. I am doing prints for all 17 original Republican candidates as well as the 5 original Democrat candidates.

BA: What type of impact would you like these prints to have?

KB: I try to find the humor and absurdity in all of this without it being too harsh and bleak. It's all there honestly. I don't really have to write. I just have to recite. I think it's time to comment on the culture of this election season. Even though I'm using 200-year old technology, this thing lives and breathes. One hundred years ago this is the medium they would have been using.

I don't hate anyone because of their politics. I just find it difficult to have rational conversations with them.

I'm from the South. Over half of my family are Republicans. I had one of my cousins apologize to me recently. He said he won't see me in heaven because I'm a Democrat.
In the Comments please share links to other Election 2016 artwork you've stumbled across.
Related
Popular in the Community