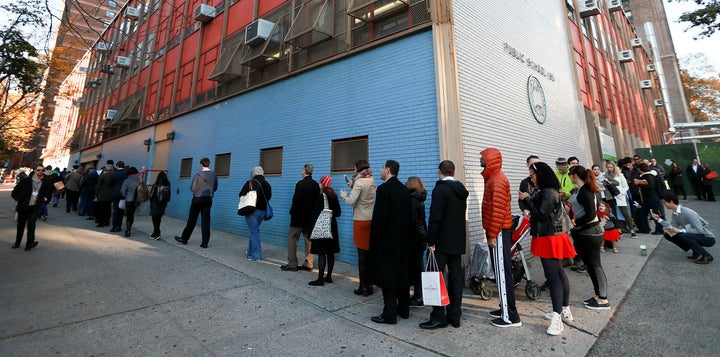 Today will forever be remembered as a historic election day. If you haven't already, please make sure you vote before the polls close. When you do, I hope you reflect on the relevance, power and enormous impact the Latino community has had on the results: The economic power represented for the totality of industries in this country, the political power expected to reach new historic levels for voter turnout tonight, and the cultural power felt through each new Latino artist, activist, and innovator are now being magnified on the national stage with this win.
One simply needed to look at the early vote trends in the key swing states to see the importance the Latino community was having in this election:
· In Nevada, the unprecedented long lines of early voting this past weekend was highly covered by the media. Long lines and waiting times, the people were committed and excited to have their voice heard, and 72,000 Democratic ballots were returned already. In those lines, more than 90 percent of them were Latino. More than 75 percent of Nevada's population lives in Clark County, and 30.6 percent of the early votes in that county have been Latino.
· In Florida, the early votes grew 100 percent, with 13.77 percent of the early voting coming from Latino, up 9.89 percent in 2012. Clinton leads Trump by 0.5 percent there.
· In Georgia, Latino early voting increased 144 percent compared to 2012. In the latest NBC/Marist poll, Clinton trails Trump by 1 percent.
· Finally, in Ohio, 1.8 percent of total voters who cast their votes in 2012 were Latino, and Obama won the state by 1.9 percent. While the Hispanic population is so small in Ohio, studies show that Latinos could very well be the decisive factor in the election. As you most likely know, Ohio is crucial to the outcome of this election. Reports state that there are roughly 100,000 undecided votes. That's right: this election could very well rest on the decision of 100,000 Ohio residents. And between 20 and 80 percent of those Ohioans are estimated to be Latino.
Simultaneously, the Latino electorate was small but mighty in other states: Indiana had only a 4 percent gap between candidates: 3.4 percent of eligible voters are Latino, according to Pew. Meanwhile, Hillary Clinton has 6-point lead in Virginia, a place where 4 percent of the electorate is Latino. In North Carolina, Latinos - who are 3.4 percent of the electorate - have been voting early in an increase of 75 percent compared to 2012. And in Georgia, early voting increased 144 percent from 2012, and grew 26.6 percent in Texas in the 20 largest counties. Definitely a statement for the nation.
Tomorrow and beyond, Latinos have and will continue powering the economic, political and social systems of this great country. They will also continue adoring, honoring and making American great. And only Americans bringing context to this community, and engaging the opportunities this market brings, will be able to grow with it. They will ride the wave of the proven results of what we call The New Mainstream, this bold new generation of Latino leaders and dreamers who continue to grow and shape our country's role around the world.
And remember, stereotypes and invisibility weakens us, and as such weakens the country. Representation matters, to everyone.
Calling all HuffPost superfans!
Sign up for membership to become a founding member and help shape HuffPost's next chapter