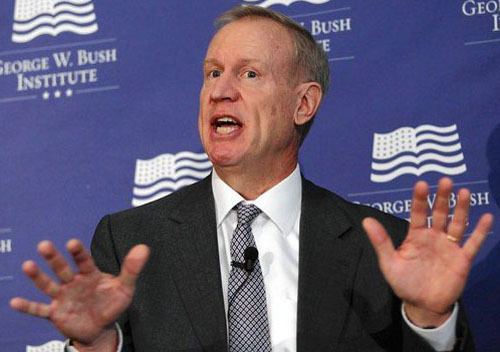 The State Board of Elections is set to review complaints against Chicago-based Liberty Principles PAC about whether it has been coordinating independent expenditures with candidates in violation of state campaign finance law.
Funded by Gov. Bruce Rauner and former Chicago Tribune chairman, Sam Zell, the group has produced political mailings disguised as newspapers to push its candidates for public office. The weekly "newspapers" have been flooding resident mailboxes across six suburban Illinois counties in the ramp up to the March 15th election.
Residents aren't happy. "I dump those newspapers in with the rest of the junk mail. Enough already," said a Lake Zurich woman, who asked not to be named.
The election board will hold a hearing Monday - a day before the primary election -to determine whether the PAC, headed by Cicero political operative Dan Proft, coordinated with candidates and if there will be public hearings on the matter. In one instance, the complaint alleges that one of committee's "newspapers" conducted a front-page interview with Reggie Phillips, a candidate for the 110th house district - a strong indication of coordination.
The Governor's office could not be reached for comment on the nature of the legal complaints or why he is funding the bogus newspapers.
So why are Gov. Rauner and Zell funding these fake newspapers? Now that Michael Ferro, a staunch Rauner ally, is the controlling shareholder in Chicago Tribune, why is it even necessary?
This is the question responsible media should be asking.
Proft has partnered with Brian Timpone, the former CEO of troubled local news service provider, Journatic, LLC, to produce the newspaper-like political mailings. The two men have a history together - both got their start as staffers for Lee Daniels, the embattled former speaker of the Illinois house. After working for Daniels, Proft became the spokesman for Larry Dominick, the scandal-ridden town president of Cicero, and Timpone focused on online data mining.
Timpone's participation in the shady project begs another question: Why is Zell involved in funding any of this? Didn't he learn his lesson with Timpone the first time around?
In July 2012, Columbia Journalism Review ("CJR") published a story calling out Tribune for continuing its relationship with Journatic after the service was exposed in a segment on NPR's "This American Life" for plagiarizing, falsifying quotes, and using fake bylines in hundreds of outsourced "news" stories. Under fire, the Zell-run Chicago Tribune was forced to suspend its relationship with Timpone's Journatic then rehired the tainted company just six months later.
But it won't prevent you from getting the big bucks from a wealthy governor and his pals if it serves their political interest.
The Liberty Principle PAC political mailings look almost identical to standard newspapers and are mailed unsolicited every week. The fake newspapers include: The Lake County Gazette, The Champaign Urbana Sun, DuPage Policy Journal, Kankakee Times, East Central Reporter, McHenry Times, North Cook News, and West Cook News.
Some of the candidates supported by the PAC and its "newspapers" are: Allen Skillicorn, in the 66th house district; Bryce Benton, in the 50th state senate district; Dan McConchie, in the 26th state senate district; Brandi McGuire, 72nd house district; Mike DeSutter in the 74th house district; Brad Halbrook in the 102nd house district; Reggie Phillips in the 110th house district; and Paul Schimpf in the 598th senate district.
The political mailers mix story content from the Illinois Policy Institute's Illinois News Network with articles favorable to Liberty Principles PAC's candidates or against their opponents in order to resemble newspapers. Illinois Policy Institute is a tax-exempt 501c3 group that is also heavily funded by Gov. Rauner. IPI consistently promotes Rauner's positions on right-to-work laws, state pensions, and the budget impasse.
This isn't the first time Illinois Policy institute has tried to pass itself off as a legitimate news entity.
After being denied media credentials, Illinois News Network "reporters" sued to get access to press areas on the Illinois House and state senate floors. Last March, a U.S. District judge upheld the Illinois General Assembly decision and denied INN's credentials.
To circumvent the media credentialing process, Illinois Policy Institute recently purchased the Illinois Radio Network, which provides local news coverage to 48 affiliated radio stations in Illinois.
Calling all HuffPost superfans!
Sign up for membership to become a founding member and help shape HuffPost's next chapter