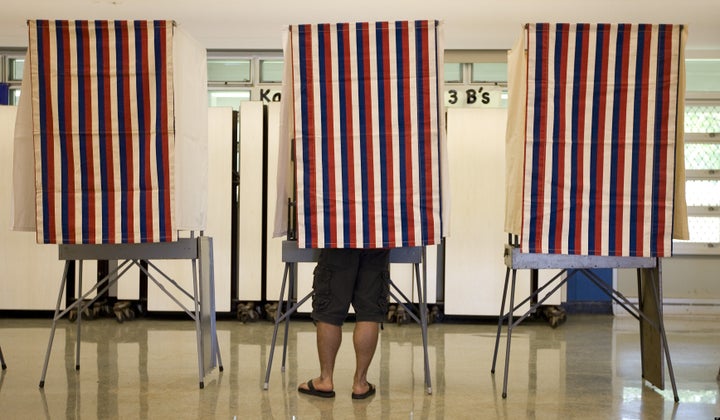 WASHINGTON -- With razor-thin margins expected in many key races, the flaws of the American voting system will be on full display today.
The nation's patchwork of sometimes unreliable and unverifiable voting mechanisms is not up to the task of reliably counting every vote. Reports of touch-screen electronic voting machines accidentally "flipping" votes are already coming in from around the country, for instance. And when there's no paper trail, there's nothing to audit after the fact.
Attempts at voter intimidation, suppression and deception will likely be widespread, as shady operatives look for last-minute advantages, and Tea Party groups and others whip themselves into a frenzy over the mythical threat of voter fraud by Latinos and African-Americans.
And final results in some of the most important contests may be days, week, or even months away, due to expected problems in counting absentee, provisional and write-in votes, and the inevitable call for recounts from campaigns that are lawyered up to the gills.
Voters who encounter any problems of any kind today are urged to call 1-866-OUR VOTE, or post a complaint online, or tweet with questions or concerns. Some 2,000 legal volunteers are on hand to resolve issues, and a live tally of incoming calls can be seen at the OurVoteLive.org website. [Update: There's also a bilingual call center at 1-888-Ve-Y-Vota.]
Unlike 2008, a new wave of registered voters is not expected to overwhelm election officials. And the combination of it being an off-year election, and the growing popularity of absentee and early voting means long lines probably won't be an issue.
But the many voting problems that cropped up in the last election were largely ignored because the overall outcome was not in jeopardy. And they have not been solved in the interim.
So the fact remains that every time there is a close contest, our national conviction that every vote counts crashes into the reality that voting is not an exact science in this country.
"There are all kinds of problems that could crop up on election day," said Richard L. Hasen, a Loyola Law School professor and proprietor of the Election Law Blog.
The most likely culprit: Electronic touch-screen voting machines. "Every election we've seen problems with those machines, such as machines being miscalibrated, so that a person trying to cast a vote for one candidate actually casts a vote for another," he said.
"We always have concerns," said Pamela Smith, president of VerifiedVoting.org. "We're already hearing concerns from some of the jurisdictions about calibration issues.
"We also still have a number of jurisdictions that don't have a hard-copy backup. So if you have a close race in one of those districts, there's no way to do a recount," she said.
"Vote very carefully!" advised David L. Dill, a Stanford University computer science professor and electronic voting expert. "Whatever you do, take a moment to look at your ballot, and make sure you've filled it out properly." If the scanner rejects your optical-scan ballot, "try to figure out what's wrong," he said.
Voters using electronic machines that generates a paper trial should "look at the paper ballot very carefully," he said. "If you don't have a paper trail, take a moment to review the selections on the review screen at the end of the voting process."
Groups that have long advocated against electronic voting, however, say there are no guarantees. "This is 100 percent faith-based voting," said Brad Friedman, an investigative journalist and radio host whose BradBlog.com tracks voting horror stories.
"It's too late to be worried on the day of the election," Friedman said. "What you can do, though, is do everything in your power to vote on a paper ballot. That will at least increase the odds of your vote getting counted and counted accurately."
One new area of concern: The millions of registered voters who have lost their homes to foreclosure over the last two years. The Brennan Center for Justice at NYU reports (PDF): "As a legal matter, the vast majority of people facing foreclosure are still entitled to vote from their registration addresses. As a practical matter, we expect to see serious problems, because of widespread confusion and misapplication of the law."
Here are some other early warning signs:
* After North Carolina Republicans charged that touch-screen voting machines were erroneously casting votes for Democrats in early voting, the Charlotte Observer reports a federal court has mandated that voters there "will be asked to read a notice instructing them to carefully review their selections and make sure they register correctly."
* The St. Petersburg Times reports that Florida is bracing for a recount that could "revive memories of the 2000 presidential election that wouldn't end." Both campaigns for governor have legal teams in place.
* New York's massively bungled primary election fiasco in September is the most recent example of problems encountered when election officials shift to a new voting system.
"What we're seeing this year are coordinated, systemic voter-suppression schemes," said Barbara R. Arnwine, executive directory of the Lawyers Committee for Civil Rights Under Law, one of the organizations behind the ourvote hotline.
The latest, she said, involves "robocalls going around the country telling people that they can vote by phone or vote by the Internet." They can't.
"In Maryland, my own mother received one of these calls," Arnwine said.
And then there's the counting. "The big story is going to be how jurisdictions deal with this huge flood of ballots that come in before election day," said Doug Chapin, director of the Pew Election Initiatives.
"I do expect there to be problems, because so little has changed between 2008 and 2010," Yale Law School Professor Heather Gerken told HuffPost. "Not only has there been little fundamental reform, but the data problems that existed in 2008 -- and 2004 and 2001 -- are still problems. We still know more about how our baseball team is doing than how our election system is doing. As a result, the problems that will inevitably occur will remain invisible to us . . . unless there's a recount in a race that matters."
And even then, voting experts say, officials tend to interpret the problem narrowly.
"The challenge is not always to be fighting the last war," said Doug Chapin, director of the Pew Election Initiatives.
But, Chapin said, none of this should take the excitement off election day, and the opportunity to vote. "I really do believe that this is the one opportunity that people have to actually govern themselves," he said.
*************************
Calling all HuffPost superfans!
Sign up for membership to become a founding member and help shape HuffPost's next chapter