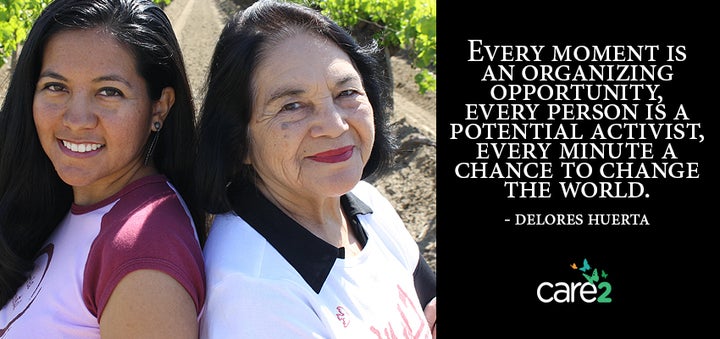 Dolores Huerta is an American labor leader, civil rights activist, and leading voice in the environmental movement. Ms. Huerta co-founded the National Farmworkers Association, which later became United Farm Workers (UFW), and founded the Dolores Huerta Foundation. Throughout a lifetime of activism Ms. Huerta has played a critical role in many monumental civil rights movements, including the strikes against California grape growers in the 1960s and the enactment of the Agricultural Labor Relations Act of 1975. We asked her to share her thoughts with Care2 on the importance of voting.
"On November 8 our future is in our hands! Our country will not only choose a president, but also representatives at every level of government and whether or not to enact certain measures.
For some of you, this presidential election has made you feel as though your voice and your vote don't matter. But, take it from me, a lifelong organizer and activist, your voice and your vote matter greatly. The candidates who are elected and the measures and propositions that are approved and rejected will impact our communities for years to come.
So often the decisions made by politicians don't benefit or reflect the voice and the will of the people in the neighborhoods they serve. We have to change that! We have to connect with our communities and together, vote for the changes we want to see.
I have spent my life organizing people to make changes that impact their own lives and the world around them. Whether I was working to ensure basic rights for farmworkers in California, championing the rights of women, or advocating for LGBT Equality, I learned that there is power in numbers. You can have tremendous power when you join a movement for justice or organize people to come together. When we vote together, we can truly do anything.
Election Day is the most important day of your life! Please join the millions of people across the country and in your own community who will come together to vote for what and who they want. Connect with groups in your area that champion just causes and learn from their voter education materials about what and who to vote for.
Pledge to show up on election day. Choose to be a part of a larger group of people who want to see the same changes you do. Choose to be a voice for social justice, women's rights, access to education, healthcare, equality and more!
The great social justice changes in our country have happened when people came together, organized, and took direct action. It is this right that sustains and nurtures our democracy today. Pledge to come together, pledge to organize your friends, your family, and your neighbors to take the direct action of voting.
Every moment is an organizing opportunity, every person a potential activist, every minute a chance to change the world. This is even more true during this election season when we can exercise our right to have a direct say in what happens and who decides. I've been around a long time, I know it feels like change is slow and hard to come by, but I'm here to tell you that "¡Si Se Puede!", but only if you vote!"
Popular in the Community