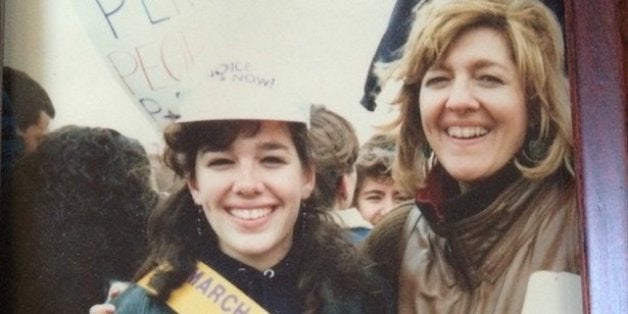 My mother texted me this morning saying she woke up thinking of how her mother was born in a year when women couldn't yet vote. I thought of all the things my own mother, Pulitzer Prize-winning syndicated columnist Ellen Goodman (yeah I'm proud!), worked so hard for her whole life and what she taught me to work for.
I remember the day she came home sad that the Equal Rights Amendment didn't pass and I was complaining about something incredibly mundane and dumb and she stopped me and said "Hey this is one of the most frustrating days of my life," and then for the first time I understood how much things mattered to her in her work and that she was a human outside of just being my mom and it was both scary and thrilling.
I thought of the fact that only a couple years before I was born she and other women would have legally had to get permission from their husbands to get birth control. I thought of how many people have stopped us on the street over the years to say how much they loved her columns and it has instilled in me a wonderful sense of how much words can do and how a long life of working toward changing something, speaking up, and saying your opinion is exciting and satisfying and important. And then I thought, Oh I'm glad I'm getting on a plane tomorrow to celebrate in Boston with her the culmination (hopefully) of her entire life's work in a way with a woman in the White House... and then I thought, Ooooo we'll probably have some good sushi.
Katie's mother, Ellen Goodman was a Boston Globe columnist for over 30 years with The Washington Post Syndicate in over 400 newspapers. She now is the founder of The Conversation Project, helping start a national conversation and helping people talk about their wishes for end of life care.
Calling all HuffPost superfans!
Sign up for membership to become a founding member and help shape HuffPost's next chapter