The "secret" Facebook group that grew into a vibrant community for Democratic presidential nominee Hillary Clinton's biggest fans started as a way to get supporters to wear Clinton's choice uniform on Election Day. Some women took to the polls wearing old favorites, while others, like activist and entrepreneur Meena Harris, purchased something just for the occasion.
And thanks to Harris' continued efforts, these outfits will now serve another important service.
Writing in Lenny Letter last month, Harris described how she sought out the support of Pantsuit Nation after the election but couldn't shake one feeling.
"As I walked down the street in my affluent San Francisco neighborhood to drop off my dry-cleaning, I reflected on what an obvious privilege it is to even own a pantsuit, let alone to buy a new one for a special occasion. And I had an idea for something that would acknowledge that privilege and honor Hillary, too," she wrote.
With that came the beginning of Pantsuit Nation's clothing drive, in which Harris asked members to donate their Election Day pantsuits so she could give them to organizations that help women find employment opportunities.
"If you wore a pantsuit on Election Day, or you have a new or gently used pantsuit at home that could be given to someone in need, please make a donation," she wrote. "These pantsuits will be given to organizations across the country that support poor and homeless women with job-interview preparation and employment opportunities."
"So far the response has been overwhelming positive," Harris told The Huffington Post by email. "People have commented that it's a meaningful way to contribute in the spirit of Hillary's campaign. Many others have referred to it as 'The Sisterhood of the Traveling Pantsuit,' which I love. Although I'm still dismayed by the election result, I'm heartened to see such an outpouring of good will, generosity and a desire to stay engaged."
In addition to donating outfits to Harris' drive, Pantsuit Nation also encouraged its members to donate pantsuits to local affiliates of Dress for Success. To find your local Dress for Success affiliate, click here. And to donate pantsuits to Harris' clothing drive, send your items to:
San Francisco, CA 94117-0326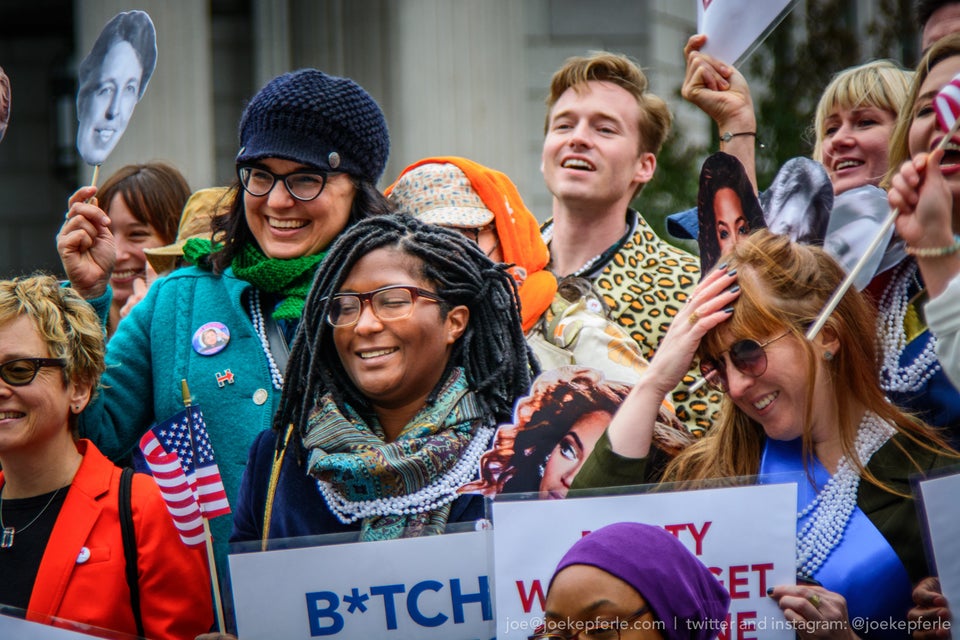 National Pantsuit Day Photos
Popular in the Community