The GOP flopped in Tuesday's midterm elections, but they did increase their presence on Capitol Hill in one way: More than 170 Republicans will be in Congress in 2023 who have either denied or cast doubts on the legitimacy of Joe Biden's presidential win in 2020.
Some will be at the highest levels of House leadership, setting the agenda for the chamber for the next two years. Some are seasoned U.S. senators with presidential ambitions. Two dozen of them will be new to Capitol Hill.
But what these people all have in common is that they made the political calculation that it benefited their career to fuel the lie that the 2020 presidential election was stolen from Donald Trump because of widespread voter fraud.
They've done it in different ways. Some have bluntly claimed the election was stolen. Some joined lawsuits to try to throw out the results of the 2020 election. Some have tried to have it both ways, by saying, of course, Biden is the president ― while refusing to address the validity of the election, a common dog whistle among Republicans afraid of upsetting Trump's base of supporters by admitting Biden beat him in 2020, fair and square.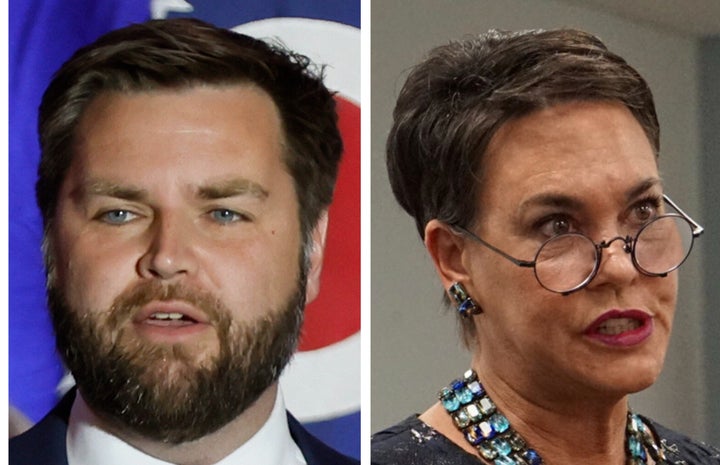 A preemptive note: Some Republicans on this list will probably deny that they belong here (like, say, Sen. Rick Scott) and insist, perhaps with annoyance, that they have long said that Biden is the president. Rep. Dan Crenshaw (R-Texas) has clashed with fellow Republicans who have falsely said that Democrats stole the 2020 presidential election, and he recently called out election deniers for privately admitting that they know what they say in public is a lie. But he's on this list, too.
So let's be clear on why everyone on this list belongs here.
Taking it to a new level, one incoming member of Congress, Republican Rich McCormick of Georgia, lamented earlier this year that "no one was hurt by voter fraud more than myself" when he lost his congressional bid in 2020. There was no evidence of fraud in his election. He just lost ― by more than 10,000 votes.
Below is a running list of all of the election deniers who will be in the House and Senate starting in January. Italicized names mean they are new in their jobs. This list will be regularly updated until it is final.
Election deniers in the Senate:
Marsha Blackburn (R-Tenn.)

Mike Braun (R-Ind.)

Ted Cruz (R-Texas)

Steve Daines (R-Mont.)
Bill Hagerty (R-Tenn.)

Josh Hawley (R-Mo.)

Cindy Hyde-Smith (R-Miss.)

Ron Johnson (R-Wis.)

John Kennedy (R-La.)

James Lankford (R-Okla.)

Cynthia Lummis (R-Wyo.)

Roger Marshall (R-Kan.)

Rick Scott (R-Fla.)

Tommy Tuberville (R-Ala.)

Ted Budd (R-N.C.)
Katie Britt (R-Ala.)

Markwayne Mullin (R-Okla.)

Eric Schmitt (R-Mo.)

J.D. Vance (R-Ohio)
Election deniers in the House:
Robert Aderholt (R-Ala.)

Mark Alford (R-Mo.)

Rick Allen (R-Ga.)

Jodey Arrington (R-Texas)

Brian Babin (R-Texas)

Jim Baird (R-Ind.)

Jim Banks (R-Ind.)

Cliff Bentz (R-Ore.)

Jack Bergman (R-Mich.)

Stephanie Bice (R-Okla.)

Andy Biggs (R-Ariz.)

Gus Bilirakis (R-Fla.)

Dan Bishop (R-N.C.)

Mike Bost (R-Ill.)

Tim Burchett (R-Tenn.)

Michael Burgess (R-Texas)

Eric Burlison (R-Mo.)

Kat Cammack (R-Fla.)

Jerry Carl (R-Ala.)

Buddy Carter (R-Ga.)

John Carter (R-Texas)

Ben Cline (R-Va.)

Michael Cloud (R-Texas)

Andrew Clyde (R-Ga.)

Tom Cole (R-Okla.)

Mike Collins (R-Ga.)
Eli Crane (R-Ariz.)

Rick Crawford (R-Ark.)

Dan Crenshaw (R-Texas)

Warren Davidson (R-Ohio)

Scott DesJarlais (R-Tenn.)

Monica De La Cruz (R-Texas)

Mario Diaz-Balart (R-Fla.)

Byron Donalds (R-Fla.)

Jeff Duncan (R-S.C.)

Neal Dunn (R-Fla.)

Jake Ellzey (R-Texas)
Tom Emmer (R-Minn.)

Ron Estes (R-Kan.)

Pat Fallon (R-Texas)

Drew Ferguson (R-Ga.)

Michelle Fischbach (R-Minn.)

Scott Fitzgerald (R-Wis.)

Chuck Fleischmann (R-Tenn.)

Virginia Foxx (R-N.C.)

Scott Franklin (R-Fla.)

Russell Fry (R-S.C.)

Russ Fulcher (R-Idaho)

Matt Gaetz (R-Fla.)

Carlos Gimenez (R-Fla.)

Bob Good (R-Va.)

Lance Gooden (R-Texas)

Paul Gosar (R-Ariz.)

Garret Graves (R-La.)

Sam Graves (R-Mo.)

Mark Green (R-Tenn.)

Marjorie Taylor Greene (R-Ga.)

Morgan Griffith (R-Va.)

Michael Guest (R-Miss.)

Harriet Hageman (R-Wyo.)

Andy Harris (R-Md.)

Diana Harshbarger (R-Tenn.)

Kevin Hern (R-Okla.)

Clay Higgins (R-La.)

Richard Hudson (R-N.C.)

Bill Huizenga (R-Mich.)

Darrell Issa (R-Calif.)

Ronny Jackson (R-Texas)

Bill Johnson (R-Ohio)

Mike Johnson (R-La.)

Jim

Jordan (R-Ohio)

John Joyce (R-Pa.)

Mike Kelly (R-Pa.)

Trent Kelly (R-Miss.)

Jen Kiggans (R-Va.)

David Kustoff (R-Tenn.)

Darin LaHood (R-Ill.)

Doug LaMalfa (R-Calif.)

Doug Lamborn (R-Colo.)

Bob Latta (R-Ohio)

Jake LaTurner (R-Kan.)

Debbie Lesko (R-Ariz.)

Barry Loudermilk (R-Ga.)

Frank Lucas (R-Okla.)

Blaine Luetkemeyer (R-Mo.)

Anna Paulina Luna (R-Fla.)
Morgan Luttrell (R-Texas)

Nicole Malliotakis (R-N.Y.)

Tracey Mann (R-Kan.)

Brian Mast (R-Fla.)

House Minority Leader Kevin McCarthy (R-Calif.)

Lisa McClain (R-Mich.)

Tom McClintock (R-Calif.)
Rich McCormick (R-Ga.)
Cathy McMorris Rodgers (R-Wash.)

Daniel Meuser (R-Pa.)

Carol Miller (R-W.Va.)

Mary Miller (R-Ill.)

Max Miller (R-Ohio)
Cory Mills (R-Fla.)
John Moolenaar (R-Ind.)

Alex Mooney (R-W.Va.)

Barry Moore (R-Ala.)

Greg Murphy (R-N.C.)

Troy Nehls (R-Texas)

Dan Newhouse (R-Wash.)

Ralph Norman (R-S.C.)

Jay Obernolte (R-Calif.)

Andy Ogles (R-Tenn.)

Burgess Owens (R-Utah)

Gary Palmer (R-Ala.)

Greg Pence (R-Ind.)

Scott Perry (R-Pa.)

August Pfluger (R-Texas)

Bill Posey (R-Fla.)

Guy Reschenthaler (R-Pa.)

Harold Rogers (R-Ky.)

Mike Rogers (R-Ala.)

John Rose (R-Tenn.)

Matt Rosendale (R-Mont.)

David Rouzer (R-N.C.)

John Rutherford (R-Fla.)

Maria Elvira Salazar (R-Fla.)

House Minority Whip Steve Scalise (R-La.)

David Schweikert (R-Ariz.)
Austin Scott (R-Ga.)
Keith Self (R-Texas)
Pete Sessions (R-Texas)

Adrian Smith (R-Neb.)

Jason Smith (R-Mo.)

Lloyd Smucker (R-Pa.)

Pete Stauber (R-Minn.)

House GOP Conference Chair Elise Stefanik (R-N.Y.)

Gregory Steube (R-Fla.)

Chris Stewart (R-Utah)

Dale Strong (R-Ala.)
Claudia Tenney (R-N.Y.)

Thomas Tiffany (R-Wis.)

Glenn Thompson (R-Pa.)

William Timmons (R-S.C.)

Jeff Van Drew (R-N.J.)

Beth Van Duyne (R-Texas)

Derrick Van Orden (R-Wis.)
Ann Wagner (R-Mo.)

Tim Walberg (R-Mich.)

Michael Waltz (R-Fla.)

Randy Weber (R-Texas)

Daniel Webster (R-Fla.)

Brad Wenstrup (R-Ohio)
Bruce Westerman (R-Ark.)

Roger Williams (R-Texas)

Joe Wilson (R-S.C.)

Robert Wittman (R-Va.)
Ryan Zinke (R-Mont.)
Popular in the Community