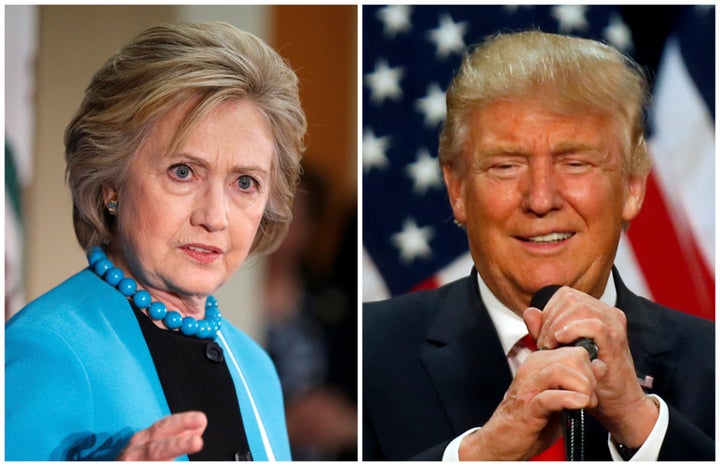 Donald Trump and Hillary Clinton got a head start on branding their rivals long before they were the presumptive nominees for the respective parties.
What really matters, of course, is how the public views each candidate. In a new HuffPost/YouGov poll, we turned the rhetorical reins over to Americans, asking them to describe Clinton, Trump and the whole election in one word each. The responses weren't exactly glowing -- most fell somewhere on the spectrum between creatively disgruntled (e.g., "hornswoggler") and downright profane (e.g., "clusterfuck").
Here are the most common words used to describe Clinton and Trump, with the number of people, out of the 1,000 polled, who volunteered each descriptor: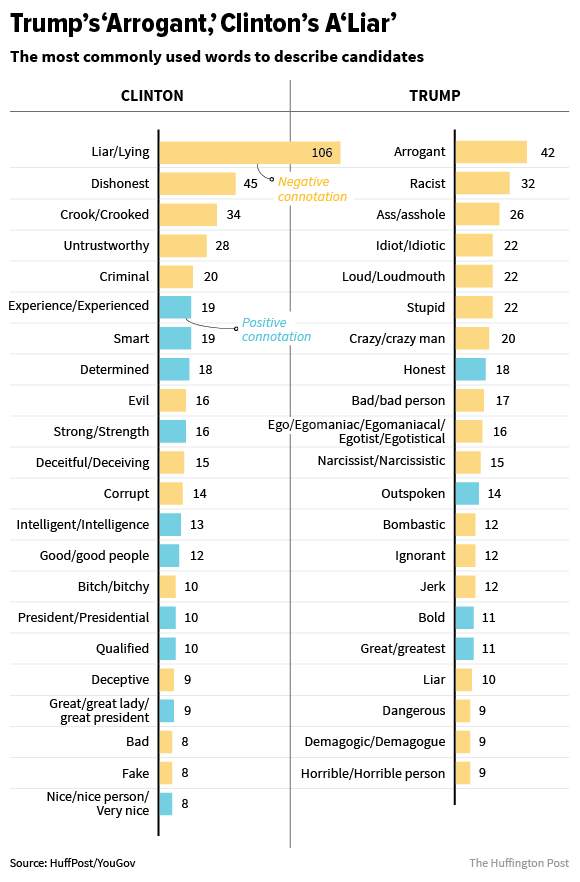 The results demonstrate a number of things.
First, they show that a lot of Americans don't quite get what an adjective is. (It's OK, neither do some of the campaigns.)
Second, they indicate just how unpopular both Clinton and Trump really are. It's not news that both candidates are viewed unfavorably by more than half the country. But the ratio of negative to positive descriptors, and the kind of visceral dislike they suggest, highlight exactly how disaffected most Americans are with their options.
The choice of words also highlight each candidate's perceived weaknesses, and, to a lesser extent, their strengths. Clinton's detractors largely attacked her integrity -- Trump's choice of "crooked" has apparently stuck in the minds of certain Americans -- while those who liked her underlined her competence and tenacity.
The descriptors attributed to Trump, in contrast, relate mostly to his perceived bombast and self-importance. Most see those qualities as a negative, although a few people give them a more positive gloss as evidence of boldness or outspokenness. In the wake of the backlash over Trump's comments about a Latino judge, it's also notable that "racist" is the second-most common term to spring to Americans' minds.
The public's displeasure with 2016 extends to the words they used to summarize the election as a whole, the nicest of which is probably "interesting."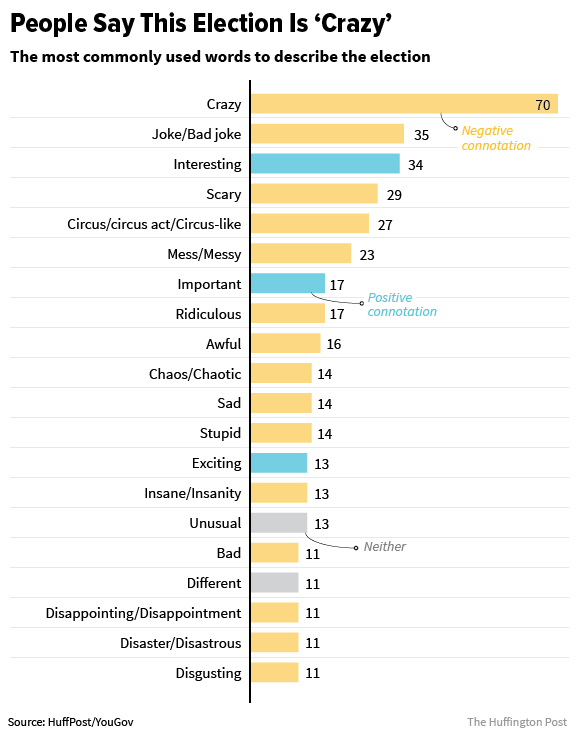 The reactions indicate that much of the country can't wait for the election to be over. But no matter how it ends, most won't be happy. Fifty-four percent of Americans surveyed said they'd be either dissatisfied or upset if Clinton won, while 56 percent were similarly negative about the prospect of a Trump victory.
The HuffPost/YouGov poll consisted of 1,000 completed interviews conducted June 6-8 among U.S. adults, using a sample selected from YouGov's opt-in online panel to match the demographics and other characteristics of the adult U.S. population.
The Huffington Post has teamed up with YouGov to conduct daily opinion polls.You can learn more about this project and take part in YouGov's nationally representative opinion polling. Data from all HuffPost/YouGov polls can be found here. More details on the polls' methodology are available here.
Most surveys report a margin of error that represents some, but not all, potential survey errors. YouGov's reports include a model-based margin of error, which rests on a specific set of statistical assumptions about the selected sample, rather than the standard methodology for random probability sampling. If these assumptions are wrong, the model-based margin of error may also be inaccurate. Click here for a more detailed explanation of the model-based margin of error.
Popular in the Community