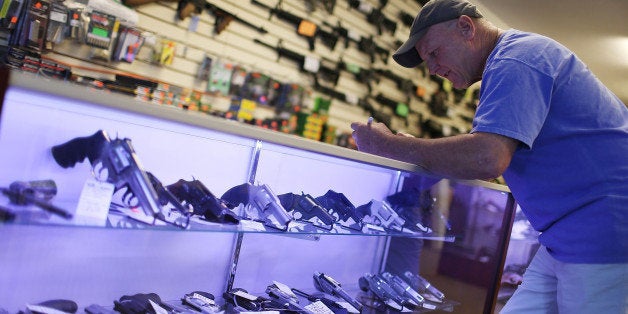 Getting back to work on Wednesday after the election was difficult on many levels. I was bitterly disappointed, not only concerned about what a President Trump could do to our nation's gun laws but also filled with dread for the future of our country. Our dedicated staff members shared my concerns and were hurting, too.
I want to share with you what I told them about our life-saving work.
First, we owe it to the victims and survivors of guns violence, to the families that have been ripped apart, to the communities that are devastated, and to the country that we love, to protect the policies that make us safer and to continue to fight for change.
Second, despite the top line, there were some very important victories for gun violence prevention on Tuesday night, including the passage of three important ballot initiatives in Nevada (background checks on all gun sales), California (licensing ammunition purchasers), and Washington (Extreme Risk Protective Order). The Extreme Risk Protective Order is based on research and advocacy that we produced right here in our office and it passed with significant bipartisan support. Additionally, down ballot and in the states, our champions did very well including New Hampshire Governor Maggie Hassan, who was able to beat Senator Kelly Ayotte in a hotly contested senate race. As you may recall, Ayotte voted against the background check bill after the Sandy Hook Massacre; beating her was the highest senate priority of the gun violence prevention movement.
Third, Hillary Clinton proudly supported an array of gun violence prevention policies throughout her campaign and she won the popular vote. We live in a country where the majority does not always rule but rational gun violence prevention policies, and this is borne out in the exit polling, are supported by a majority of voters.
Finally, I have been around long enough to remember the bitter feeling of the Republicans taking over Congress in 1994 and George W. Bush winning the White House in 2000. And yes, there were important policy initiatives that were stopped or scuttled because of these changes but today we have a stronger, more robust movement despite those setbacks. While Trump is unlike prior republican leaders and the impacts of his presidency are likely to be unprecedented, the gun violence prevention movement will move forward. Over the years, I have learned that there are bumps on the road, some bigger than others, but change, real change, is happening and our collective hard work is critical.
So this morning the bounce is back in my step and my determination is stronger than ever. For all the grieving families, for all the shattered communities, and for all of us who are desperately trying to cope with the enormity of the gun violence problem in this country, we will fight to save lives every day. There is so much work to do and still plenty of opportunity. Let's get going!
REAL LIFE. REAL NEWS. REAL VOICES.
Help us tell more of the stories that matter from voices that too often remain unheard.