 Last night was a draw, plain and simple. Both candidates were quite good and neither made a glaring error. Obama needed to be more energetic and aggressive and appeal to his base. He did that. Romney needed to reassure swing voters that he had the temperament to be commander-in-chief. He did that. Nothing that happened last night changed the overall trajectory of this race. The Romney surge may have slowed -- but it continues -- and Team Obama likely wishes the election was held today. With exactly 14 days to go, Romney is poised to catch or overtake the president in key battleground states. If the president has an October surprise, he should use it now.
Yes, the president was more aggressive last night and scored more rhetorical punches. He may, in fact, have won the debate on points. Romney, however, just might have won the strategic campaign battle. Team Obama sought to paint Romney as reckless (the president even used this word) and bellicose. Romney came across as neither, either stylistically or from a content perspective. According to a CNN/ORC snap poll Obama won the debate 48 percent to 40 percent. He also had a 51 percent to 46 percent edge on leadership. But the two were tied on likeability. Two months ago, Obama led Romney on likeability by 20 points. To be even on likeability and nearly even on the leadership attribute is a huge boost for Romney. Finally, the CNN survey also asked whether voters thought Romney could handle being commander-in-chief. By a 22-point margin (60 percent to 38 percent) voters answered in the affirmative. Last night Team Romney wanted a debate performance that would help them win the election, but not necessarily win the actual debate. Time will tell if that strategy was correct.
For a sitting president to go on the attack as President Obama did last night suggests that this was a strategic calculation born of necessity. The president has been losing vote share for nearly 30 days. Our projected election trend line shows that there has been a substantial structural change to the race. Obama maxed out his vote share after a) the Democratic convention and b) Romney's 47 percent comment. Since the first debate, it has been all Romney. This line is so steep that we are hesitant to project it out because it would show a Romney landslide. While our sense is that the Romney ascent has begun to slow, it does show a 5-6 point shift that represents this election's clearest and most substantial vote share change.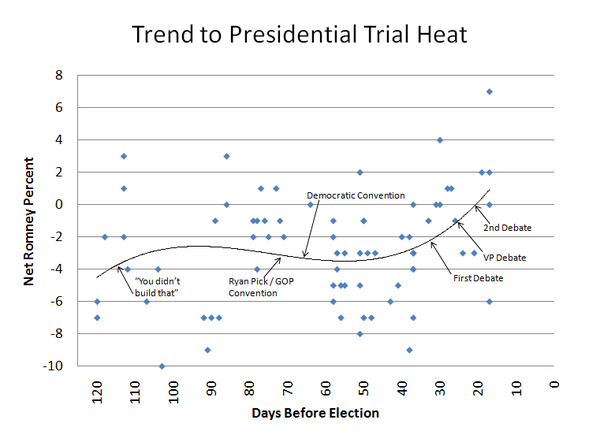 The following is our take on the current political milieu:
This race will come down to Ohio. We say this with full acknowledgement that either candidate can still win the election without Ohio but we think that is unlikely. This race is looking a lot like 2004. If the president can sustain his lead in Ohio (it is now five points according to a recent CBS News/Quinnipiac survey, which is significant but down from 10 points two weeks ago) he will likely win a second term. It is that simple. While Romney could take Iowa and Wisconsin to offset Ohio... that seems unlikely. If Ohio goes to Obama, one of the other two big ten states will most likely follow suit, giving the president an electoral college win. Below is our snapshot of the Ohio horserace. We have Obama up by two points but the trend has been toward Romney. If you watch one state, this should be the one.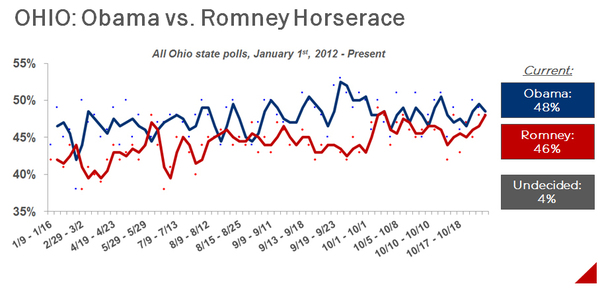 The suburban vote will be key. In 2008, Obama won key swing state suburbs handily. He ran strongly among white independent voters and college educated white women, beating McCain among both groups. This year, the latest polling shows him losing among both audiences. As Gerald Seib recently pointed out, the latest WSJ/NBC poll has Romney leading among college educated white women by four points (51 percent to 47 percent). He has to reverse this trend to carry states like Colorado, New Hampshire and Ohio.
The generic congressional ballot suggests the electorate looks a lot more like 2004 than 2008. As the table below shows, Republican vote share on GCB is ahead of 2008 by seven points. In fact, the GCB is almost even (43 percent GOP and 45 percent Dem). In 2008 Democrats had a 13-point advantage.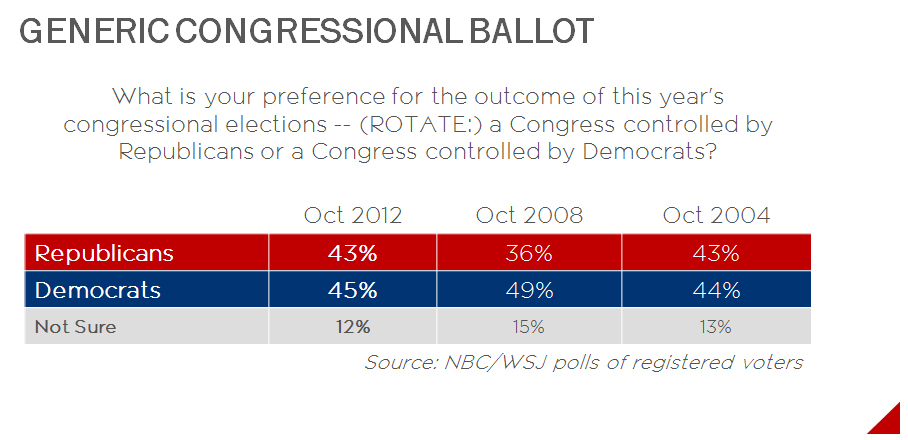 The irony of the Romney rise is that it has come at a time of improved economic news. In addition to the better than expected unemployment number a few weeks ago, gas prices appear to be on the decline. This will help the president.
Our sense is that none of the eight toss-up battleground states can be moved into either candidate's column. Some may have moved Nevada into Obama's column but as evidenced by Romney's travel there today it remains in play. There are 95 electoral votes up for grabs.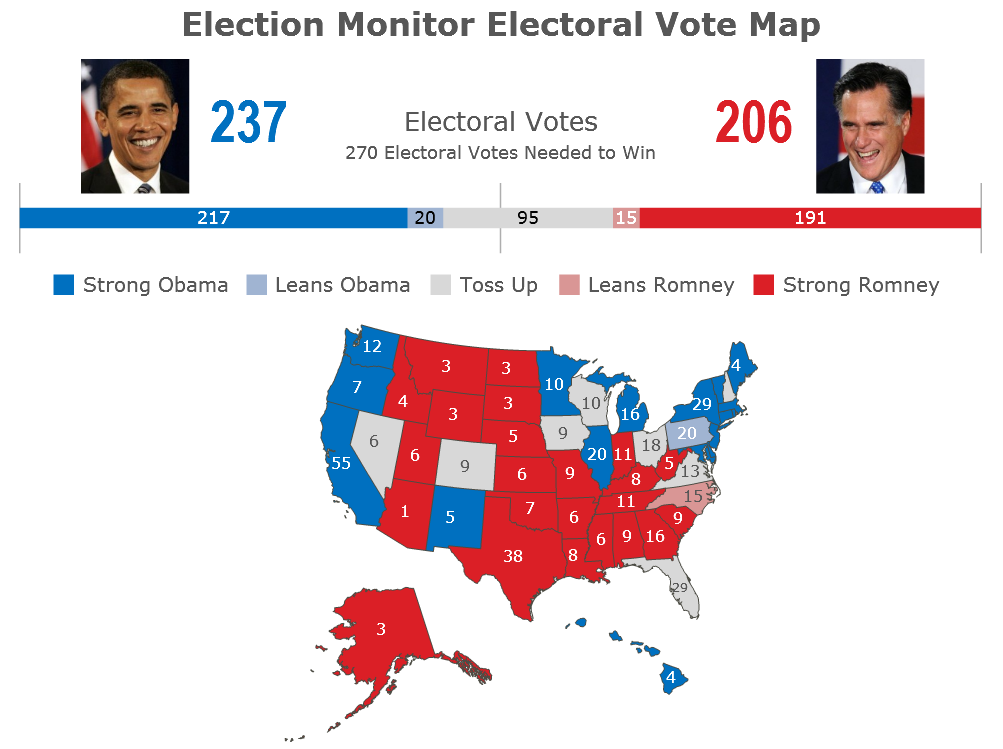 We will be back next week. Thanks again to Pete Ventimiglia, Kelsey Cohen and Allison Quigley for their insights and contributions to the Election Monitor. Follow us on Twitter: @Steve_Lombardo.
Please note that the author was an advisor to the Romney for President campaign in 2008, but is not affiliated with any campaign in 2012.
Popular in the Community