 Sometimes looks can be deceiving; this is especially true of the 2012 electoral map. At first glance it looks pretty good for Governor Romney. There is an awful lot of red and quite a few toss-up states, and in a number of those toss-up states there are only a few points separating the two candidates. The problem for the Romney campaign is that the president's lead in several of those states is slowly moving beyond the margin of error. If the current trajectory continues, we may have to move three or four of those states into the "lean Obama" column within the next week. With just 42 days to go before Election Day, this is Barack Obama's race to lose.
Before we take an in-depth look at the current state of the electoral map, here's a quick snapshot of the current political environment:
This morning begins day two of Governor Romney's attack on President Obama's "bumps in the road" comment, putting him back on the offensive for the first time in nearly a month. The comment did strike a chord and I suspect we will see the president admit as much in the next 24 hours, saying that he could have chosen his words better. Our sense, however, is that "bumps in the road" will not be the kind of jarring/visceral comment that "47 percent" was. More importantly, we have to ask if this detour into foreign policy is ultimately good for the Romney campaign. After all, talking about "bumps in the road" means two fewer days of discussing the economy. In Chicago, David Axelrod is smiling.
The president will speak at the United Nations today and it is another example of how

incumbency

is a huge advantage. Yes, Romney spoke this morning at the Clinton Global Initiative and was generally solid. But Obama speaking in that environment is far bigger.
Forget all the nonsense about Obama not meeting with world leaders. Voters aren't concerned about that in the least. This election is about pocketbook issues and Team Obama knows it. Look for Obama to continue to hammer Romney on his 47 percent comments and only offering solutions for the rich. This is the road they will travel for the remainder of the campaign.
The one thing Romney has going for him is enthusiasm among likely voters. Poll after poll continues to suggest that Romney is even or even slightly ahead among highly interested voters. This cannot be ignored. The question is whether those highly motivated voters are significant enough in size to impact key swing states like Ohio and Florida.
For all that has been said and spent in this campaign, the next six weeks will be all about just eight states: two out West (Nevada and Colorado), two in the upper Midwest (Iowa and Ohio) and four on the East Coast (New Hampshire, Virginia, North Carolina and Florida). After careful consideration we have put Wisconsin in the lean Obama column. Here is what this means:
By our calculation, Obama has 247 solid or lean votes, just 23 electoral votes shy of the 270 needed for victory. In the Romney column, there are 191 solid or lean votes, putting him 79 electoral votes short of a 2012 victory. Given the state of the race, we're starting to move some of the "leaning" states into either the Obama or Romney columns.
What remains are 100 electoral votes that are still up for grabs in the above mentioned eight states.
Obama is ahead in every single battleground state -- whether by a hair or outside the margin of error. This isn't to suggest that every state will go his way, but this does say something about the state of the race.
Below is our electoral vote map.
Of the eight remaining battleground states, our analysis of public polling trends suggests that four of them fall into a "true" toss-up category: Colorado, Florida, New Hampshire and North Carolina. In each the President leads by anywhere from a single point to three points. In essence, a tie. Take Florida, for example. There the president leads Governor Romney by three points -- 49 percent to 46 percent -- but has been on the upswing for a few weeks. Remember that Romney took the lead in Florida during and after the GOP convention in Tampa; that lead has slipped away.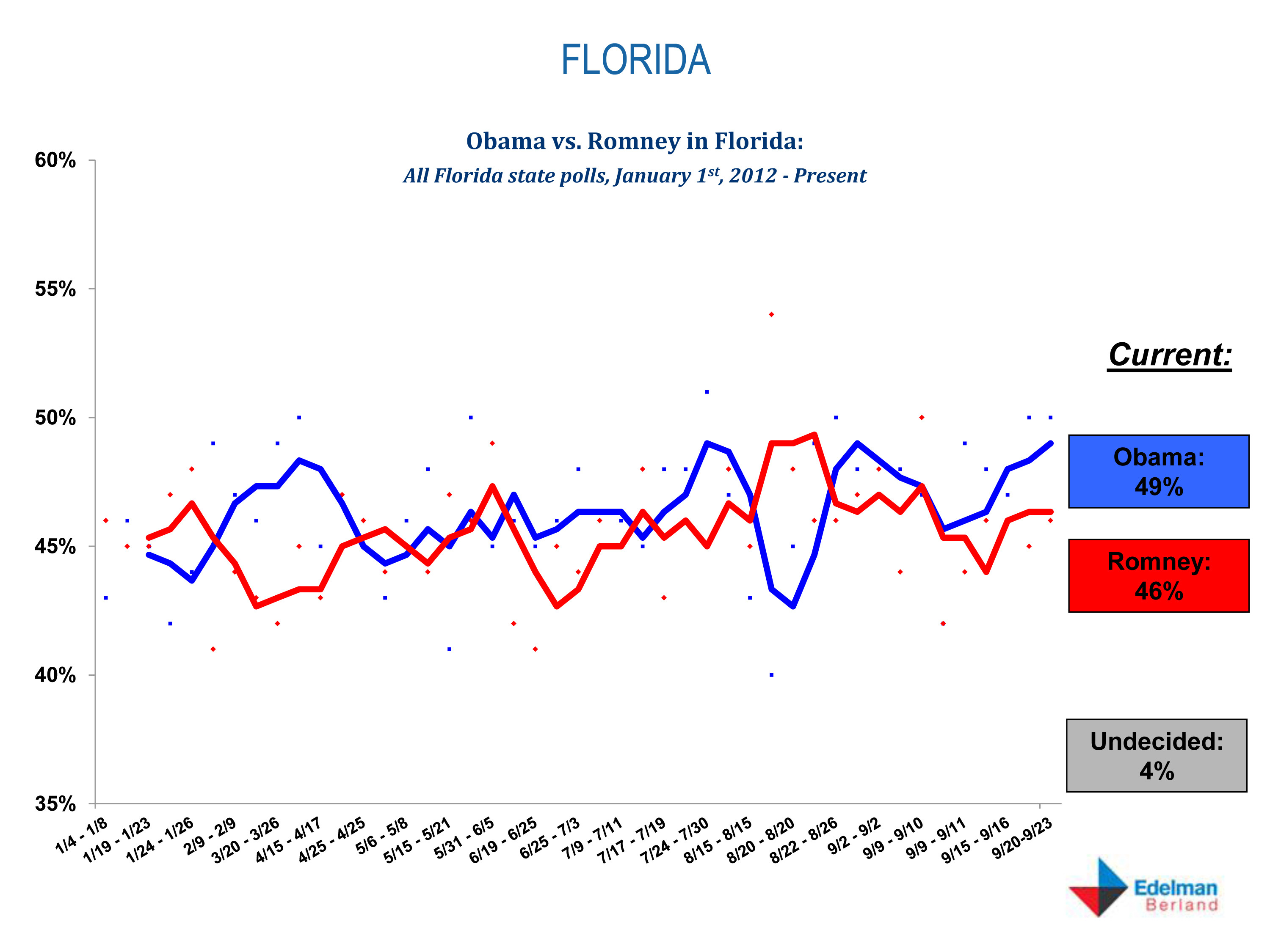 The point is that all four of these states are simply too close and too volatile to allow us to make any claims about a vote share advantage for either candidate. They are truly too close to call.
In the four remaining states, however, Obama has staked out a small but clear four to five point lead: see Iowa, Nevada, Ohio and Virginia. Let's call these "near lean Obama" states. Of these, by far the most troubling for the Romney campaign has to be Ohio, where our analysis shows the President with a four point advantage. Again, Ohio can go either way, but if the current trajectory holds it could be out of Romney's reach by next weekend.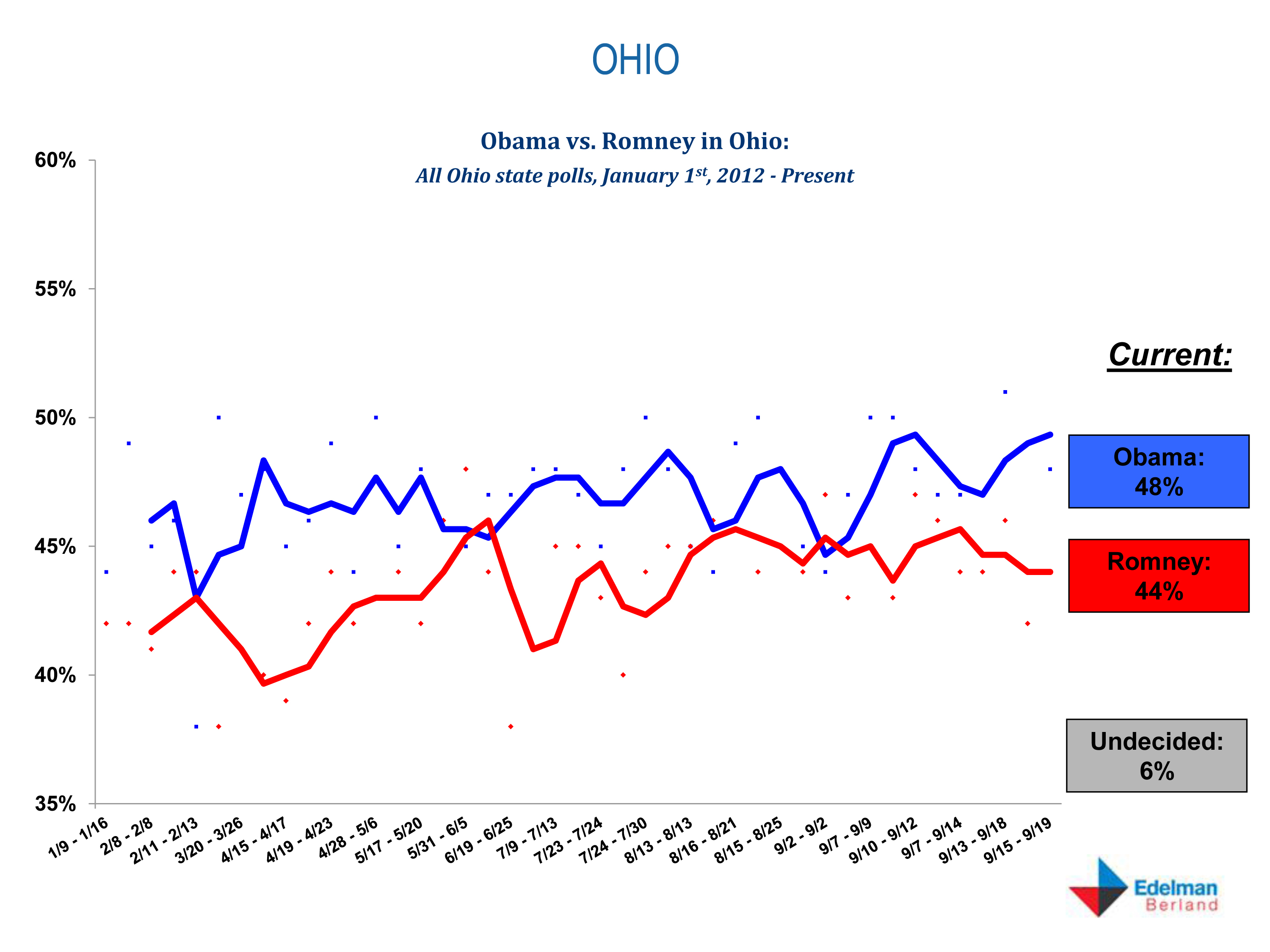 We will be back again next week.
Thanks again to Pete Ventimiglia, Kelsey Cohen and Allison Quigley for their insights and contributions to the election monitor. Follow us on Twitter: @Steve_Lombardo.
Please note that the author was an advisor to the Romney for President campaign in 2008, but is not affiliated with any campaign in 2012.
Popular in the Community