 Later on tonight, Mitt Romney will string together a winning coalition with victories in states ranging from Virginia to Colorado, capturing the popular vote by nearly two points and a sizeable majority of electoral votes, making him the 45th President of the United States.
We make this projection with full knowledge that a shift of one or two points in any of six key battleground states could hand Obama the election. But there comes a time when you have to make a judgment and that time is upon us.
On the one hand, we are well aware that the majority of swing state polling is giving an edge to President Obama. Conversely, state and national polling data show Governor Romney winning political independents by large numbers. Never before have we faced so much contradictory data. More than ever we are making this projection based on gut instincts wrapped around science. In the end, we are making our projection based on the belief that most polls are over-sampling Democrats. For example, the final Washington Post/ABC News tracking poll had 35 percent Democrats, 29 percent Republicans. If by the end of today Democrats are +6 then the President will win reelection. But we think the ratio of GOP and Democratic voters will be closer to even; Democratic turnout will certainly fall well below 2008 levels.
This election rests on the composition of the electorate. Yes, it's a cliché but it's also true: this election is all about turnout. Turnout among young voters (a cohort the President wins in most polls by upwards of 20 points) will be far below 2008 levels. We believe the electorate is going to look a lot more like 2004 or 2010 than 2008; if that is the case, Romney will win. Here is our rationale for going with Governor Romney:
While the economy has improved, it has not done so fast enough. We said this before: Obama is doing better than expected because of the economy... not in spite of it. It is improving. Unemployment has gone from more than 10 percent to 7.9 percent. One year ago, the President would have lost in a landslide. However this economic improvement won't be enough. The problem is two-fold: it has not improved enough and voters think Romney can handle the issue better than Obama. According to the latest WSJ/NBC News poll, the Governor leads Obama by five points (47 percent to 42% percent in terms of ability to "create jobs and grow the economy." To have the edge on the election's most important issue is a huge advantage for Romney.
The President lost Independents in the months after the passage of Obamacare and has never won them back. Our sense is that Romney is winning among political independents by 6-12 points, both nationally and in several key swing states. This is where we have concerns regarding the state polls. We do not think that Team Obama can generate enough Democratic turnout to offset losing Independents by double digits. The energy and intensity is with Republicans this year and it will likely carry the Governor to victory in certain swing states.
Romney has owned the narrative for a month. At the end of September we wrote that the pendulum had swung to Obama and that he had had the Romney team on the defensive for more than 30 days. At that time we said that Romney had one chance to reverse the trajectory and that was the first debate. He did exactly that on October 3rd and that has driven the storyline of this election ever since. Team Romney finally forced the Obama campaign on the defensive. And the first debate forced swing voters to finally consider Romney as an acceptable alternative. From that point forward, Romney began offering an alternative vision of the country that attracted both base and swing voters alike. We do concede that Sandy temporarily halted the Romney momentum last week. The storm big-footed Romney-and just about all of the election coverage-for four whole days. This is problematic for a challenger. The country tends to rally around incumbents during times of crisis. ; However, the campaign moratorium was lifted on Friday. Time will tell if it substantially helped the President or simply slowed Romney's momentum.
Obama ran a base campaign while Romney worked to win swing voters. Axelrod and company ran the Bush 2004 playbook. They have treated this election as a base turnout election since day one. This was most apparent in the last debate when the President was continually on attack and playing to his base. We said at that time that Obama was trying to win the debate while Romney was trying to win the election. Team Romney has been running a campaign aimed at the middle - especially over the last six weeks. In the end, if Obama wins it will be a validation of this strategy. But our sense is that the Romney strategy of appealing to swing voters will pay off with the above mentioned Independents in key states like Virginia and Ohio (and perhaps even in Pennsylvania).
Obama's coalition has experienced an unsustainable erosion since 2008, especially among men. The Washington Post/ABC News tracking poll last week showed that while 84 percent of 2008 Obama voters would support the President in 2012, 13 percent peeled off to Romney. While the President has lost favor with a diverse set of audiences-running across economic, educational and ideological lines-the erosion has been strongest among men. The final Gallup tracking poll (released yesterday) showed Romney winning men by 11 points. In 2008, exit polls showed Obama winning men by one point. That is a substantial reversal.
The generic congressional ballot suggests that there is not enough Democratic energy to carry the day for the President. The latest NBC/WSJ poll has GCB at +2 Democrats among registered voters. It was +13 Democrats in 2008. Somewhere along the line, someone unplugged Obama's energy source and it will likely lead to his defeat.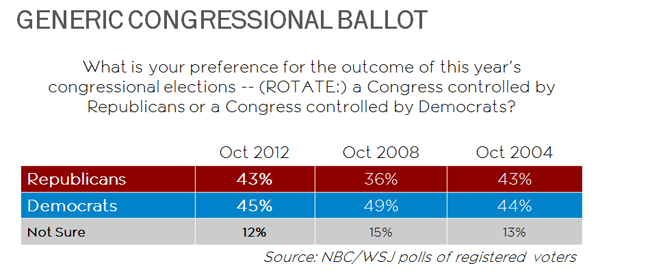 Given this backdrop, Romney will flip six states that Obama captured in 2008: Florida, North Carolina, Virginia, Ohio Wisconsin and Colorado en route to a substantial Electoral College victory. Obama will likely win Nevada, Iowa and New Hampshire but it will not be enough. While Romney looks safely ahead in Florida and North Carolina, Virginia and Ohio remain the key targets. Capturing both VA and OH puts Romney at 271 EVs, one more than necessary. If they fall to Romney as we expect them to, then Wisconsin and Colorado are icing on the cake. By adding those two states Romney gets to 285 Electoral votes.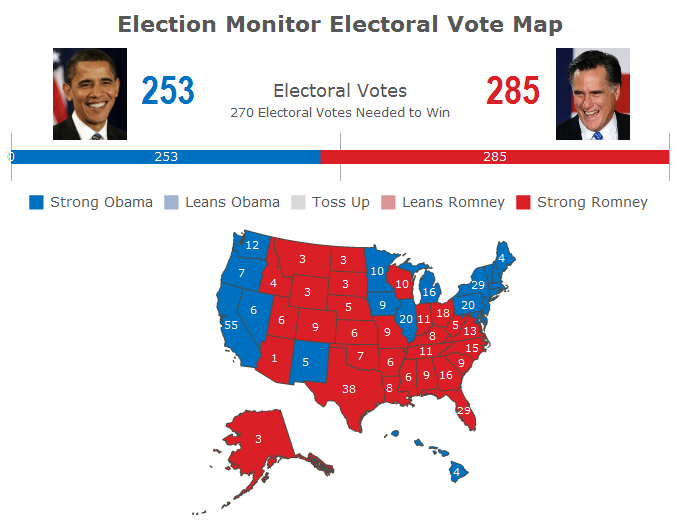 Our regression vote model projects that Romney will win by a little less than two percentage points today. We project the following popular vote distribution:
Romney 50.2%
Obama 48.3%
Other .5%
Below is our final regression projection line. Today's analysis produced a flatter curve than we have seen in recent weeks; Sandy has clearly blunted the Romney momentum. In light of the last-minute polls the trend has been revised downward. We are getting a final estimate of +. 75 for Romney. When we correct for turnout, we get a 1.9-point Romney popular vote win.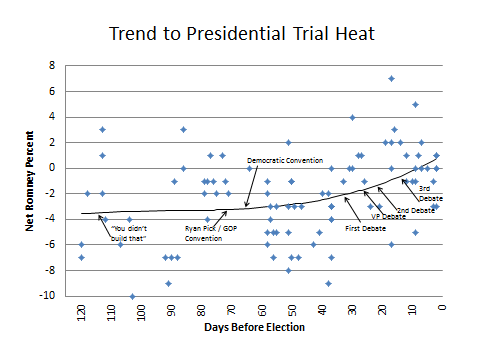 Romney's victory will come because he recaptured three southern states that Obama managed to win in 2008: Florida, North Carolina and Virginia. Remember that Bush won Florida by five points in 2004 and Obama only won the state by 2.5 points in 2008. Similarly, NC went big for Bush in both 2000 and 2004 (12-point margin) and Obama won in 2008 by less than half of one percent. VA is, of course, the biggest prize of the three "southern" states and the most like a "swing" state (it's also the most competitive this year). Bush won by eight points in 2004 and Obama won by six points four years later. Obama will not have the young and minority voter turnout he had in 2008 and will likely lose Virginia this time around by less than two points.
Ohio is the most vexing of all the states this year. As we stated earlier, dozens of polls have shown the President with a one-three point advantage over the last two weeks. Again, our sense is that Democrats are being over-counted in that polling. Romney has had double-digit leads among Independents in numerous OH polls. Again, we are doubtful that Democratic turnout and popular vote margins in Cleveland's Cuyahoga County-as well as Columbus, Cincinnati, Akron and Toledo-will match Obama's 2008 totals. The President's vote margins came from exceptionally high African American turnout, and that is unlikely this year. Additionally, Obama has a problem in some of the coal-producing counties like Belmont, Harrison and Perry. There is no doubt that the auto-bailout helped Obama in this state but in the end we think Ohio will go to the Governor by about one point and give him the election.
Wisconsin will benefit from the Walker machine and Paul Ryan's presence on the ticket. It will follow Ohio and give Romney a one-point victory. Colorado is also tight but our sense is that it, too, goes to Romney. Obama has rarely been above 47 percent in Colorado and is unlikely to top out above 48.5 percent. Romney wins by two points.
Finally, here is how we see the Senate and House races:
Republicans will pick up two seats in the Senate getting to 49. In the House, we think the GOP will pick up one seat (a virtual status quo election) giving them 243 seats, compared to 192 for the Democrats.
Special thanks to Kelsey Cohen, Chris Blunt, Pete Ventimiglia and Allison Quigley for their insights and contributions to this monitor. I should be clear that not all of the above agreed with the final projection here. We had a spirited debate. Ultimately the final "projection" is my own.
Please note that the author was an advisor to the Romney for President campaign in 2008, but is not affiliated with any campaign in 2012.
Support HuffPost
The Stakes Have Never Been Higher
Popular in the Community