 Although most pundits are talking about the fast start to last night's Democratic convention, we wanted to take a moment to focus your attention on a trend that most people have not yet flagged. In short, the Romney vote share has been quietly and slowly increasing for a month. This under-the-radar shift is being driven in part by a simple line from a straightforward political speech. And it has the potential to be a game changer.
On July 13, 2012 President Obama said: "If you got a business, you didn't build that, somebody else made that happen." Republicans seized on this and for a brief period the statement caught the media's attention. At the time, we thought this was a pretty significant moment because it had the potential to be interpreted by voters as a glimpse into what the president truly believed. Yes, the aforementioned quote is preceded by 50 seconds of context of how different people in everyone's lives help them advance in life (see the video here). But the core of the statement was something that stuck. In politics, you are always looking for a hook, a simple symbol or cue that represents either the core values of your candidate or your opponent. Team Romney ran with it, and for good reason. Our trend analysis of all publicly-available polling data suggests that this statement was a hook made of gold. Put another way: this graph shows "You Didn't Build That" was literally a turning point in the campaign.
Our idea was to create a trend line using (and sorry for getting into the polling weeds) a quadratic linear regression equation that finds the best fit between the net Romney percent in the individual poll results and the time remaining before the election. By focusing on polls that finished on June 1st or later, we were able to estimate a regression trend line. While we will use the trend chart in future Election Monitors I hereby promise not to bore you with the above again. The result is startling.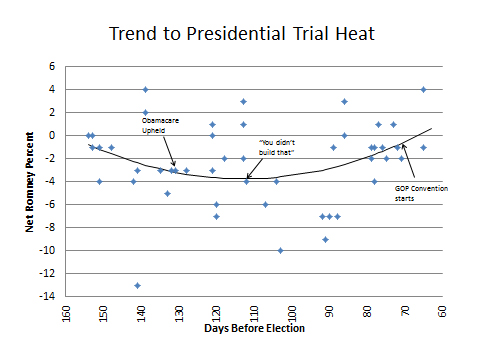 While we are not comfortable projecting an actual election result from this data (it's simply too early) the trend itself tells an interesting story. As the above chart demonstrates, Obama had a slight lead at the beginning of June, which grew somewhat as Obamacare was upheld and he saturated the airwaves with swing state advertising into July. Obama's lead reached its widest margin, just shy of four points, on the day of his "You didn't build that" speech (July 13). The trend since has been all Romney. He had virtually erased Obama's lead by the opening of the GOP convention and, as of the latest polls, has pulled into the slightest of leads (basically up a quarter of a point... but we will call it tied). Romney clearly has the momentum; the question, of course, is what the DNC will do to this momentum.
As we cautioned yesterday, don't read too much into day-to-day snapshot polls. But trends are something completely different.
My thanks to Pete Ventimiglia, Chris Blunt, Kelsey Cohen and Allison Quigley for their valuable thoughts and insights. Follow us on Twitter: @Steve_Lombardo.
Subscribe to the Election Monitor here!

(Please note that the author was an advisor to the Romney for President campaign in 2008, but is not affiliated with any campaign in 2012.)
Popular in the Community